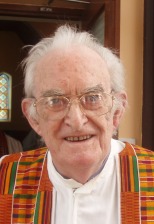 Fr Der Healy laid to rest
The funeral has taken place of Fr Jeremiah (Der) Healy who died peacefully on Friday, 30 March. His burial took place after 12 noon Requiem Mass at St Joseph's SMA Parish Church, Wilton, Cork on Monday, 2 April.
The family was led by Fr Der's brother Teddy, his sister Lena, his sister-in-law Marie and brother-in-law James. Many of his nephews and nieces actively participated in the Mass and at the burial.
The Principal Celebrant was the SMA Irish Provincial Vice Leader, Fr John Dunne.
He was assisted by V Rev Fr Tony Mullins, Apostolic Administrator of Limerick diocese, Fr Bernie Cotter SMA (who worked with him in Jos diocese), Fr Gerard Murray SMA (who worked with Fr Der in Ilorin Prefecture) and fellow Tralee man, Fr John Quinlan SMA.
In his introduction at the beginnig of the Mass, Fr Dunne reminded us that we were gathered "this afternoon to remember and pray for Fr Jeremiah Healy who has died. He is better known in his family circles, among friends and to us in the SMA as Fr Dermot or Fr Der. Today we remember and celebrate his long life and his life as a missionary and priest in the Society of African Missions.
Fr Healy's remains are lowered into his grave in Wilton by his nephews.
We are here to express our sympathy and to offer the support of our prayers to to Der's family, relatives and friends. We gather with his sister, Lena, and his brother, Teddy, and their spouses, James and Marie. We also have with us today Der's nieces and nephews, grand nieces and grand nephews, relatives and friends, who mourn his death. We pray also for Lauri, Der's brother and Vera, his sister-in-law who have gone to their reward.
I welcome you all to this Mass and Christian funeral ceremonies. I wish to acknowledge the presence of Religious Brothers and Sisters, especially the OLA sisters, the Mercy Sisters and particularly Sr Margaret Kiely and the staff of St Teresa's, Blackrock Road, who cared so well for Der in his final years and days. We appreciate the presence of concelebrating priests from our SMA communities and priests from other Diocese and Congregations who knew Fr Der."
Fr Dunne also welcomed in a particular way former members of the Society who had come to participate in this funeral Mass.
He also wanted to "acknowledge the presence of Ms Hilda Kilraine, who was one of his best helpers when promoting the SMA magazine when Der was Editor. Some 36 years ago they met and Hilda became a lifelong and faithful friend to Der. Hilda was good to him all those years but more especially in his retirement and illness. This is evidence that the life of each one has its influence on the lives of others.
I want to convey to all of you the sympathy and prayers of our Provincial Leader, Fr Fachtna O'Driscoll, who cannot be with us today because he has travelled due to earlier commitments."
Read Fr Dunne's homily here.
The Readings at the Mass were read by Mary Tynan (niece) and James Reddy (grand nephew). Aoife Foley, a niece of Fr Der, played the music at the Mass and, in particular, played a favourite song of his: Abdullah Bul Bul Ameer. It brought many smiles to the congregation.
At the Offertory of the Mass several symbols of Fr Der's life were presented:
Fr Der's own Chalice and Paten were carried by his brother Teddy and sister-in-law Marie; a photo of the Church Bell given to Ekan Meje parish by the Tralee Dominicans (Pat Brosnan); a lighted candle (symbolising Der's mission to be a light to others, presented by John Tynan); Niamh Healy carried up a Stole, symbolising Fr Der's priestly ministry and Willie Reddy presented a pen and pencil, symbolising Fr Der's work as an Educator.
At the end of the Mass a nephew of Fr Der, Dermot Healy, spoke on behalf of the family. His edited comments can be read here.
Full obituary here.
Ar dheis Dé go raibh a anam.