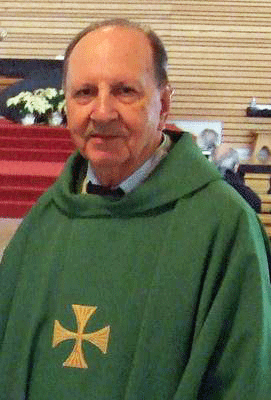 Fr Jean-Paul Pariseau SMA
Funeral on 31 March
With the death during the night of 22nd / 23rd March 2012 of Fr Jean-Paul Pariseau, the SMA Canadian District, and the entire Society, has said goodbye to a great missionary and colleague.
As a member of the SMA General Council (1997 – 2001) Jean-Paul became well known among the Irish SMA's as he visited them in Ireland and in their missions in Africa.
His soft-spokeness indicated a man of quiet disposition. Jean-Paul would never be rushed into an answer. He took time to consider the different options available, seeking advice if necessary and, then and only then, would he express his opinion and, more often than not, hold to it. His catch-phrase, when taking time over something he was asked : "Thank you for your question" and then that quiet chuckle of his.
In accordance with his wishes he will be buried alongside his father in Saint-Francois-du-Lac, after a Funeral Mass at 2pm in the parish Church. Fr Jean-Paul was well known and esteemed in his home parish as well as the nearby Indian Reserve. Fr Francois Gnonhossou SMA, former Superior of the African District-in-formation, will be Principal Celebrant with other SMA and diocesan priests concelebrating.
May he rest in peace.
A brief biography of Fr Jean-Paul Pariseau
Born 19 June 1931 at Saint-François du Lac, in the diocese of Nicolet, Québec, Canada.
Ordained a priest on 31 May 1958.
More than 21 years of his priestly life was spent as a missionary in Ivory Coast. For 17 of them, he was also Vicar General on Korhogo diocese.
In Canada, he served as Novice Master and Mission animator (1963 – 1970) as well as District Superior for two terms (1983 – 1989 and 2001 – 2009).
Jean-Paul's quiet disposition and inherent holiness made him an ideal choice for formation work and as well as seven years as Master of Novices in Canada he was also Master of Novices for the Frères Catéchistes of Saint Paul in the Ivory Coast (1993 – 1997).
In 1997, Fr Jean-Paul was elected a member of the SMA General Council replacing Fr Jean-Paul Eschlimann who had resigned. After serving out the remander of that term he returned to Canada where he was, once again, proposed by his confreres for appointment as District Superior, a position he held until 2009 when increasing ill health necessitated his resignation.