The death has taken place on Sunday, 3 April 2016, of Fr James Joseph Higgins SMA, MFR, at the SMA House, Blackrock Road, Cork.
Fr Higgins was in failing health for some time and died peacefully in his room at 12.45am.
James Joseph Higgins was born in Collooney, Co Sligo, the youngest child of Alphonsus and Mary [née Harte] on 8 February 1924. His mother sadly died six months later on 24 August.
Partly reared by his aunts, Father Jimmy attended Camphill National School where he was greatly influenced by the Headmaster, Henry Rooney, (kind, sympathetic but stern and he often warmed our hands with a hazel rod when we missed an answer) who instilled in him a great love of Irish history. On leaving primary school he was persuaded to join the SMA, by the local curate Fr. Jim Shyrane ('a most unique man') who had a special interest in the SMA College, Ballinafad. He subsequently attended an interview at the Convent of Mercy which was conducted by Frank McNamara, SMA. He assumed he had passed the interview when he was asked to turn up at SMA Sacred Heart College, Ballinfad (referred to as an Apostolic School and a place of special formation for the priesthood) in September, 1937 to begin his secondary school studies. He completed his Inter Cert there before moving in September, 1940 to SMA College, Wilton, Cork, another Apostolic School, where he completed his secondary education in 1943.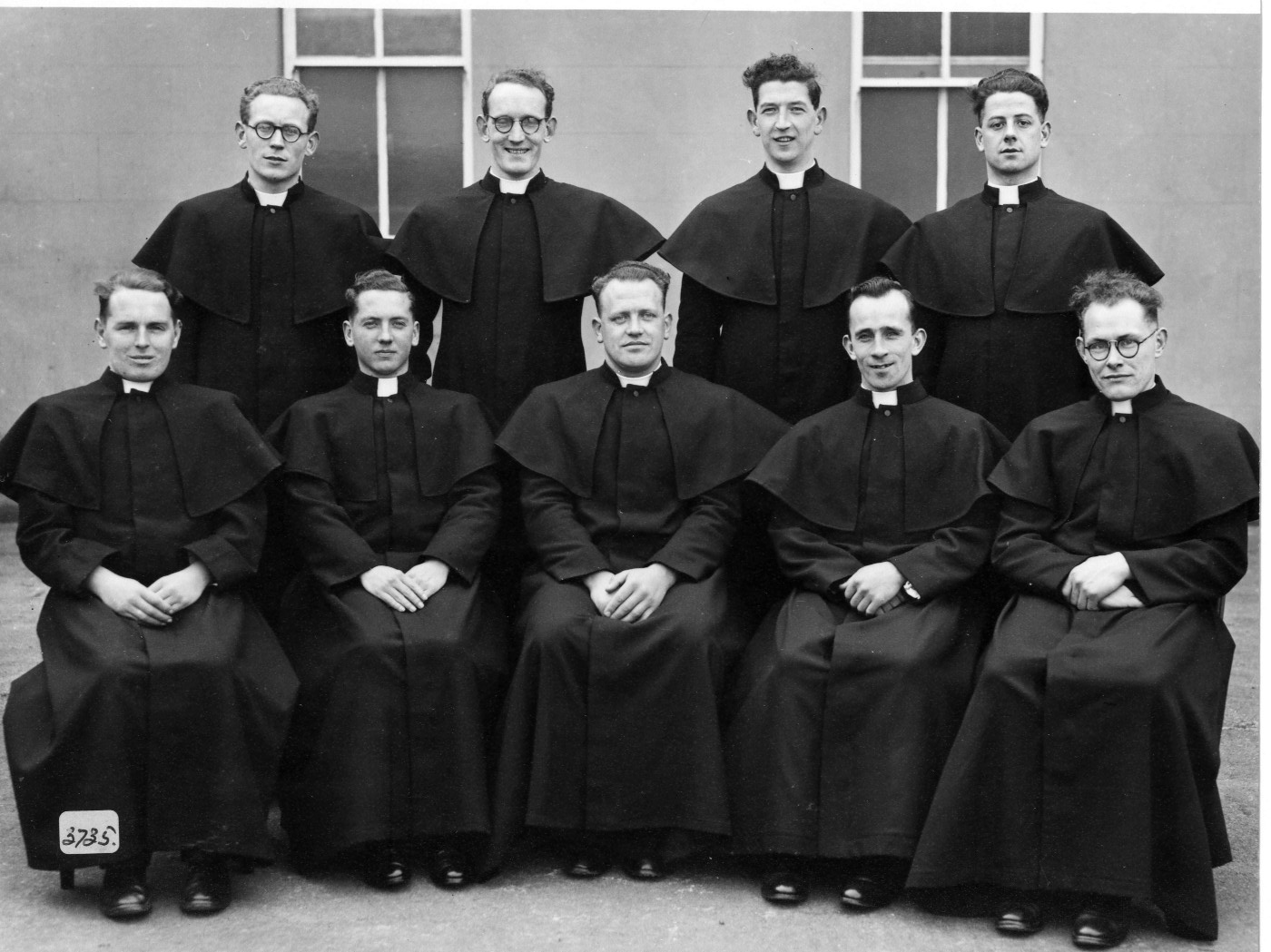 In 1943 he moved to the African Missions College, Cloughballymore, Co. Galway to being in earnest his studies for the priesthood. It was a 21-month course in spiritual training and guidance at the end of which, 1 July 1945, he became a temporary member of the Society of African Missions. A classmate of his was the late Larry Mullen whose son, Larry Junior, is a member of the rock group, U2. In September, 1945, Jimmy began his theology studies at the SMA Major Seminary at Dromantine, Co. Down.
1949 Ordination class
Front row, left to right: James Higgins, Patrick Jennings, Eugene Connolly, John Cantillon and Cornelius O'Driscoll.
Back row, left to right: Thomas Devane, Eugene Melody, John Rodgers and William Breslin.
The course in Dromantine lasted four years and in Jimmy's words 'the years glided by silently, swiftly and peacefully, as the day all Seminarians looked forward to with hopeful anticipation was approaching'. However, his time in Dromantine was also marked by tragedy and sadness when he was called from the study hall on the morning of 5 March, 1947, to be told that his father had died. 1947 in Ireland was the year of the great snow and Jimmy recounts in detail the torturous journey by train back home to attend his father's funeral. A few days after the funeral he returned to Dromantine and he recalls that the remaining two years of his studies went very rapidly. He took the Permanent Oath of membership 11 June 1948 and was ordained, along with seven classmates, on 14 June, 1949, at St. Colman's Cathedral, Newry, Co. Down. Fr Paddy Jennings is the sole remaining living member of that class, living in Blackrock Road.
Following his ordination Fr Jimmy was asked to return to University and study for a Higher Diploma in Education, in order to be part of the  large band of SMA missionaries involved in the teaching apostolate in Africa.
Fr Jimmy arrived in Apapa, Nigeria on 5 December 1950. After one night he headed, via Abeokuta and Akure to St. Thomas' Teacher Training College, Ibusa which was to be his home for the next five years. He began his missionary career as a teacher at St. Thomas' in January, 1951.
When he returned to Nigeria from his first leave in 1956 he was asked to relieve Fr. Michael Grace as Principal at Assumption Teacher Training College, Uzairue. His stint as Principal in Uzairue lasted for 10 years until the College was closed by the Nigerian Government in 1966. A feature of his time in Uzairue was the great opportunity provided to do 'proper missionary work', visiting the 'bush' at weekends and during the holidays. The Government decided to close it down in 1966 along with many other Teacher Training Colleges.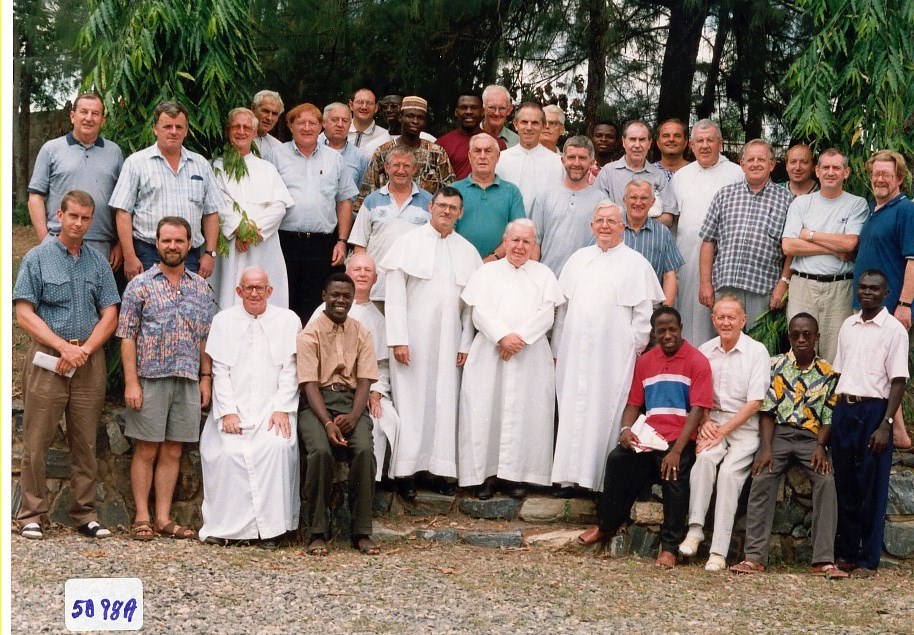 Around the same time a vacancy emerged at St. John Bosco's, Ubiaja. It had also been closed down two years previously as a Teacher Training College and it was re-opened as a Commercial Secondary School under Fr. Paddy Gantly, SMA. 'I went home on leave in June 1973 from St. John Bosco's and fully expected to get appointed to parish work on my return.'
SMAs brothers, priests and seminarians gather for Fr Jimmy's Golden Jubilee in 1999, at the SMA Regional House, Ibadan
Front row: left to right: Donall Ó'Cáthain, Damian Bresnahan, Paddy Whelan, Nestor Nongo-Aziagbia [SMA seminarian and is now the Bishop of Bossangoa, Central African Republic], Dan Murphy, Martin O'Farrell (Acting Regional Superior), Jimmy Higgins, Seán Ryan, Jean-Baptiste Traoré [SMA seminarian now an SMA priest], Jim O'Hea,  and two SMA seminarians and now priests Anemon Guy SMA and Alain Mokopamé [now a priest of Mbaiki diocese, CAR].
In the second and third rows, left to right, Eddie Hartnett, Michael O'Leary, Richard Wall, John O'Hea, Val Hynes, Jack Casey, Gianpiero Conti, Fabian Hevi, Francois Gnonhossou, Evantus Kene [all have since been ordained as SMA priests, and one of them – Francois Gnonhossou – is now the Bishop of  Dassa-Zoumé, Benin Republic], Phonsie Flatley, Br Tom Fitzgerald, Tim Cullinane, Fintan Daly, Alberto Olivoni, Noel O'Leary, SMA seminarian and now priest Emmanuel Andoh, Andy O'Sullivan, Tim Carroll [later Vicar Apostolic of Kontagora, Nigeria], Angelo Besenzoni, Mattie O'Connell, Mick Cahill, Antonio Porcellato, Danny Monaghan and Ali Kelly.
However, on return from leave he was surprised to be appointed Principal of St. Joseph's Teacher Training College, Ozoro in the Delta Province and somewhat reluctantly he began work there in November, 1973. Jimmy was still happy to be back in Teacher Training again. While he very much enjoyed his first few years there, the atmosphere in the schools was becoming more and more secular and examination malpractice was rearing its head. In addition, there was a general breakdown in discipline and 'I began to feel my days in education were numbered. I went home on leave in 1981 and decided to take a Sabbatical back in Ireland. I wrote my resignation to the Ministry in Benin and it was accepted'. However, during his Sabbatical in Maynooth College in November, 1981 he was asked by SMA Provincial, Fr. Con Murphy to consider a request from Bishop Edmund Fitzgibbon, Administrator of Warri Diocese, that he take up an appointment as Parish Priest at St. Patrick's, Sapele. He accepted the appointment and he broke his Sabbatical in December, 1981 to return to Warri Diocese. His time in Sapele lasted for thirteen years.
He was recognized nationally on 20 February, 1982 when he was awarded the M.F.R., Member of the Order of the Federal Republic of Nigeria, in recognition of his contribution to education in Nigeria. The award was conferred by His Excellency, President Alhaji Sheju Shagari.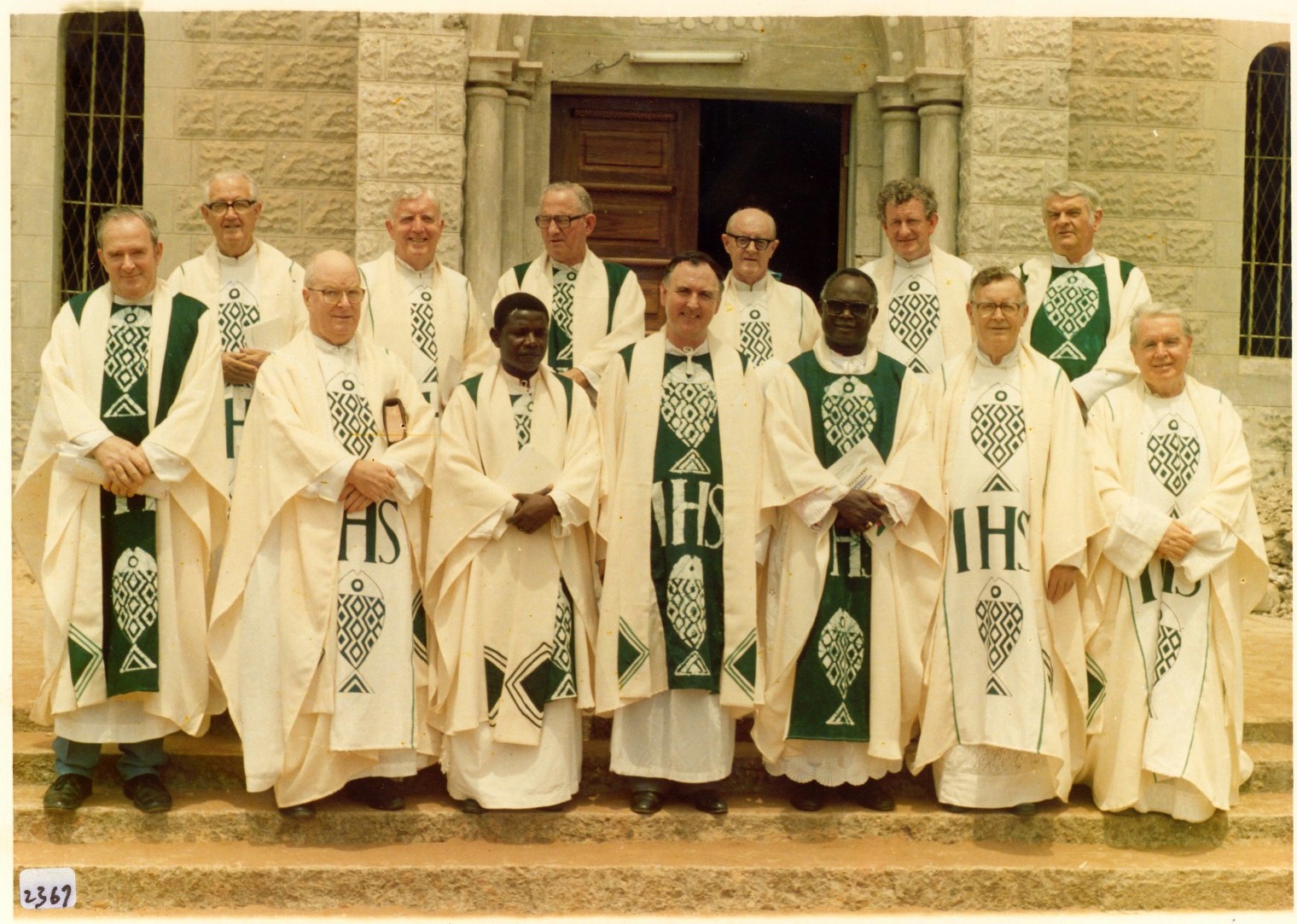 During his years in Nigeria, Fr Jimmy was also entrusted with Society responsibilities including representing his brother SMAs at the 1973 and 1983 Irish Provincial Assemblies and serving as Society Superior in Warri from 1983-1989.
Centenary of the presence of the Catholic Church in Issele-Uku, October 1988
Front row, left to right: Edward Deeney, Michael Boyle, Bishop Albert  Fasina (Ijebu Ode diocese), Patrick J. Harrington (SMA Superior General), Bishop Anthony Gbugi (Issele-Uku diocese), Michael Grace and James Higgins.
Back Row, left to right: Maurice Maguire, John (Jack) Ryan, Jeremiah (Jerry) Cadogan, William (Bill) Power, Thomas Curran and Vincent Boyle.
After thirteen active and enjoyable years in St. Patrick's, Sapele, the SMA authorities requested him to take over the SMA House in Uromi. He moved there in April, 1994. However, in November 1994, he was asked to take up a pastoral appointment at St. Patrick's SMA parish, Cable Point, Asaba [in the diocese of Issele-Uku]where he remained until May, 2000 when he moved back to Uromi to enjoy his 'retirement'. It was during these years in Uromi that he put pen to paper and wrote his first book – 'Kindling the Fire' – published in 2003, a profile of 210 SMA missionaries who laboured in Mid-West Nigeria from 1884 – 2003, and he followed this up with his second book – 'The Pilgrim Soul in Me' – published in 2004, comprising Part 1 which describes the years leading up to his ordination in 1949 and Part 2 which describes fifty-four years spent as a missionary in Nigeria. He returned to St. Patrick's, Cable Point again in 2005 where he was a valued member of the Pastoral team led by Fr. Joseph Chege, SMA, Fr. Eric Yapi Yapi, SMA and Fr. Noel Musa, SMA until 2010 when he left for Ireland on annual leave.
It was then that he was diagnosed with a serious illness which made it impossible for him to return to Nigeria, though that would have been his wish if the doctors had allowed. And so began his years of retirement in the African Missions House, Blackrock Road, Cork, where he died on Divine Mercy Sunday, 3 April 2016.
Earlier this year, when asked if he would like to go back to Nigeria, his reply: "I'd go in a heartbeat." After Collooney, Nigeria was his second and beloved home.It was during this leave that he was diagnosed with a serious illness and he never returned to his beloved Nigeria. This brought to a close sixty wonderful years as a missionary in Nigeria.
Throughout his thirty years teaching and the latter part of his time in the pastoral ministry he has been blessed with remarkably good health and can only remember two bouts of malaria fever during all those years. "I rarely used a mosquito net except when they were very voracious. I was blessed with a fairly cool temperament and I'm not the worrying type. I try to see the silver lining even when it isn't there. A simple diet combined with a sense of humour helped to keep serious sickness at bay".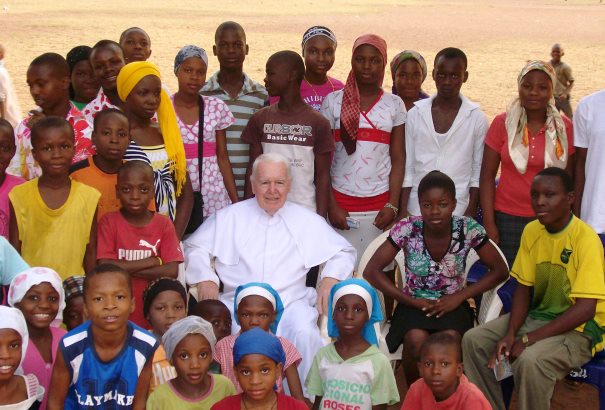 Most of the above is taken from an Appreciation written by Fr Peter McCawille SMA on the occasion of Fr Jimmy's 60th Ordination anniversary, in 2009, which was celebrated in St Patrick's, Asaba.  The quotations come from Fr Higgins two works [Kindling the Fire, The Pilgrim Soul in me] and Fr McCawille ended his Appreciation with the following lines, "We compliment Jim, on his youthful appearance, his gracious spirit and his perennial good humour. We rejoice with him on this special occasion and we extend to him our heartiest congratulations on reaching this momentous milestone in his life."
One of the last photos of Fr Higgins in Asaba in 2010.
Shortly before celebrating his 60th Ordination anniversary he was awarded the Papal honour – Pro Ecclesia et Pontifice – by Pope Benedict XVI, at the request of the Bishop of Warri for his meritorious service in that diocese during a particular time of turbulence. Sadly, Fr Jimmy had left Nigeria before the medal and parchment arrived but it was found among his personal effects after his death. In typical fashion, both his awards were put away in a drawer without fanfare.
Fr Jim was predeceased by his sister Clare [Martin] in 1963 and his brother Charlie in 1998. His SMA confreres, at home and in Africa, join his nieces, nephews, cousins, other relatives and friends, as well as the People of God, clergy and lay, in the Archdiocese of Benin City and the dioceses of Warri, Issele-Uku and Uromi in mourning this devoted and humble missionary priest. May he rest in peace.
Fr James will be laid to rest in the SMA community cemetery in Wilton, Cork after 12 noon concelebrated Mass on Tuesday, 5 April 2016. 
Funeral homily for Fr James Higgins SMA, 5 April 2016
Small in stature, a giant of a missionary.