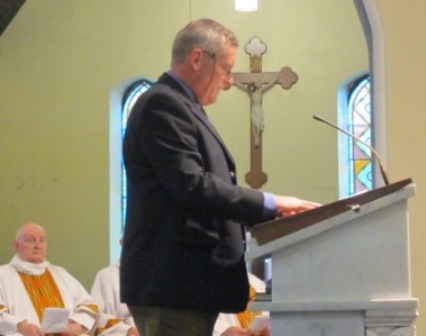 Death of Fr James Conlon SMA
The Society of African Missions mourns the death of Fr James (Jimmy) Conlon SMA which took place at the African Missions, Blackrock Road, Cork, at the age of 83 years. Fr Jimmy has been ill for several months and died at 2.50am on Sunday, 3 April. May he rest in peace.
James Conlon was born on 15 July 1927 in Ballyhooley Road, Cork to Hugh Paul and May Conlon (née Corcoran). After secondary schooling at the Christian Brothers College, Cork he went to the SMA Novitiate at Cloughballymore, Kilcolgan, Co Galway, becoming a member of the Society on 1 July 1947. He completed his studies for the priesthood at the African Missions Major seminary, Dromantine, Newry, Co Down.
He was ordained in St Colman's Cathedral, Newry on 18 June 1952, one of a class of ten. His first appointment in Africa was to the diocese of Benin City, Nigeria which was led by Galwayman, Bishop Patrick J Kelly SMA.
From 1952 – 1954 the newly-ordained Fr Conlon served at the Holy Cross Cathedral. In 1954 he moved to the Minor seminary as a temporary replacement for Fr Tommy Murray SMA who had taken over as Regional Superior for the area. It was to be a decisive appointment for Fr Jimmy as he spent most of his missionary life (except for his time in Ghana, more than 30 years) in the formation of young men preparing for priesthood.
St Paul's inter-vicarial Major seminary was also in Benin City. Due to the need for a larger seminary it was decided to move from Benin City to the city of Ibadan where land was made available by Msgr Richard Finn SMA, the Prefect Apostolic of Ibadan. With Fr Maurice Maguire, Fr Conlon was asked to leave Benin City and be part of the founding team of the new Ss Peter & Paul Major Seminary, Bodija, Ibadan. The period 1965-1966 saw Fr Jimmy supervise the building of the students' refectory and Library block. Since its foundation, Ss Peter & Paul's has celebrated the ordination of more than a thousand priests, many of whom later became bishops (in Nigeria and beyond). Their Eminences Cardinal Anthony O Okogie (Archbishop of Lagos, Nigeria) and Cardinal Christian Wiyghan Tumi (Douala, Cameroon) also attended the Ibadan seminary.
In 1966, Fr Conlon was recalled to serve as Superior of the SMA Novitiate at Kilcolgan. Two years later, he returned to the diocese of Benin City where he ministered for a further five years, succeeding Fr Michael Boyle as Secretary to Bishop Kelly. He also ministered in Holy Cross Cathedral, Ugo and Uromi parishes. In 1974 he was asked to be part of a group of Irish SMA's who were going to the diocese of Sunyani, Ghana. From 1974 – 1985 Fr Jimmy was a faithful and efficient Secretary to Bishop James Owusu.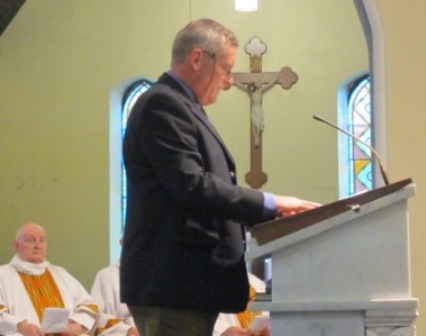 Hugh Hayes reads the Second reading during the funeral Mass for his late uncle Jim.
Fr Jimmy was a quiet and discreet man. These and other qualities made him an ideal priest to help form the growing band of seminarians who attended the seminary in Ibadan. And so, from 1986 – 2002 he returned there to serve as one of the team responsible for the Spiritual Direction of the seminarians. During his years in the seminary – both in Benin City and Ibadan – Fr Jimmy was involved in weekend ministry – celebrating Baptism and Mass in different parishes, including St Cyprians' Oke-Offa, Ibadan.
At the time of his Golden Jubilee (2002) he gave an extensive interview to Fr Peter McCawille who wrote a very fine article for the occasion. Read it here.
Fr Jimmy had a great interest in all sports and was an accomplished golfer. During his years in Ibadan he played golf with the same attention to detail as everything else he undertook. When going for a game of golf he left the seminary by 7am in order to be back in the seminary at 10.15 to take on his other duties. Jimmy, though enjoying the game, never let it interfere with his daily work routine.
He left Nigeria in 2002 and lived with his sister Bernie in Cork until he retired to the SMA House, Wilton in 2007. When his health deteriorated in recent weeks he moved from Wilton to the St Theresa's Unit at Blackrock Road where he died.
He is predeceased by his sisters Bernie and Sr Mary OLA and his brother Fr Hugh SMA.
Fr Jimmy is deservedly mourned by his sister Sadie, brother Frank, their families, friends and confreres in the Society of African Missions.
Ar dheis Dé go raibh a anam uasal.
Funeral arrangements:
Sunday, 3 April: Rosary and Prayers at the African Missions, Blackrock Road, Cork.
Monday, 4 April: Prayers at the African Missions, Blackrock Road followed by removal to St Joseph's SMA Parish Church, Wilton.
Tuesday, 5 April: Funeral Mass at 12noon followed by burial in the adjoining SMA community cemetery.