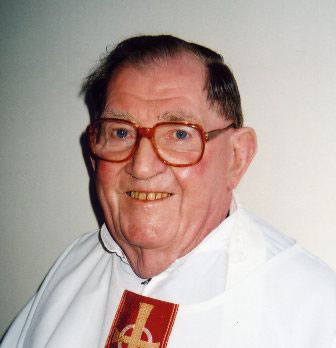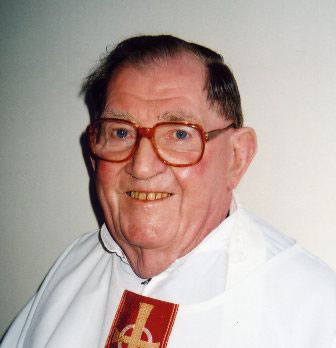 Fr Hugh McLaughlin died peacefully at the Cork University Hospital on 13 May 2013, after a brief illness. He had celebrated his 81st birthday just three days before his death. Fr Hugh had been admitted to the hospital on Sunday evening and died there early the following morning, at 00.15am, with his sister Mary and Fr Eddie O'Connor SMA at his side. He is survived by his sister Mary and brother Arthur. May his gentle soul rest in peace.
Fr Hugh had great devotion to Our Lady – he was ordained in the Marian Year (1954), set up a Legion of Mary Praesidium during his studies in UCC (1954-1958) and died on the Feast of Our Lady of Fatima.
Hugh McLaughlin, the eldest of three children born to Charles and Mary (née O'Leary), was born in Cork on 10 May 1931. The family lived at St Anne's, Barringtons Avenue, Ballintemple. He was baptised in St Finbarr's (South Chapel) on 12 May 1931 and confirmed in St Patrick's on 26 May 1942.
His Primary education was in Ballintemple Primary School and he attended CBS Cork for his secondary schooling, completing the Leaving Cert in 1948. With the African Missions, Blackrock Road so close to him, and where he regularly attended Mass, it was no surprise when Hugh decided to respond to a call to be a missionary priest. In September 1948, he entered the two-year Novitiate / Philosophy programme at St Columba's College, Cloughballymore, Kilcolgan, Co Galway, becoming a member of the Society on 29 June 1950.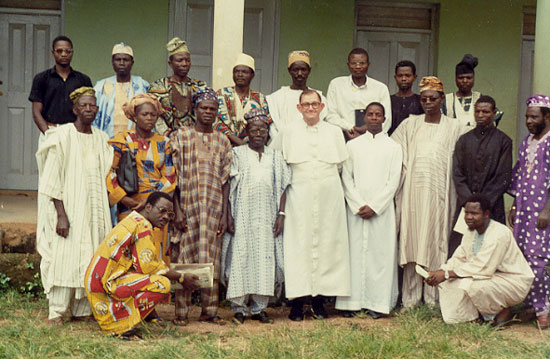 Fr Hugh with parishioners of his last parish in Nigeria: Owo.
Hugh studied theology at the African Missions Major seminary in Dromantine, Newry, Co Down. He became a permanent member of the Society on 15 June 1953 and was ordained a priest exactly one year later along with eleven classmates, on 15 June 1954, at St Colman's Cathedral, Newry. Gifted academically, the newly-ordained Fr Hugh was sent to do a BA and HDip at the University College Cork, graduating with Honours in 1958. He arrived in western Nigeria in September 1958 and was to spend the next thirty-three years in Ondo diocese. He returned to Ireland in 1991 and served in the diocese of Cork & Ross for fifteen years.
The education apostolate and the formation of clergy were two key elements of the Society's missionary work. Upon his arrival in September 1958, Fr Hugh was appointed as Vice Principal of Annunciation College, Ikere. From 1960-1961 he was the Principal of Stella Maris College, Okitipupa and for the following four years he was Principal of St Patrick's College, Oka.
In 1960, Bishop William Field SMA had commissioned Br Tom Fitzgerald to build a Minor seminary in Akure. It opened in January 1960 with Fr Michael Igoe its first Principal (1960-65). In 1965 Fr Hugh was appointed to succeed Fr Igoe, serving there until 1972 when he became Diocesan Secretary to Bishop Field.
He moved into fulltime pastoral work in 1974, serving as Administrator of the Sacred Heart Cathedral, Akure, until 1982. He was appointed as Vicar General of the diocese on 31 May 1977.
In 1979, his Silver Jubilee Year, as a result of his education work, he was conferred with a Chieftaincy title – Akuwajo of Akure – from the Deji (King) of Akureland, Oba Adelegan Adesina III. He was the first European to be conferred with an honorary chieftaincy in the history of Akure. At the conferring in the Oba's Palace, His Highness spoke of Fr Hugh's contribution to Akure over the past twenty-five years. On the occasion, Bishop Alonge paid tribute to Fr Hugh and all missionaries when he said: "Father McLaughlin is typical of many expatriate missionaries, both men and women, who have selflessly dedicated their entire lives to the establishment of the Christian Faith in this country through educational, medical and social institutions. We can never be sufficiently grateful to them."
In 1982, Fr Hugh was transferred to St Matthew's parish, Ondo. He took a six months Sabbatical / Holiday in 1989 and, on his return in January 1990, he was appointed as Parish Priest of Owo.
During his years in St Matthew's Fr Hugh was conferred with three further titles: Obayegha of Ondo (1984), Oyejunwa of Igbindo (1988), both conferred by the Osemaywe (King) of Ondo. His fourth title was conferred by the Chief of the Ibo community in Ondo in 1989.
He returned finally to Ireland in 1991 and was to serve as Curate in Ballydehob (1991-94), Passage West (1994-1999) and Goleen (1999-2006). In May 2006, Fr Hugh retired to the African Missions, Blackrock Road.
Funeral homily of Fr Damian Bresnahan
Report on the funeral rites of Fr Hugh.
May his soul now enjoy everlasting peace.