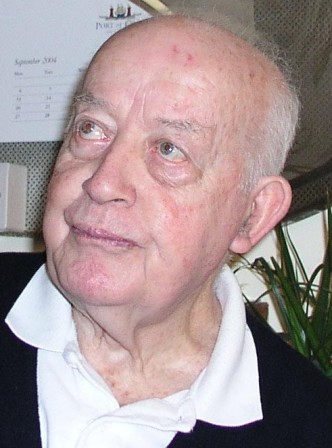 Fr Gregory McGovern SMA
Fr Gregory McGovern SMA died unexpectedly but peacefully on Monday, 27 December 2010. May he rest in peace.
Gregory McGovern, eldest child of Andrew and Margaret (née McGoldrick) was born on 31 October 1921 in Tonlagee, Bawnboy, Co Cavan. The family later moved to Swanlinbar. Due to family circumstances he worked for some years before deciding to be a missionary priest. He then attended St Patrick's College, Cavan (1940 – 1945). He was ordained a priest in St Catherine's Dominican Church, Newry, Co Down on 13 June 1951.
Fr Greg (as he was known by many) was appointed to the then Prefecture of Kaduna, Nigeria. Within ten years of his arrival in Nigeria, Greg was struck fown with a form of Polio. However, this did not stop him. He continued his pastoral work all over the vast Prefecture, spending a total of 47 years until ill health forced his return to Ireland in 1998.
In 1959 Kaduna was raised to the status of an Archdiocese, covering an area of greater than the size of Ireland. During his ministry in Nigeria Greg had the great joy of seeing three of the parishes he served in (Minna, Kano and Samaru in Zaria) becoming dioceses in their own right. In more recent years a fourth – Kontagora – became a Vicariate Apostolic. He also ministered in several parishes in Kaduna City as well as Mabushi in the rural area.
Before ill health forced his return to Ireland Fr Greg final assignment was as Hospital Chaplain to St Gerard's OLA Hospital, Kakuri. During that time he lived at the St Peter's SMA Parish, Sabon Tasha. Finally in 1998 he left Nigeria and came to live in the African Missions House at Blackrock Road, Cork. Though officially retired Greg continued to be as active as possible, using his wheelchair to get to the Dining room and Chapl every day. He led the singing at the community Mass each morning. The Thursday 'Sing Song' was never complete without Greg's singing of Old Man River and whatever else came to his mind.
On the day of his death, Greg had returned to his room after lunch and spoke of feeling unwell. He died peacefully shortly afterwards.
Fr Gregory is survived by his brothers, Fr Paddy (who is also a member of the Society of African Missions) and Bernard, and sisters Eileen and Rita. His brother John predeceased him.
He is mourned by them as well as nephews, nieces, grand nephews and nieces, cousins, friends and confreres in the Society of African Missions.
His removal from the African Missions, Blackrock Road, Cork took place on Thursday, 30 December 2010, following prayers and Rosary led by his brother Fr Paddy and the SMA community Leader in Blackrock Road, Fr Colum O'Shea SMA.
Fr Dan Cashman SMA, Community Leader in Wilton, received Greg's remains at St Joseph's SMA Parish Church, Wilton.
The funeral Mass took place at 12 noon on Friday, 31 December. Assisting Fr Fachtna O'Driscoll, SMA Provincial Leader, were Fathers Paddy McGovern SMA, Eddie O'Connor SMA and Séamus Nohilly SMA as well as a large gathering of other SMA priests as well as some visiting priests who knew Greg in Nigeria. His niece Anne (from Philadelphia, USA) and a nephew, Greg, read the Readings at the Mass.
Fr Greg worked with many religious Sisters during his missionary life. Three of them – members of the St Louis Congregation – attended the funeral Mass: Sr Maud Murphy (who was Principal of the St Louis College in Kano), Sr Mary Clerkin (Principal of the St Louis College in Zonkwa) and Sister Dr Mary McKiernan (on the medical staff of the St Louis Hospital in Zonkwa).
Following the Mass, Fr Greg was laid to rest in the adjoining community cemetery. At the conclusion of the Burial Prayers, Fr O'Driscoll led the assembled mourners in Fr Greg's most 'famous party piece': Old Man River.
May he enjoy eternal life forever. Amen.