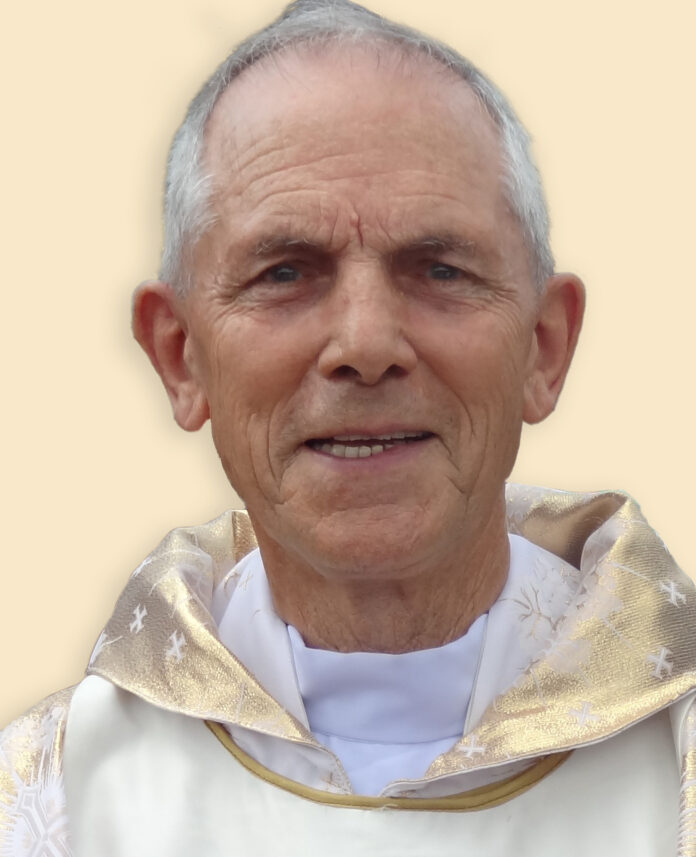 Fr Fintan Daly, SMA – Obituary
When the Venerable Bishop Melchior de Marion Brésillac founded his Society of African Missions [SMA] on the 8th of December 1856, he had as one of his founding resolutions "to use every available means, all my strength, all my mind, towards the training of a native clergy." He wrote, "it is pure dream, more brilliant than solid to think of converting any people without a native clergy," He believed, taught and emphasized that candidates from the country must be selected, trained and ordained. This did not go down well with the other bishops in India, from France and England.     
With the death of Fr Fintan Daly, SMA, on Ash Wednesday last [22 February 2023] in the SMA House, Blackrock Road, Cork, our Society has lost one of the last links with St Theresa's Minor Seminary, Oke-Are, in Ibadan, Nigeria, where he spent more than 24 years, teaching English Language and Literature and then as Rector. The SMA presence in Ibadan goes back to 1884 when Fathers Jean-Baptiste Chausse and Theodore Holley arrived. Their attempt to start a Catholic Mission failed due to the opposition of the Oba of Oyo, Adeyemi I, and it was to take ten more years before a permanent site was found – on Oke-Are hill – overlooking the growing city of Ibadan. In 1900, the first chapel was built [it is still in use] with the support of SMA supporters in Switzerland. They also began, in 1903, what was to become the Minor Seminary that still exists today, training young men who want to be priests – in Nigeria and as missionaries in foreign lands.
Fintan Daly was born on 16 February 1938, one of eleven children born to Gilbert and Mary [née Murphy] in Poppyhill, Killoran, near Balliansloe, Co Galway. After completing his schooling in Killalaghton National School, Fintan attended St Brendan's Secondary School, Loughrea where he completed his Leaving Certificate in 1957. Answering a call to missionary priesthood, Fintan was part of the group who went to the SMA Novitiate at Cloughballymore, Kilcolgan, Co Galway. He became an SMA temporary member on 25 June 1958 and was sent to study in University College, Cork, living at the SMA House in Wilton. After attaining his BA [Philosophy and History], Fintan transferred to the SMA Major seminary at Dromantine for his Theology studies. He became a permanent member of the Society on 16 June 1964 and was ordained a priest six months later, on 16 December of that same year.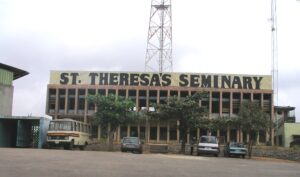 After Ordination, Fr Fintan completed his studies and set sail for Nigeria on the 6th of October 1965. After spending some months learning the local Yoruba language, he was appointed as Curate in Holy Cross Catholic Church, Ikire. His time there was short as he was soon posted to St Theresa's Minor Seminary. As a result of his 24 years in Oke-Are, Fr Fintan is possibly one of the most well-known SMA priests in western Nigeria. Three of his students are now bishops in Nigeria [Archbishop Alfred Martins (Lagos), Bishop Felix Ajakaiye (Ekiti) and Bishop Peter Odetoyinbo (Abeokuta)]. A fourth, the late Most Rev Lewis Zeigler, was Archbishop of Monrovia in Liberia.
After his death a message came from a former student from his Minor Seminary days who had to leave the seminary as his father had died and he needed to get a job to support his mother and younger siblings. He wrote that "Fr Daly consoled me like a son with Christ-like love." The letter he received from Fr Fintan he still has and he reads it to remind himself to share the love of Christ with others just as Fr. Daly has shown me. He also loved basketball. He coached us to the national youth final against an international school in Ibadan. Yes, I have tried to pass on that passion for humanity so that Christ can be lifted up. My fellow seminarians class who did not continue to the priesthood asked me to pass on their sentiments as well. We've changed our logo to be his picture. He led and taught by example."
In 1990, Fr Fintan handed over his responsibility of Rector to Fr [later Monsignor] Jerome Oduntan and took on the pastoral care of the Our Lady of Fatima parish, Eleta. That parish is home to a large hospital under the care of the Medical Missionaries of Mary. Fr Fintan spent many hours every week attending to the sick and dying there.
He saw the Legion of Mary as an essential part in the development of the Church. In the two parishes he worked in – Eleta and St Leo's SMA Parish, Orita-Challenge – he had several Praesidia who were the vanguard in opening up new outstations. Many of these outstations are now independent parishes in their own right. During his twelve years in Eleta, he founded St Anne's [Ogbere],
In a 2015 interview he gave to Independent [a Catholic weekly paper in Ibadan], Fr Fintan told the story of an occasion he celebrated Mass in the local prison, where the most hardened of criminals were incarcerated. As he prepared for Mass, he saw a prisoner approaching with something on his head. He came up and spread out a carpet in front of the 'altar' [a simple table]. Fr Fintan said to him, "I don't need a carpet.". "I am not doing it for you, I'm doing it for Christ," the man replied. This taught Fintan that when people do something for a priest, they are doing it not just for a person but are doing it for the one they recognize as a representative of Christ.
In 2002, he was elected the Deputy Regional Superior of the SMA in western Nigeria. He moved to the SMA Regional House at Orita-Challenge. Attached to the house was St Leo's Catholic Church and Fr Fintan served as its Parish Priest from 2002, succeeding Fr Michael Cahill SMA. During his 19 years in St Leo's, Fr Fintan built on the work of Fr Cahill, developing three existing outstations to the extent that they are now independent parishes: St Anthony's [founded as outstations in 1990, Asipa], Christ the Good Shepherd [1994, Felele], and St Charles Lwanga [1995, near Ring Road].
He opened several new outstations, including St Benedict [Aba-Oke, Odo-Ona], St Faustina [Kasumu], St Stephen [Lanisa] and Sacred Heart which is part of St Anthony's parish. Fr Fintan welcomed to the parish the Religious Sisters of Charity who opened a Convent and Novitiate to train young Sisters. The Oblates of St Joseph [a congregation of priests] also have a seminary house in the parish.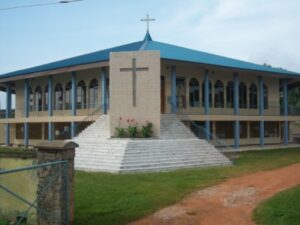 Possibly his greatest achievement was the beautiful St Leo's Church in Challenge [pictured], replacing an old church hall that had served as Parish Church for many years. Work began in 2004 and it was officially opened and dedicated on 15 November, 2008. Built on the side of a hill he used the terrain well and the lower part of the Church has an Oratory for Adoration of the Blessed Sacrament, meeting rooms, parish offices and a Sunday Clinic where Fintan provided – through the volunteer doctors and nurses – basic health care every Sunday. A lot of this work was funded through Fr Fintan's family and neighbours at home as well as funds from the Irish Province of the SMA and other groups such as Apostolic Workers in Ireland, St Peter Claver Sisters, An Garda Siochána, Electric Aid [ESB] etc.
Despite the many outstations he founded, Fr Fintan was very much aware that building churches was not his primary purpose. For him, his most important work was to build up Christian communities and this he did through his commitment to helping the sick, the poor, encouraging young people and his commitment to trying to improving the local environment. Every morning when he came from his room to go over to the Church for 6am Mass, he would find a dozen or more people waiting to see him, in need of some material help. He never disappointed them, even if it was obvious that some were taking advantage of his kindness. All that mattered for him was that they were in need and he would try to help them to the best of his ability. And every evening he took time to pray for them and the many other intentions he had.
Due to his close association with so many of the local priests and with Archbishop Felix Alaba Job of Ibadan, he served as Vicar General to the Archbishop for ten years. As a sign of his appreciation for his service to the Archdiocese, the Holy Father conferred the Papal Award, Pro Ecclesia et Pontifice [For the Church and the Pope] on him in 2015.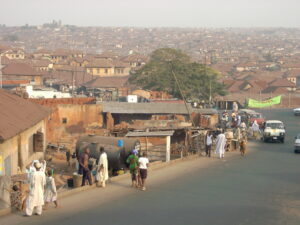 He was also the Society Superior for the SMA members in Ibadan and later was elected as Deputy Regional Superior of his SMA confreres in the west of Nigeria – both positions signalling the type of person he was: reliable, solid and, most of all, truly a man of deep spirituality. If you were looking for Fr Fintan after supper you were sure to find him in the Oratory, reciting his Rosary and other Prayers. His whole missionary life was built on that firm foundation: a deep personal relationship with God. For that reason he was able, when asked how he was a few days before he died, to answer: "I'm just waiting." And his Lord did not disappoint him, calling him home on Ash Wednesday, the first day of the Lenten period when we prepare for the suffering, death and Resurrection of Christ – that promise of eternal life for those good and faithful servants. Fr Fintan Daly surely is one of those servants.
Fr Fintan returned to Ireland in 2021 for medical care. When he received news of his terminal illness, he accepted the inevitability of his death and prepared himself for that moment when the Lord called him to his eternal rest.
In that same 2015 interview, Fr Fintan made the following reply when asked about his future: "The future is not ours to see… But we leave the future in the hands of God. Jesus told us not to worry about tomorrow…" Rest in peace Fr Fintan.
The Archbishops, priests, religious and the faithful of the Archdiocese of Ibadan, Nigeria, particularly former students, along with his family and confreres in the Society of African Missions, have many fond memories of a remarkable missionary. Fr Fintan died peacefully in the St Theresa's Nursing Unit, SMA House, Blackrock Road, Cork at 9.15 on Ash Wednesday, 22 February 2023, with his sister Frances, other family members and SMA confreres at his bedside.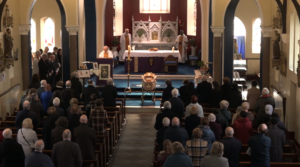 May God comfort his family, neighbours, students, parishioners and SMA confreres and all who mourn his death.
Fr Fintan is survived by his sisters Cepta, Ita (Goggins), Maeve (Fitzgerald), Philomena (Hernandez), Chrissie, Frances (Carty), Carmel, his brother Sonny, sister-in-law Mary Daly, brother-in-law Jimmy Carty and his Aunt Una Murphy as well as other relatives and a large family circle.
His Funeral Mass was celebrated in St Joseph's SMA Church, Wilton, Cork on Tuesday, the 28th of February, followed by his burial in the SMA community cemetery.