Fr Fintan Daly died peacefully on Ash Wednesday, 22 February 2023, in the African Missions, Blackrock Road, Cork. His Funeral Mass was celebrated on Tuesday, 28 February, at St Joseph's SMA Church, Wilton, Cork in the presence of his extended family, SMA confreres, OLA Sisters, Medical Missionary of Mary Sisters and Religious Sisters of Charity [some of whom worked with Fr Fintan in Ibadan], neighbours and friends.
Fr Malachy Flanagan, SMA Irish Provincial Leader, was the Principal Celebrant. The Principal Concelebrants were Fr Christopher Emokhare SMA, a seconded member of the Irish Province and is FVC Director in Munster. Fr Christopher was raised in Ibadan and knew Fr Fintan well. The second Concelebrant was Fr Tim Cullinane SMA, a classmate of Fr Fintan who lived with him for many years in Ibadan. The following is an edited version of Fr Tim's homily at the Mass.
Fr Fintan and myself began our journey to SMA priesthood in Cloughballymore, Co Galway on the same day in September 1957. We were part of a class of 30. In the class was a student from Dublin, Edward Hermans, who prided himself on being an artist of some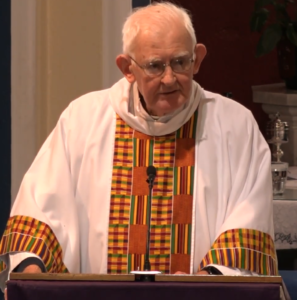 repute. When our Superior, Fr Patrick Gantly, who had a great admiration for our founder Melchior de Marion Brésillac heard this, he commissioned Edward to paint a full-size portrait of our Founder. Edward did well with the lower part of the Founder's body, his cassock, his ring and bishop's cross and even his beard but when it came to his face and eyes Edward he ran into difficulty. Even after many attempts he couldn't seem to get his face and eyes right. Eventually, Fr Gantly called a halt on the project. Then one day, a few months later, to our surprise Fr Gantly brought the unfinished portrait with the blank face to the classroom and told us that since our Founder was long dead, as SMA missionaries each one of us was called to be his face wherever we found ourselves in the missions and that we were called to live out his vision for mission which he had set out for himself and for those who would follow him in four short statements:
To be a missionary from the bottom of my heart;
To neglect nothing that might advance the work of God;
To seize every opportunity to preach the gospel;
To use all my strength, all the means at my disposal to contribute to the formation of a local clergy.
Fintan Daly, in whose honour we gather today was a person who lived out this vision to the full. He really was a missionary from the depths of his heart. He gave it his all, 56 years of unbroken service to the growth of the church in Ibadan, Nigeria. He lived only for the work of mission. Mission for him was never a 50% or 70%, but a 100% commitment.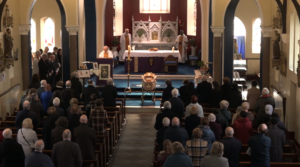 His missionary life falls easily into three parts. His first appointment was as a teacher in St Theresa's Minor Seminary in Ibadan, where he spent 24 years, eleven of them in charge. One of the four priorities of our Founder was, as you have heard, "To use all my strength, and all the means at my disposal to contribute to the formation of a local clergy." The Minor Seminary in Ibadan was set up specifically for that purpose, to begin the process of forming local priests. When Fintan came to Ibadan there were only two local priests. All the rest were white foreigners including the Bishop [Richard Finn SMA from Co Mayo]. That was not an ideal situation. Today there are well over 100 local priests in Ibadan. One of Fintan's great contributions was in helping to bring this about. In the seminary, he was highly respected by the students. One of his former students, Fr Julius Temuyi, wrote this on hearing of his death, "Fintan, I am crying not because you died, but rather because the world has just lost one of the most genuine, kind, spiritual, upright and sincere individuals that I have ever encountered". In 1983 the SMA decided to implement an earlier decision to accept Africans as members of the Society. Fintan was very enthusiastic about the project giving it his full support and helping to get the project off the ground, getting finance for the project and recruiting candidates. Today there are over 60 Nigerian SMA priests, including our own Fr Christopher Emokhare, here on the altar for this Mass and he will tell you afterwards, if you get to meet him, how much Fintan influenced his life.
The second part of Fintan's missionary life began when, after 24 years in the Minor Seminary, he moved into fulltime parish work where he had direct contact with ordinary people in a very poor area of Ibadan. Jesus said in the Gospel just read, "Go, therefore, make disciples of all the nations; baptise them in the name of the Father the Son and the Holy Spirit and teach them to observe all the commands I gave you." Our Founder expressed this command of Jesus in this way, to seize every opportunity to preach the gospel and neglect nothing that might advance the work of God. For the rest of his time in Nigeria, nearly 34 years Fintan spent his time doing exactly this. I know Fintan would say it was all God's work but the truth is Fintan was a vital instrument in God's hands.
In his parish work Fintan is remembered for three things in particular. Firstly, as a builder of Churches. For someone without previous building experience, Fintan built, with the help of a team of local builders and financial support from inside and outside Nigeria, he oversaw the construction of a great number of churches, at least five of them capable of seating 500 to 1,000 people dedicated to different saints such as St Leo's, Good Shepherd, St Charles Lwanga, St Anthony's, St Benedict's, as well as Sacred Heart and Our Lady of Fatima. There were many smaller churches attached to the different parishes he worked in. He felt that left to their own resources it would take the people ever and a day to complete a church but if a proper church was built that people could be proud of, they would come to it in large numbers. If they hadn't a proper church people would just drift away to one of the born-again Pentecostal churches What Fintan did turned out to be true, and some of these churches are now flourishing parishes with their own Nigerian clergy.  
Even more important than building churches was Fintan's care for the poor and most abandoned. Every morning people, most of them genuine, used to line up in large numbers outside the House where we lived looking for money for many things, to buy food, medicine, pay hospital bills or school fees for their children. Fintan never disappointed them. He wore a white soutane with large pockets from which he dispensed his help. I used to call the soutane, the bank of Fintan. I will just mention one poor family he helped over a long period of time with school fees helping them right up to university level. One of the them became an engineer, a second an accountant and another Principal of a large school. This would have been impossible without Fintan's support [and those who gave him the money to share].
At Christmastime, Fintan had a particular practice. Every day, around 4pm he would load up his pick-up truck with all kinds of provisions and soft drinks and head off to the houses of people who he knew to be poor to give them something to bring joy to their Christmas.
Last Sunday' Gospel said that man does not live on bread alone but on every word that comes from the mouth of God. Apart from building churches and concern for the poor, Fintan seized every opportunity to preach the gospel. With the help of catechists [women and men], he was constantly giving classes on the Catholic faith in preparation for Baptism, First Holy Communion, Confirmation, and Marriage not only in the main parish church but in outstations as well. He also put a lot of work into empowering groups like the Legion of Mary and St Vincent de Paul. He was highly respected by the Archbishop and the Diocesan clergy not just for what he did but even more so for the person he was. Archbishop Felix Alaba Job appointed him Vicar General or second in command of the Archdiocese for many years and bestowed on him the Papal Honour, Pro Ecclesia et Pontifice, for his work in the Archdiocese.
As a person Fintan was one of those godly men, mentioned in the first reading, whose good deeds will not be forgotten by people he helped and, in the churches, he helped to build where congregations will proclaim his and God's praise. Fintan was first of all a man of deep-rooted faith, a faith that he got from his mother and father and neighbours in Co Galway, a gift that he then passed on to the people of Nigeria. It was focused on the essentials: the Mass, the Blessed Sacrament and the Rosary. As you will have got from what I have said already he was very hard working, kind, generous with a very simple life style, preferring not to spend much on himself when there were so many people around in real need. He was a man in a hurry with a holy impatience because there was much work to be done to spread the message of Jesus Christ. As a result, on the phone he had no time to waste making small talk.  He reminded me of a Kerry politician Michael Healy Rea who when, on a different mission calling on houses to get votes, when offered tea in a house he would say, "No time for tay there is work to be done."  That was Fintan too, but on a different and more important mission. However, I do know from personal experience, if you were in trouble, he had endless time to give you the help you needed. He was also a person of deep humanity with a great sense of humour. He loved telling the story about a man called Francis who was always hanging around the church and gradually self-appointed himself as Fintan's driver. He wasn't a bad driver and Fintan, often used him to take people to hospital bring supplies for buildings and many other things, giving him money on an ad hoc basis probably more than if he was fully employed but he and Fintan could sometimes have difficulties in their interaction. When Fintan needed him most he might not come at all and if Fintan asked to drive someone he did not like he would refuse. He was always complaining about what he called Fintan's wreck of a car saying he should buy a new one. One day Fintan got so fed up with him that he said, "Francis, I am sacking you" only for Francis to reply, "You can't sack me because you never employed me."
Though Fintan made Nigeria his second home he never lost contact with his first home, his family and the people he knew from his youth, ringing home regularly to get news of how they were doing and the latest GAA results. They on their part him held him in very high regard and gave him great support including financial help for the poor and the building of churches.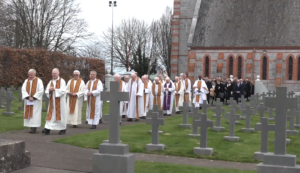 Now we come to the third part of Fintan's life. This was marked by the cross of illness, an illness which eventually led to his departure from his beloved mission in Ibadan and his arrival in a wheelchair to Blackrock Road on July 2021. This was a sad occasion for him and for us. I once heard him preach at a funeral of a Sister of Charity who for the final ten years of her life suffered from Motor Neuron disease. During the homily he said, her vocation for the past ten years of her life was to be sick. The same could be said of Fintan, for the last years of his life, his vocation was to be sick. This is not what we would have wished for him but God's ways are not our ways and we have to submit to God's Will in the belief that God loves each one of us and knows what is best for us at every stage of our lives.  Those who visited Fintan during his illness were touched by his courage, his deep faith, his acceptance of his condition, never complaining, and very appreciative of anything that was shown to him, even such a simple thing as bringing him the Connacht Tribune when he was able to read it. He was especially blessed by the care given by the staff of St Theresa's Nursing Unit at the SMA House in Blackrock Road and was deeply appreciative of it. As he was called home to God at 9.15pm on Ash Wednesday, 22 February, he could truthfully say in the words of St Paul "I have fought the good fight, I have finished the race, I have kept the faith. From now on there is reserved for me the crown of righteousness which the Lord will give me."
I will conclude with the words spoken by the then Cardinal Joseph Ratzinger towards the end of his homily at the Funeral Mass for [Saint] Pope John Paul II, replacing the words John Paul with Fintan "We can be sure that our beloved Fintan is standing today at the window of the Father's house, that he sees us and blesses us. Yes, bless us, Fintan. We entrust your dear soul to the Mother of God, your Mother, who guided you each day and who will guide you now to the eternal glory of her Son, our Lord Jesus Christ.