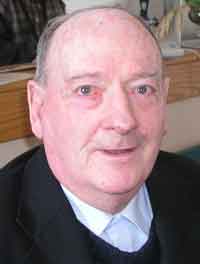 07 April 2008
Fr Dominic Kearns SMA

Fr Dominic Kearns SMA passed away peacefully at St Theresa's Nursing Unit attached to the SMA House, Blackrock Road, Cork in the afternoon of 7 April 2008. He was aged 83 years and had been ill for some time but his condition had deteriorated rapidly over the past few weeks.
Dominic was born on 13 May 1924 in Knockadalteen, Ballymote, Co Sligo in the Diocese of Achonry, the only child of the late Martin and Annie Agnes (nee Scanlon) Kearns. After his primary schooling at Carrigans, Ballymote he attended Coláiste Mhuire, Douglas, Cork, the Juniorate of the Presentation Brothers, for his secondary education. Two great influences on his life and education were schoolteacher Tom McGettrick and Brother Aengus of the Presentation Brothers. He decided to become a priest and joined the Society of African Missions coming first to the Society's House at Cloughballymore, Kilcolgan, Co Galway in 1944-1946 for spiritual and philosphy studies and in 1946-1950 to study theology at SMA House, Dromantine, Newry, Co Down. He became a permanent member of SMA on 12 June 1949. He was ordained priest for the Society of African Missions at St Colman's Cathedral, Newry, Co Down on 14 June 1950.
After ordination he was posted to Jos Prefecture in Northern Nigeria and spent the next fifty years of unbroken service in that jurisdiction. A dedicated missionary in Jos, he saw it pass from the status of Prefecture to Diocese and in later years becoming an Archdiocese. He served under Mgr William Lumley SMA (Prefect Apostolic), Bishop John Reddington SMA and Archbishop Gabriel Ganaka. His first appointment was to Udei in the Akwanga area and later he served in Kwa, Shendam, Pankshin, Bukuru, Kwoi, Bauchi and Kafanchan. With such a wide pastoral experience he was the ideal man to start new missions stations later at Daffo, Amper and Barakin Ladi. With the creation of Bauchi Vicariate under Bishop John Moore SMA in 1996, Dominic worked there and was the first resident priest in Jimpi and Marti. Many of these places opened by or worked in by Dominic are thriving parishes today. He was one of the fortunate missionaries not only to do the digging and planting but also to see the harvest being reaped.
He retired from Africa in 2001 and then took up an appointment in the Archdicoese of Boston in St Gregory's Parish, Dorchester, Massachusetts in USA, where he worked until 2004. In 2004 he moved into the SMA House at Claregalway, Co Galway but after six months there due to ill-health he transferred to SMA House, Blackrock Road, Cork.
He is sadly mourned by his cousins, many dear friends and confreres in the SMA. His remains were removed from the SMA House Oratory, Blackrock Road, Cork to the nearby St Joseph's SMA Parish Church, Blackrock Road, Cork on Tuesday, 8 April. The funeral Mass was concelebrated at St Joseph's Parish Church, Blackrock Road, Cork on Wednesday, 9 April. Fr Damian Bresnahan SMA, Provincial Councillor, was the main concelebrant and preached the homily. He was assisted by Frs Joe Maguire SMA and Frank Meehan SMA who served for many years alongside Dominic in Jos and almost forty SMA priests. The MC was Fr Colum O'Shea SMA and Fr Lee Cahill SMA was at the organ. The soloist was Dominic's cousin, Ray. Present were Sisters of Our Lady of Apostles, many of whom worked with Dominic in Jos, and Mercy Sisters as well as people who worked in Jos over the years when Dominic was there. Interment followed at the SMA Community Cemetery, Wilton, Cork.
Ar dheis Dé go raibh a anam dílis.