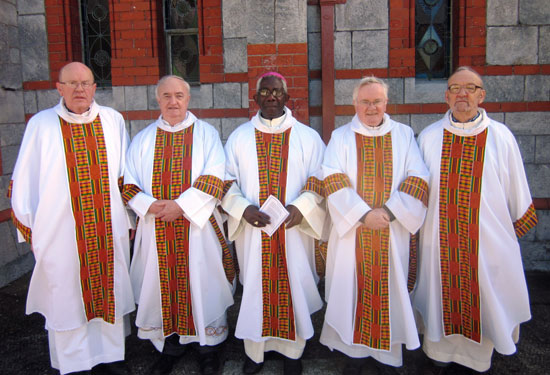 The SMA Provincial Leader, Fr Michael McCabe, led one of the largest gathering of SMA priests for many years as they, along with diocesan and other clergy, concelebrated the funeral Mass for the late Fr Bill Foley SMA who died last Wednesday morning, 30 July 2014.
The principal concelebrants were, from right, the SMA Superior General, Fr Fachtna O'Driscoll, school and classmate, Fr John Quinlan SMA, Fr McCabe, Fr Eamonn Finnegan SMA [who was encouraged to study for the priesthood by Fr Bill and is presently the Leader of the Claregalway community] and Fr Finbarr Crowley [PP of Innisshannon and a close friend of Fr Bill for many years].
Fr Michael preached the following homily.

"We believe that Jesus died and rose again, and that it will be the same for those who have died in Jesus; God will bring them with him." (1 Thessalonians 4:14)
These words from the second reading today assure us that all those who have died in Jesus will also share in his resurrection. Fr Bill had no fear of death because he knew he was returning to the One to whom he had already given his entire life. As we acknowledge the loss of our dear brother and friend, we thank God for the many ways in which his life has blessed and enriched us, and affirm our faith that he is now sharing in that fullness of eternal life and joy, promised by Christ to all who believe in him.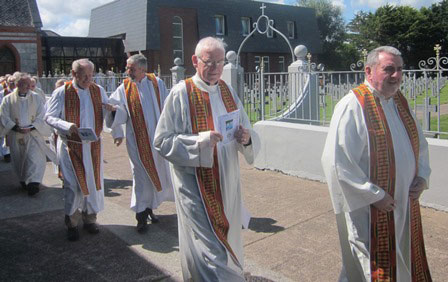 Bill Foley was born in Ballybunion, Co Kerry, on 13 October 1935, the third of four sons born to William Foley and Bridget Stack. He received both his primary and secondary education at the CBS Tralee, where he and Fr John Quinlan SMA were classmates.
Fr Fergus Tuohy leads the entry procession with Frs Brendan Dunning, James Clesham, Jim O'Kane and Bishop Kieran O'Reilly SMA of Killaloe diocese following.
He spent a short time in the Civil Service in Dublin and Dundalk before deciding to become a missionary priest. In September 1954, along with 48 others, he entered the Novitiate of the African Missions, in Cloughballymore, taking his first temporary oath of membership of the SMA on the 26th June 1955. He continued his preparation for priesthood at the Major seminary of the African Missions, Dromantine, Newry, Co Down and became a permanent member of the Society on the 14th of June 1960. Along with 22 of his classmates, he was ordained to the priesthood in the Cathedral of Saints Patrick & Colman, Newry, by Bishop Eugene O'Doherty. Another classmate who is here with us today, Oscar Welsh, was ordained the six months later.
Following Ordination, the then Provincial Superior, Fr Creaven, sent Fr Bill to study Canon Law at the Gregorian University in Rome where he graduated with a Licentiate Degree in 1963. His first mission appointment was to the Archdiocese of Lagos, Nigeria, where he worked with Fr Michael McLoughlin in Ijebu-Igbo. The Archbishop of Lagos at the time, Leo Taylor, recognising Fr Bill as a young priest of exceptional ability, soon appointed him Manager of Schools for the Archdiocese. Remember, he was then barely 30 years old! When Archbishop Taylor died it was Fr Bill Foley who was called upon to be part of the Organising Committee and act as MC for the funeral ceremonies.
Fr Bill was one of the leading figures of the SMA in the Post-Vatican II era. A big hearted generous extrovert with a keen practical intelligence and exceptional organisational skills, he was a natural leader. Little wonder, then, that very early on in his missionary life he was given key leadership roles in the Province – roles he would assume throughout his life. At the age of 32 he was appointed Superior of the Major seminary at Dromantine. In the heady atmosphere of the years following Vatican II this was not an easy time to be Superior of a Seminary and Fr Bill strove to steer a middle course between the students' clamour for greater freedom and the need for order and responsibility.
When the students were transferred to Maynooth in 1972, he was appointed the first Rector of the new SMA Formation House there. Just one year later, Fr Bill was elected to the Provincial Council where he was responsible mainly for Promotion and Property. He was re-elected in 1978 and served as Vice Provincial Superior to Fr Con Murphy until 1983. From 1983 to 1990 he was again appointed Superior of Dromantine, where he devoted his talents to strengthening the promotion of SMA mission and to carrying out necessary repairs on the House. While there, he also served as a Judge on the Marriage Tribunal of Armagh Archdiocese. On hearing of his death, the Bishop of Dromore, John McAreavey, paid tribute to Fr Bill's contribution to that tribunal, stating that "he was an excellent judge who brought good judgement, common sense and a sense of fun to everything".
Though Fr Bill's ministry was, for the most part, a ministry of leadership on the home front, Africa and its people were never far from his thoughts and always in his heart. His often expressed wish to return to Africa was granted in 1990 and he returned to Lagos, Nigeria, where he served for four years, first in St Agnes' Church, Maryland, and then in St Sabina's, Idi-Mangoro. Then, in 1994, the SMA Superior General at the time, Fr Patrick J Harrington, asked him to help out on the Staff of SMA house in Nairobi. He was there for only one year but made a lasting impression on everyone he met. In 1995 he returned to be Superior of the SMA House in Wilton and, seven years later, in 2002, following a debilitating stroke which left him partly incapacitated, he had no choice but to retire.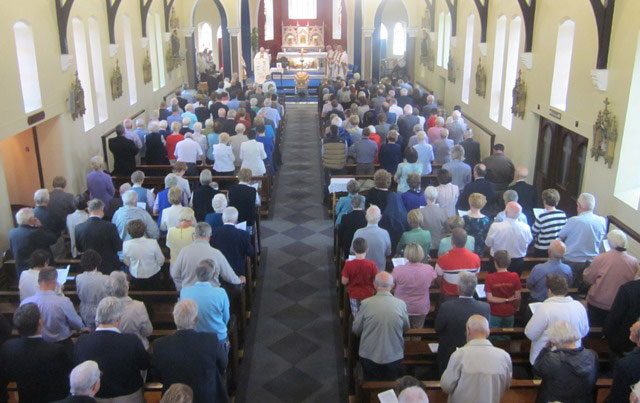 For over three decades following the Second Vatican Council, Fr Bill took part in several General and Provincial Assemblies and served on numerous Commissions, dealing with a wider range of issues: property, Church law, Formation, Mission research, retirement. His clarity of thought and ability to present his views logically and coherently, made him an invaluable resource person not only for the Irish Province but for entire Society. While strong and forceful in debate, it was not in his nature to bear grudges or be resentful of those who disagreed with him.
He was a member of the 1983 International Commission for the SMA Constitutions and Laws, and he played a key role, not only in drafting the new SMA Constitutions and Laws but in also facilitating its approval at the 1989 General Assembly — the first General Assembly which I had the privilege to attend. On hearing of his death, the former SMA Superior General, Fr Joseph Hardy, who worked together with Fr Bill on that Commission and during many General Assemblies paid tribute to his contribution to the International SMA in these words: "The last time I met him in 2009 he was still full of humour and happy to remind me of our collaboration during the post Vatican II SMA General Assemblies and the writing of our new Constitutions. Bill was a true SMA man, a devoted missionary to Africa, a clever administrator, fair to the job and to his friends. God knows his faithful servants and welcomes Bill to His table. He will now be singing for ever in the joy of his Lord."
Indeed, Fr Bill was a loyal and faithful SMA to the core of his being. The promotion of SMA and its mission to Africans was his all consuming passion. He truly embodied and lived that special missionary vocation, which, to quote the words of Saint John Paul II, is manifested in "a total commitment to evangelization, a commitment which involves the missionary's whole person and life, and demands a self-giving without limits of energy or time." These words might give the impression the Fr Bill was so committed to the mission of the Society that he had no time for fun and laughter, but this was not the case. He was, as I've said already, an outgoing, hospitable and sociable person who enjoyed good company he could always be relied on to sing a song or two or more… whenever there was a party – and there were many occasions for parties in his life. One young man said on hearing of his death: "my abiding memory of him, aside, obviously, from the pipe, will be of laughter and joy."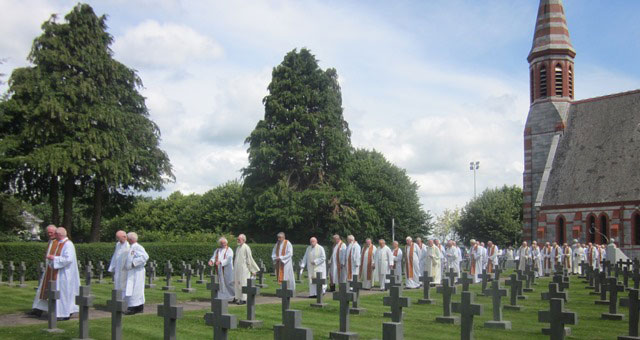 Following his debilitating stroke in 2001 and retirement at SMA House, Wilton, Fr Bill bore his disability with great fortitude and resignation. And he remained active in many ways even if he could not move about as easily as before. He remained a valued member of the Board of Management of Tabor Lodge and maintained a huge correspondence with friends and SMA supporters, by post and phone. Big hearted and generous as always, he continued to support many of his SMA confreres in Africa, the projects of several congregations of sisters, as well as many other people who sought or needed his help.
His family was the other great interest of his life. He was involved as much as possible in the different family events down the years. He never lost touch with his roots in Kerry. There's a telling photo of him from his time in Kenya sharing some news item of the Kerryman with his new Maasai friends. Fr Bill inspired all who worked with him. If you met him once you could never forget him.
He would have said of himself that he was a man of simple faith – though indeed such faith is never something we can take for granted. Yes, it is a gift, but a gift that has to be expressed in action, and it was faith-in-action, the action of constant loving outreach and service of others that marked the life of Fr Bill to an extraordinary degree. We shall not see his likes again.
As we mourn the loss of a great SMA missionary priest, whose life and example has touched and inspired the hearts of so many people, we pray that the Lord he served so well will grant him the fullness of eternal life and joy in Heaven.
Eternal rest grant unto Fr Bill, O Lord. Amen.