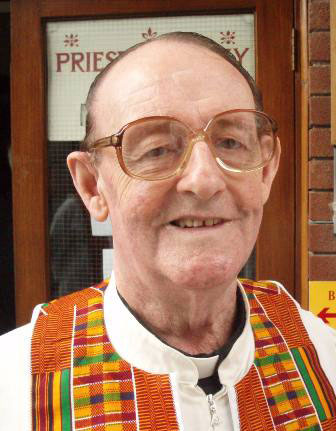 Fr Bernard J Raymond SMA
+ 19 September 2011
Bernard John Raymond was born in Dublin on the Feast of St Andrew, 30 November 1931, the only child of James Raymond and Elizabeth (née Gallagher). The family had a Drapery shop at the junction of Botanic and Phibsborough Roads in Glasnevin, opposite the Brian Boru Pub. His father was from Kildare and his mother from Leitrim.
He attended Iona Road CS and St Vincent's Primary School before enrolling in St Vincent's Secondary School, Glasnevin (1943 – 1948). After completing his Leaving Certificate, Bennie decided to test his vocation with the Franciscan Order. This was possibly due to the influence of a cousin of his mother, Fr John Evangelist McBride OFM, who was a missionary in South Africa. In 1949, Fr McBride was appointed Vicar Apostolic of Kokstad. After attending the Franciscan Novitiate in Killarney, the young novice, now called Brother Clarence, moved to the Franciscan House of Studies where he undertook Philosophy and Latin studies in UCG (1949 – 1952). These studies were taken through the medium of Irish, and this gave Bennie enormous joy.
Having completed three years in Galway, Bennie decided to leave the Franciscans and for one year he worked as a Clerk with CIE, based at the North Wall Depot, Dublin. In 1954 Bennie got a job, as Traffic Clerk, with Aer Lingus. This began what was to be a lifelong passion for travelling. During his time with Aer Lingus, Bennie enrolled as an evening student in UCD and graduated, in 1958, with a BA in Irish, English and history. Irish was to be a second passion for Bennie and the Blackrock Road community will miss his 'blás' when Mass readings in Irish are used on particular feastdays.
A chance meeting at Dublin Airport with the Bishop of Ibadan, Nigeria, Rt Rev Richard Finn SMA, opened Bennie's eyes to the possibility of being a lay missionary. From 1959 – 1963, he was a member of the teaching staff at Our Lady of Fatima College, Ikire, where Fr Patrick Glynn SMA was the Principal. His subjects were English Language & Literature, History and Latin. Bennie kept up a lifelong connection with the Fatima Old Boys' Association. Some of them were arranging to come to Ireland for his upcoming 80th birthday. He also taught Religious knowledge for a period before returning to Ireland, in 1963, to enter the SMA Novitiate at Cloughballymore, Co Galway. After taking his first oath on 25 June 1964, Bennie went on to the SMA Major seminary at Dromantine, Newry, Co Down.
As Bennie had already studied Philosophy with the Franciscans he went immediately into theological studies in Dromantine, leaping over three classes in the process. Even though he could see Croke Park from the back window of his childhood home, Bennie had little interest in sport. However, Dromantine did afford him the opportunity to develop his interest in photography. This was to be a talent he made use of for the rest of his life, both personally and for the benefit of the SMA. He took his permanent oath of membership in the Society on 14 June 1967 and was ordained a priest, along with 10 classmates, on 18 December 1967. After completing his studies, Fr Bennie was appointed to western Nigeria and, after completing the Tyrocinium programme in Iwo, he began his priestly ministry in Ibadan where he served till 1976. Fr Bennie returned to teach in Ikire and also taught, for some years, in St Mary's, Iwo. His pastoral work was undertaken in Holy Cross parish, Ikire and St Cyprian's parish, Oke-Offa. He also served as Editor of the Catholic Independent newspaper which was the leading Catholic paper in the west of Nigeria.
Being an only child, Bennie felt a huge responsibility to his parents. As their health deteriorated in later years, Fr Bennie returned to Ireland to help care for them at their home in Lorcan Avenue, Santry. It was a challenging time for Fr Bennie, with a now blind mother and a deaf father. But he cared for them as lovingly as anyone could. At the same time, from 1977 – 1983, Fr Bennie worked in the Archdiocese of Dublin, in Larkhill and Finglas parishes.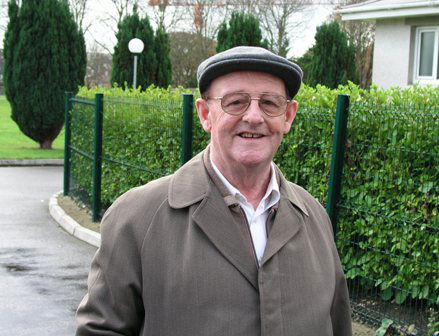 After the death of his parents, Fr Bennie was appointed to the Promotion team and spent several years visiting the parishes of Ireland as part of the SMA Mission Awareness programme. Recognizing his skills as a communicator and fund-raising abilities he was asked to return to Nigeria to help strengthen the SMA promotion work there. As the chief fund-raiser and Director of the Family Vocations Movement he travelled widely making the SMA known and inviting Nigerians to become involved in helping to support financially and through prayer the fledgling SMA African Foundation. In 1996, Bennie was asked to become Assistant to the Provincial Archivist, based in Blackrock Road, Cork. He served in this work until 2006 when increasing ill health made it necessary for him to retire from active work.
However, Bennie remained active as much as he could – making videos of his many overseas trips, cataloguing photographs, maintaining a huge correspondence with the many friends he had made, in Nigeria and throughout the world. He had a prodigious memory for events and dates, even to the very hour! Bennie loved to read travel brochures and books, and he travelled to many of the places he read about. Without doubt, travel, photography and keeping contact with friends were Bennie's three greatest pastimes.
His many many friends, particularly in Nigeria, as well as his confreres in the Society of African Missions, will mourn his passing. But he has gone no further from us than to God, and God is very near.
Go ndéana Dia trócaire agus grásta air.