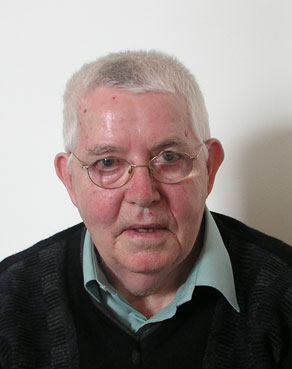 Fr Anthony (Tony) O'Donnell SMA
Fr Anthony (Tony) O'Donnell passed peacefully to his eternal reward at 3.40am on Monday, 20 December 2010. Fr Tony died at the St Theresa's Nursing Unit in the African Missions, Blackrock Road, Cork.
Homily at Funeral Mass – read here.
The son of Daniel and Bella O'Donnell, Tony was born on 28 April 1926 in the parish of Upper Templecrone (Kincasslagh) in Donegal. He is predeceased by his three sisters Brigid, Kathlen and Annie.
After attending St Eunan's College, Letterkenny (1942 – 1947), he then entered the SMA Novitiate in Kilcolgan, Co Galway before going to do his Theological studies at the SMA Major seminary, Dromantine, Newry, Co Down. He became a member of the SMA in 1949 and was ordained a priest by Bishop Eugene O'Doherty (a fellow Donegal man) on 17 June 1953 in St Colman's Cathedral, Newry.
After Ordination Fr O'Donnell was appointed to the Prefecture Apostolic of Ibadan, Nigeria. This ecclesiastical jurisdiction was created the previous year with Monsignor Richard Finn SMA (from Mayo) as the Prefect Apostolic. The Prefecture was in need of young priests who would take on the challenge of developing the Church throughout the area, most of it rural and barely accessible. For forty years, Tony worked in both the rural and urban areas of Ibadan, establishing several parishes or developing already-existing ones. These include Oke-Padi, Ikire, Iwo, Odo-Ona, Oke-Offa and Mokola.
Always soft-spoken, Tony's quiet nature endeared him to all and his gentle pastoral sense was a source of comfort to people in their time of need and an example to younger priests, both Niugerian and Irish, who lived with him.
When stationed in Christ the King Church, Odo-Ona, he founded a Band with tin whistles, accordions and other instruments he got from Dungloe in his native county. He was an accomplished Tin Whistle player and had a beautiful singing voice. In his latter years, in Cork, Tony would render many verses of Donegal songs he learnt as a child, many of them unknown to his listeners.
His work helped to develop Ibadan to the stage where it was created a diocese (1958) and in 1974 he witnessed the appointment of Rt Rev Felix Alaba Adeosin Job as the Bishop of Ibadan. Twenty years later, just after Fr Tony had left Ibadan due to ill health, it was created an Archdiocese with Archbishop Job at its head.
Due to ill health he returned to Ireland in 1993 and following heart surgery he spent some years convalescing in Donegal (1995-2004). In Donegal he helped out when needed in neighbouring parishes. In 2004 Tony came to the SMA House in Blackrock Road where he lived until his death. Though his health slowly continued to deteriorate he participated, for as long as he could, in the many community events (particularly the Thursday 'Sing-Song') in Blackrock Road. During his years of retirement in Cork, Tony looked forward to the visits of Archbishop Job who shared with him news of the developing Archdiocese.
Fr Tony is mourned by his nephews, relatives, friends and his confreres in the Society of African Missions.
Ar dheis Dé go raibh a anam dílis.