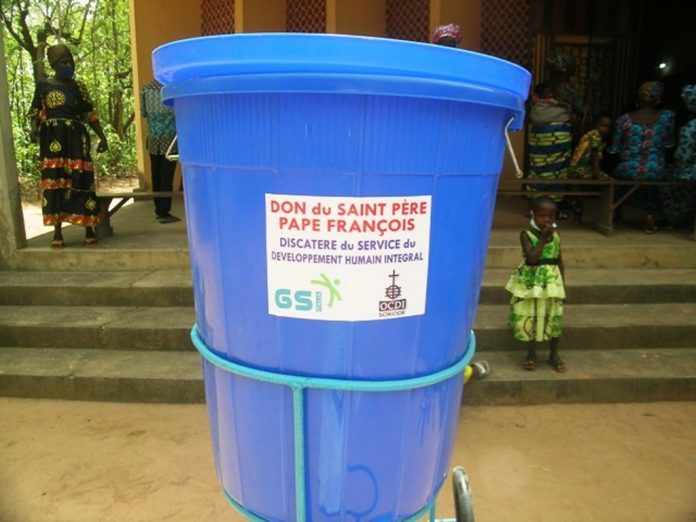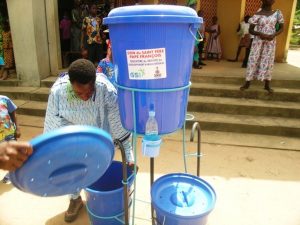 Easter 2021! A special and memorable day. In front of our church in Kolowaré we have two new "washbasins", the latest type, commonly known as Veronica buckets [see picture]. Two people can use each one at the same time. And hold on tight: "gift from Pope Francis" is marked on them. The Sokodé diocesan Caritas-OCDI presented a project to Rome, who responded favourably.
Thus, several parishes were able to benefit from basins,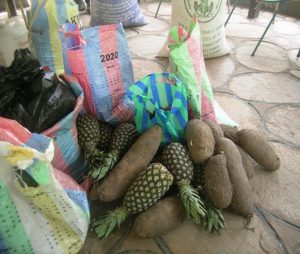 to help protect themselves from Covid. Here in Kolowaré, we provided 300 masks and a box of soap for the parishioners. A beautiful gesture of communion with our diocese. And we all celebrated! Easter Sunday Mass began with a solemn procession with gifts (food etc.) which the people donated and which the Parish Council distributed after the celebration, with special attention to the most disadvantaged. After the Mass we had a village 'lunch' for everyone, including our special guests, those young adults and others who were baptized at the Easter Vigil.
Care of the most vulnerable
The Kolowaré health centre has been caring for HIV-positive patients for years, with particular attention to children, young people and their families, or rather the extended family. Because, often these patients are all related.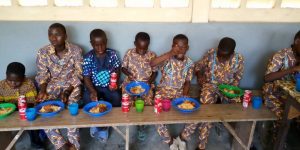 The Centre brings them together, several times a year, for 10-day sessions at a time; to control the disease, provide them with adequate food and care, enabling them to live together, to socialize. Given the attention, seriousness, and commitment that the Centre has taken for years towards these patients, the Kindermissionwerk, an NGO connected to the Catholic Church in Germany, recently offered its support with a team of specialists to support these vulnerable young people and their families. Their programme, which will last for two years at a time, was launched in January and after a break-in, it is now fully operational. They are covering the salaries etc. for a number of staff, including four nurses (two women and two men) and a psychologist.
Yadé Village
On Easter Wednesday, 7 April 2021, with my diocesan assistant, Father Bruno Espoir, Iroko (the manager of the company who does our boreholes and wells) and Father Raphaël Tchassiwa SMA, parish priest of Tchébébé, we travelled to Yadé, his village of origin, about a hundred kilometers from Kolowaré. On the way we called to greet Father Alexis Bassoma SMA, PP of Awangelo, and the Catechist Sisters in Yadé. We then left the tarred road to take a track in the middle of the woods before arriving at the village. One big family was there to welcome us, father, mother, uncles and a large group of children. The village had asked for a well. And we had come to finalize the project. Since there is electricity in the village, we will make a borehole, with a submerged pump which will bring the water to a water tower, from which the water will descend to a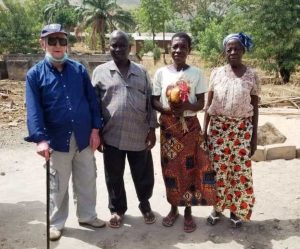 tank with taps to draw water. Before leaving, they offer us a chicken.
Oasis of love
On the way back, we stopped at Amaoudè to visit the new Centre that cares for the mentally ill. I was there ten years ago, when they needed our help to get a well. The project was at its beginnings, and everything had to be built. Thanks to the help of an Italia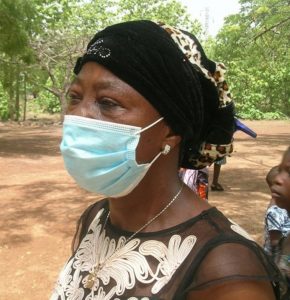 n NGO, Novara Centre, a borehole was dug and a water tower constructed. The Italian Bishops' Conference then built the Centre, which is named: Oasis of love.
The centre accommodates 120 patients, under the direction of Sister Rolande. She showed us around the different sections: women, men, workshops, leisure space, a chapel. Iroko then takes us to see the borehole and water tower he constructed all those years ago! Still active and operational.
Before leaving we leave a little gift at the Centre: the chicken received at Yadé!
Fr Silvano Galli SMA (Italian SMA)