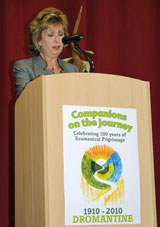 President Mary McAleese and Rev Ruth Patterson address an Inter-Church Gathering in Dromantine
8 May 2010
On a beautiful sunny, Saturday May afternoon about 300 people from several different Christian denominations gathered in Dromantine to celebrate the centenary of the ecumenical movement.
The theme for the afternoon was "Companions on the Journey: celebrating 100 years of ecumenical pilgrimage. How far have we come? How far can we go"
Our two speakers, President Mary McAleese and the Rev Ruth Patterson received a very warm welcome from the participants.
We began with a Reflection, led by Rev Patricia McBride and Sr. Mary Connellan, focusing on the struggles and pains as well as the joys and hopes of the ecumenical journey so far.
In welcoming President McAleese, Fr. Des Corrigan SMA mentioned that while she had visited Dromantine before this was her first visit as President of Ireland and thanked her for honouring the gathering with her presence. She then gave an insightful address and answered questions. Her easy, warm manner created a very friendly relaxed atmosphere. Text here.
Our picture shows Rev Patterson, President McAleese, Dr Martin McAleese & Fr Desmond Corrigan SMA.
After a break for afternoon tea, the second session was led by Rev. Ruth Patterson, Director of Restoration Ministries, Belfast. Ruth has a long association with the SMA and some of her co-workers in Restoration Ministries have links with Fr Pat Kelly SMA, both in Ireland and during his years in Liberia. Ruth's talk, delivered with so much passion and enthusiasm, was truly inspirational. Text here.
A short closing liturgy challenged all to commit themselves to continue the journey to greater respect and unity. It was conducted by four people representing the four main Christian churches.
Beautiful, reflective music was provided at various times during the day by four local musicians.
As people were leaving one participant said, "I have not experienced so much hope and enthusiasm in a church setting for many years." Others expressed gratitude for the occasion and hoped there would be more such gatherings in future. While we cannot expect to always have the President of Ireland and Ruth Patterson, we do hope to continue having such Inter-Church gatherings.