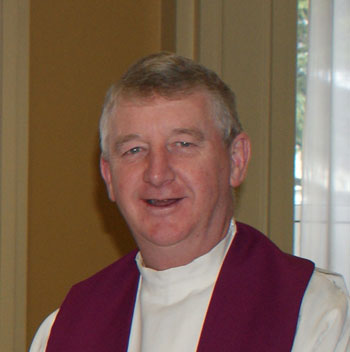 Delegates attending the XX SMA General Assembly in Rome have elected Fr. Fachtna O'Driscoll to lead the Society as Superior General for the coming six years.
Fr. O'Driscoll, a native of Rathcormac, Co Cork, is the 13th successor to the SMA Founder, Bishop Melchior de Marion Brésillac. He is also the 5th Irishman to hold the Office. Former Irish Superiors General include Bishop Patrick J Harrington of Lodwar, Kenya and Bishop Kieran O'Reilly of Killaloe, Ireland.
Fachtna O'Driscoll, son of the late Jerome and Bridget (née O'Connor), was born on 10 February 1954, has two sisters (Kathleen and Noreen [Hogan]) and two brothers (Gus and Brendan). His senior brother, Gus, is also an SMA priest and is Parish Priest of the Good Shepherd Parish in Manila, Philippines.
After primary schooling in Rathcormac National School he did his secondary education at St Colman's College, Fermoy. He began his training with the SMA at Wilton, Cork in September 1971. After taking his first oath of membership in June 1972 he went to the SMA House of Studies at Maynooth where he studied for a BA and later a Bachelor of Divinity. He became a permanent member of the Society in 1978 and was ordained a priest in 1979.
During his time in Maynooth he won medals with the College Fitzgibbon Cup team (hurling) and in the Devine Cup competition (soccer) with the SMA team.
From 1979 to 1986, Fr. Fachtna served in Ekiti diocese, Nigeria where he was noted for his fluency in the Yoruba language. He was recalled from Nigeria by his Superiors and sent to undertake studies in Counselling in Boston College, USA.
Having completed his Masters he was appointed as the Rector of the SMA House in Maynooth, a post he held until elected to the Irish Provincial Council in 1995. As a member of that Council he had particular responsibility for Justice & Peace matters. After his six year term of office Fr. Fachtna looked forward to a return to Africa but his confreres elected him as Provincial Leader at the 2001 Provincial Assembly and reelected him in 2007. His second mandate was due to expire in July this year.
Fr. Fachtna is a committed GAA fan, keenly keeping an eye on his local Bride Rovers team as well as following the ups and downs of the Cork hurling and football teams. From his time in the US he is a keen supporter of American football. Other interests include walking and reading as well as, on occasion, a game of golf.
As Provincial Leader, he participated in many international meetings of the Society and impressed many by his experience and balanced assessments. He has now been entrusted with leading the Society, with more than 800 priests and brothers from Africa, the Americas, Europe, India and the Philippines. Many of them are working in 16 African countries, from Egypt in the north to South Africa, from Morocco in the west to Kenya and Tanzania in the east.
In the coming days Fr. Fachtna will present a list of candidates for his Council and the Assembly delegates will elect from that list those who will serve as Vicar General and Councillors. May God bless Fr. Fachtna and those who will be chosen to serve for the coming six years on the General Council and give them the wisdom they need in their new tasks.
As a consequence of Fr. Fachtna's election as Superior General the Irish Province will now be led by Fr. John Dunne, from Mitchelstown until the Irish Provincial Assembly in July. An election will take place to fill the vacancy on the Provincial Council. The electors will be the members of the Stream 2 Leadership stream. The new Councillor and Fr. Damian Bresnahan (from Omagh) will assist Fr John until that time. All of them are commended to your prayers.
Martin Kavanagh, SMA Communications Director