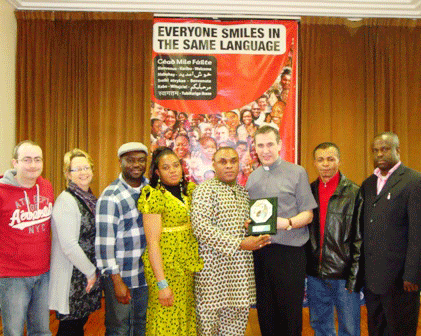 Nigerian community honours Cois Tine

During 2011, as in previous years, Cois Tine undertook a lot of work which made a difference to many people. Usually this happened with little publicity or noise. However, in 2011, it was a bit different as Cois Tine was featured in RTE's Secret Millionaire TV programme and received a very welcome donation of €5,000.
This was not the only award that Cois Tine received in recent times. It also received recognition as runner up in the national Diverse Ireland Awards and two Certificates of Recognition, one from AKIDWA a Dublin based African Women's Organisation and the second from the Sudanese Association of Cork.
These were given for Cois Tine's "support" and for "dedication to promoting equality and Justice for migrant women in Ireland."
Most recently, Cois Tine was presented with the Nigerian Community of Cork's Non-Governmental Organisation of the Year Award for "being the most supportive organisation to its main and sub-communities." Fr. Angelo Lafferty SMA, Cois Tine Director, received the award from the President of the Nigerian Associations Cork branch, Mr Emeka Ikevuasi. Other members of the association who were present on the occasion were the Youth & Special Events Coordinator and Acting Secretary, Mr Tony Lawani, and two members of the Board of Trustees, Pastor Dickson Iribasoye and Mr Ben Uzoma.
Our thanks to all who have acknowledged our work we appreciate this and are encouraged as a result.
Our picture shows Fr Angelo, Mr Ikevuasi and some of the Trustees and Cois Tine volunteers at the award ceremony.