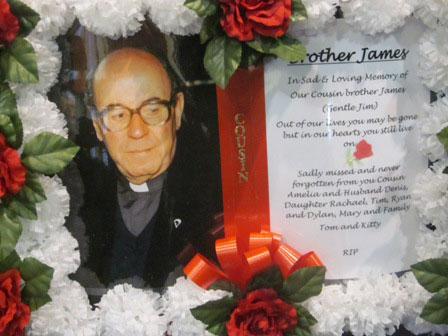 Br James Redmond SMA (RIP)
Fr Fachtna O'Driscoll, SMA Provincial Leader, was the Principal Celebrant of the Requiem Mass for Brother Jim Redmond on 28 February 2012 in St Joseph's SMA Parish Church, Wilton, Cork. The principal Concelebrants were V Rev Tony O'Connell, PP of Br Jim's home parish of Rathnure (Ferns diocese), Fr Dan Cashman SMA and Fr Tommie Wade SMA. After the Gospel, Fr Fachtna preached the following homily.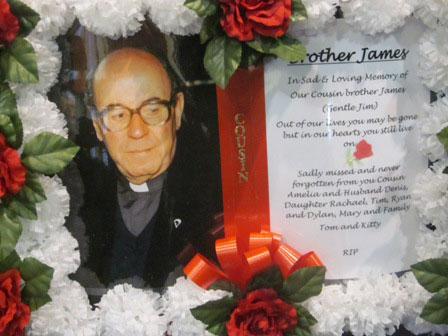 Readings: Ezekiel 37: 12-14 1 Peter 3: 18-22 John 14: 1-6
"Remember that you are dust, and to dust you shall return".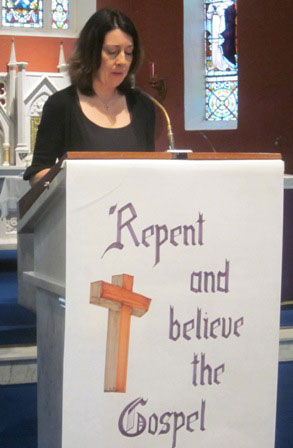 These words of the Ash Wednesday liturgy were prayed just three days before Jim Redmond died, peacefully in his bed, under the loving care and attention of St Teresa's staff. The words are a stark reminder of the inevitability of death. Ash Wednesday, perhaps more than any other day with the possible exception of Good Friday, is a reality-check day. On that day one cannot avoid the reality of one's own mortality. We will all eventually decay as our bodies return to the state of dust. Jim Redmond had the fortune to die in these early days of Lent. Even though in the end his passing was sudden, he had really been preparing to die for quite some time now. Given his state of health when he came over to Blackrock Road from Wilton some months ago, stopping off along the way at St Finbarr's hospital where he received medical treatment for a stroke, one could say that these months have been a real bonus.
Br Jim's niece, Anne Redmond, read from 1 Peter 3:18 – 22.
A funeral ceremony would be a very morose affair if our focus remained on dust. A key ingredient that our Christian faith provides takes our mood from one of being morose to one of thanksgiving and celebration. Because our Christian faith asserts that for God's faithful people life is changed, not ended. The state of dust to which our body returns is itself but a temporary state. We believe in the resurrection of the Body and Life Everlasting.
Even in the time of the Hebrew Scriptures the Prophet Ezekiel, some six hundred years before the coming of Jesus, was forceful in his declaration that God's plan for his people was one of restoration. As our first reading this afternoon puts it, "you will know that I am the Lord, when I open your graves and raise you from your graves…and I shall put my spirit in you, and you will live". The focus here is primarily on the in-spiriting of the people and the restoration of the nation after the time of exile but it also evokes belief in a personal afterlife. This passage comes after that famous passage of the vision of the dry bones. The bones, being representative of the people of Israel, were dry because the people had no spirit in them. They had reneged on the promises through their sinfulness. But God never reneges on a promise. And so the bones will once again come to life and they will be resettled in their own soil. This will happen when God's spirit dwells among his faithful people. God's promise to us, in Jesus Christ, is that he will dwell eternally in spirit among his faithful people. This is a tremendous reassurance at the time of any funeral. For Jim Redmond's family today it is a great consolation.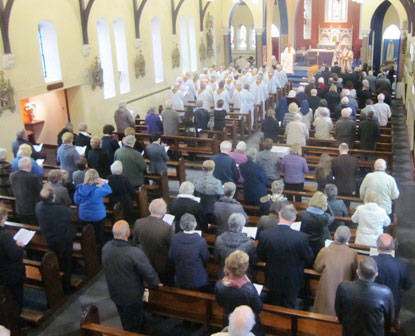 Many people will recognise our second reading this afternoon as the second reading of our Mass on Sunday last. St Peter is asserting that Christ is the basis of our confidence as Christians. He is trying to bolster persecuted Christians. They can take courage because Christ gave his life for them to bring them eternal salvation. Indeed, Christ lost his earthly life, but was brought to glory by his Father. As he ascended in glory, he conquered all the powers of evil and now sits at God's right hand. With such a leader, Christians need not fear.
Christians partake in Christ's triumph through Baptism. Jim Redmond received his baptism at Rathnure, Co Wexford on 27th October 1931. Baptism saves those who receive it; it infuses its recipients with the power of Jesus' resurrection and enables them to live with pure consciences. The implication is that Christians have a challenge to meet: Christ's power is available, but they must make use of it.
I think any objective reading of Brother Jim Redmond's life would attest that Jim made very good use of Christ's power made available to him. He spent a short period with the Brothers of Charity at Rochestown before entering Blackrock Road in August 1946. He did his novitiate in Clough. He took his first oath of membership in May 1949 and worked in Blackrock Road as porter / receptionist and sacristan of the public church right through the decade of the 1950s. One of Jim's proud boasts was that he trained so many future SMA priests as Altar servers at St Joseph's church. In fact, he specifically asked that they would take a prominent position at his funeral liturgy. (It was for that reason that Fr Tommie Wade was invited to be one of the principal concelebrants as he was trained as an Altar server by Br Jim in the late 1950's).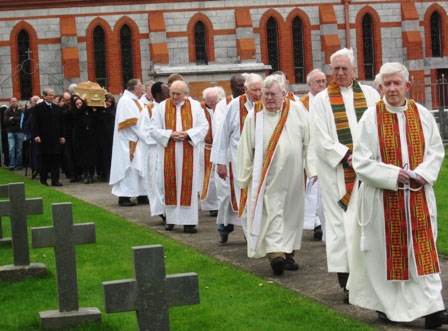 Nieces and nephews of Br Jim shouldered his coffin from the Church to his grave, led in procession by more than 50 SMA and Rosminian priests who concelebrated the Funeral Mass.
It was during these years that Jim developed his love of music. He took lessons in organ practice and the theory of music. Some in leadership positions were supportive, though not all confreres had the same appreciation. A music lesson at that time in the early 1950s cost two shillings and six pence. If it is true that the life of any missionary was tough in those days, I think we have to acknowledge that the life of Brothers within the SMA was particularly hard. Jim devoted a lot of his energy throughout his life to promote a proper appreciation of the vocation to the Brotherhood within the SMA. He constantly drew attention when he believed Brothers were not given their rightful place or their missionary service was being downplayed. He was elected to represent the Brothers within the Society at international level at the General Assembly of 1973.
Jim was a man of strong faith. This manifested itself during his ten years of ministry in Ibadan, Nigeria, where he worked as manager of the Catholic Newspaper 'The Independent' and manager of the printing presses at Claverianum Press. It also manifested itself later during his wonderful tour of duty in the promotion office in Wilton. He worked here at the promotion office for thirty years until he formally retired in 2000. However he was to continue to serve in the office during novenas, and wrote thousands of personal comforting letters to our supporters who wrote in about one difficulty or other in the family or neighbourhood. His work was characterised by a tremendous organisational ability and a meticulous attention to detail. But he could also enjoy the fun and banter with his confreres, especially during the novena periods when extra hands were called to the task of opening envelopes etc.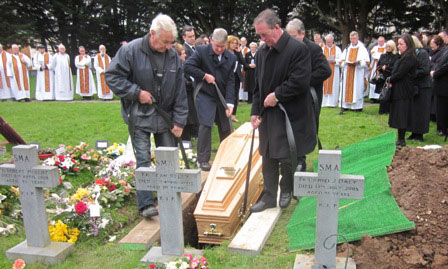 Over his forty years in Wilton Jim became a tower of strength to so many. By his letters and phone calls he provided a wonderful pastoral ministry. He also worked outside the strict SMA ambit; he was a strong motivator of the 'Combined Counties' organisation and through this gave many devoted hours in support of Edel House services. Such organisations provided him with a healthy social life and he enjoyed greatly the friendships he made. Another nourishing outlet was the choir here at St Joseph's church which he was instrumental in establishing. Indeed he was involved with many different choirs over the years. He provided organ accompaniment for many SMA liturgies throughout his life, from Knock to Blackrock Road and, of course, for all funerals conducted here at Wilton. It is fitting, then, that so many have gathered here this afternoon to sing him home to God.
Jim had a strong devotion to Our Lady and particularly liked the Magnificat prayer, believing that, like Our Lady, the Lord had done wonderful things to and for him also. He asked that it be sung at his funeral Mass.
Fr Joachim, from Ibadan Archdiocese where Br Jim worked for nearly a decade, recited a decade of the Rosary at the end of the burial ceremony.
In our gospel today Jesus tells us, "Do not let your hearts be troubled. Trust in God still, and trust in me. There are many rooms in my Father's house". Jim believed this implicitly. Perhaps I can do no better than to conclude this homily by quoting Jim's own faith declaration as given in his last Will and Testament: "I would urge all those whom I love not grieve at my going; but to be grateful to God for what we were able to share while together on earth. Soon enough, we will all be together again, this time in God's Kingdom and forever. What a meeting that is going to be!! Earthly pains and tears forgotten; joy unending; God's creation realised in us. Be at peace and remember me as I shall lovingly remember you and care for you until we are all together again. Then, let us resume as we left off."
Ar dheis lámh Dé go raibh a anam dílis.