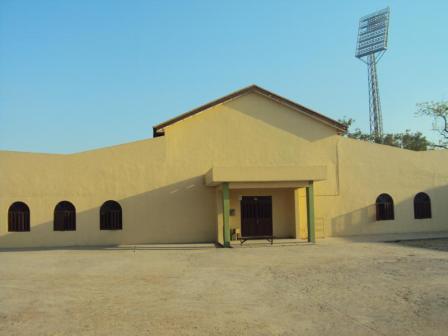 FIRST YEAR MEMORIAL MASS FOR BISHOP JOHN MOORE, SMA
Fr Andrew Batare reports from Bauchi, Nigeria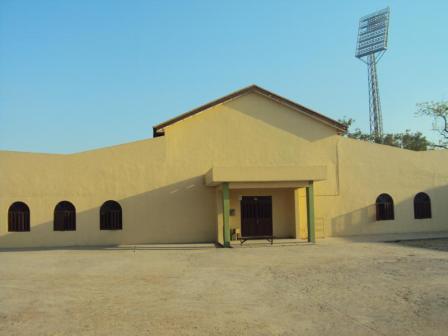 A Holy Mass in honour of the first anniversary of the death of Bishop John Moore SMA was held at St. John the Evangelist Cathedral, Bauchi (pictured) on 20th January, 2011. This marks exactly one year to the day he died at St Vincent's Hospital, Dublin, Ireland. Bishop Moore was buried in the SMA community cemetery in Wilton, Cork on 23 January 2010.
The Mass was presided over by Very Rev. Fr. John Keane SMA, the Diocesan Acting Administrator. Fr. Fachtna O'Driscoll, the Irish SMA Provincial Leader was in attendance. Welcoming Fr. Fachtna in a special way, Fr. John Keane expressed his gratitude to the Irish Provincial for coming all the way from Ireland to attend the Mass.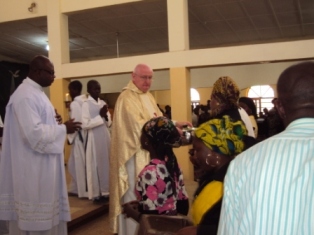 Fr Keane (pictured right with Fr Cletus Ikpa, the diocesan Master of Ceremonies) said everyone was confused when the shocking news of the death of Bishop John Moore SMA was announced last year. However he was grateful to God that the diocese was able to move on despite the large vacuum created by the death of the late Bishop. He assured everyone that Bauchi Diocese will continue to grow and urged the Priests, Religious and the Laity to support this cause.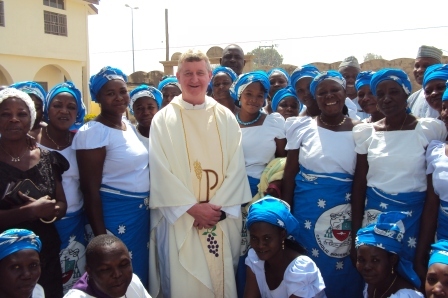 Fr. Fachtna O'Driscoll (pictured above with the Zumuntan Mata group after the Mass – the northern Nigerian equivalent of the Catholic Women's Organisation of Nigeria) gave the homily. During it he said that Bishop John Moore was a gift to Bauchi Diocese and a true SMA member all his life. He enumerated his great pastoral prowess coupled with his great sense of humour which drew so many to him. Furthermore, he acknowledged the developments recorded in Bauchi Diocese under Bishop John Moore and the subsequent promotion of the Bauchi Apostolic Vicariate to a Diocese in 2003.
He urged the people of the Diocese to extend the support they gave Bishop John Moore to his awaited successor as 'that will make Bishop John Moore happy'. He was optimistic that Bauchi Diocese will grow. He concluded by saying that both Bauchi Diocese and the entire SMA society will miss him.
A large crowd, most of them in tears, turned out for the mass comprising of Priests, Religious and the Laity. Bishop Moore Obituary here.
Our picture shows Fr O'Driscoll with Knights of St Mulumba and Knights of St John as well as Church Ushers and other participants after the Anniversary Mass.