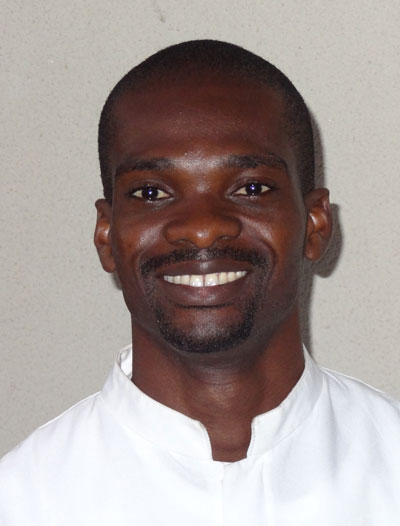 Badagry celebrates its 4th 
SMA priest
When Fr Francesco Borghero SMA celebrated the first Mass in Badagry on the 2 October 1863 he could hardly have imagined in his wildest dreams that less than 150 years later Joseph Ogungbe would be ordained as the fourth SMA priest from the area. Fr Joseph, pictured, was ordained at the Holy Family Church, Ajara on Saturday 7 July.
SMA supporters in their colourful uniforms, from as far away as Jos and Kano and up to thirty priests and sisters joined the local community for the occasion.
There was a memorable moment in the Mass when silence descended on the packed congregation as Bishop Bulus Yohanna from Kontagora placed his hands on the head of Joseph Ogungbe and ordained him as the 40th Nigerian SMA priest. The commentator for the occasion, Fr Patrick Kwis SMA, put the moment into words with "habemus sacerdos," "we have a priest," "we have an SMA priest," "we have an SMA missionary priest." With that the congregation broke into rapturous and sustained applause.
Joseph is the fourth of a family of five. He received his early education in Maiduguri where his father was a policeman. He did his secondary schooling at St Theresa's Minor Seminary, Ibadan. His nine years of formation with the SMA began in 2003. As well as studying in the SMA Formation Houses in Ibadan (Nigeria) and Calavi (Benin Republic) he did his one-year Pastoral training in the Archdiocese of Korhogo (Ivory Coast). His theology studies were completed in Ss Peter & Paul Major seminary, Ibadan. 
The ceremony lasted for over four hours during which, in his homily, the bishop stressed that priests are called not just to be instruments of Christ but to be Christ for their people and to avoid the danger of materialism which is a big temptation for priests today. Praising the SMA, he said, "I would not have gone to school only for the SMA, I would not be a priest or bishop today only for the SMA."
It was a special day for Fr Eddie Hartnett (from Ballinlough, Cork City), who is affectionately known, by priests and people, as "Baba of Badagry." Badagry, for long neglected by the Government and Church, is now the biggest deanery in the Archdiocese with Fr Eddie as Dean.
He came to Badagry in 1976, from Mushin parish in Lagos City, and served in Sacred Heart Church Badagry beside which are buried the mortal remains of Fr Joe Carew SMA. [The Sacred Heart Church was built by Fr Bill Ghent SMA and opened in 1967]. At that time Fr Eddie was the only priest in the area. From Sacred Heart he has developed two new parishes in Ikoga Zebbe and Ajara, handing them over to the diocesan clergy when they were sufficiently developed and moving on to new areas. In June of this year he moved from Ajara to his fourth foundation at Sea Beach Kweme, on the border between Nigeria and the Republic of Benin. There, assisted by two diocesan priests, they look after 14 outstation villages or Station Churches as he prefers to call them.
From the sitting room of the new priests' house, if you have the stamina to climb the 30 steps to reach it, you can sit there and get a panoramic view of the lagoon and of Topo Island, which is so much part of the story of the beginnings of SMA in Lagos, and be invigorated by a gentle and refreshing sea breeze. When asked what he thinks missionary work is all about Fr Eddie says, "it is about bringing hope to the people." Fr Joseph has been appointed to South Africa to bring hope to the people there, especially to those who are poor and marginalised.
The other three 'Badagry SMA priests' are Fr Julius Temuyi who ministers in Kano, Nigeria; Fr Benedict Tinka who works in the Afram Plains area of Ghana and Fr Emmanuel Zinsu who has just returned to Nigeria from his mission in the Ivory Coast to take up his new appointment as Secretary to the Bight of Benin District-in-formation Council in Ibadan. 
On the way to the ordination I remarked to a Nigerian SMA who was travelling with me that Badagry has done well for the SMA giving us today the fourth SMA priest from the area. "No," he said, "you have got it wrong. Fr Hartnett has done well for the SMA and given us four priests."
Fr Tim Cullinane SMA