The Archdiocese of Lusaka, Zambia

| | |
| --- | --- |
| Erected | 25 April 1959 |
| Area | 64,000 sq kilometers |
| Population | 3,225,098 |
| Catholics | 729,896 |
| Priests | 208 |
| Permanent deacons | 1 |
| Religious | 892 |
History:
The territory was erected as the Prefecture Apostolic of Broken Hill on 14 July 1927
The name was changed to the Prefecture Apostolic of Lusaka on 13 June 1946
It was elevated to be the Vicariate Apostolic of Lusaka on 14 July 1950
Most Rev Telesphore George Mpundu
Archbishop Mpundu was born at Kopeka on 21 May 1947
He was ordained priest on 17 Dec 1972
He was appointed Bishop of Mbala on 7 Mar 1987 and ordained bishop on 21 Jun 1987.
On 1 Oct 2004 he was appointed Coadjutor Archbishop of Lusaka, Zambia and succeeded on 28 October 2006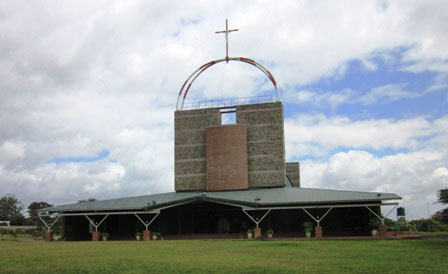 Cathedral of the Child Jesus, Lusaka
P O Box 32754, 41 Wamulwa Road, 10101 Lusaka
Telephone: +260-211-239 257 or +260-211-291 625
Fax: +260-211-290631
Former Archbishops:
Emmanuel Milingo was appointed on 29 May 1969 and resigned on 6 Aug 1983
Medardo Joseph Mazombwe was appointed 30 Nov 1996 and retired 28 October 2006
Interior of the Cathedral
SMA in the Archdiocese
5 SMA's work are working in the Archdiocese.
Fr Patrick Barry (Cork) and Fr James O'Kane (Tyrone) work in the Parish of Chainda-Ibex Hill.
SMA Transit House
PO Box 320311
Woodlands P O
Lusaka
Street address: 33 Great East Road, Chelston, Lusaka
Tel: +260-211-281633
@ [email protected]
Fr Paraic Kelly (Galway) and Fr Michael O'Shea (Cork) work in St Augustine's Major seminary, Mpima
St Augustine's Major Seminary
P O Box 81011
Mpima
Kabwe
Tel +260-976 647052
@ [email protected]
Fr Joseph Marwa (Tanzania) is the Superior of the SMA Formation House, Kabwe
SMA Fathers
P O Box 80692
Kabwe
Tel +260-215-221170
@ [email protected]
The Archdiocese of Lusaka has six Suffragen Dioceses: Chipata, Livingstone, Mongu, Monze, Ndola and Solwezi.