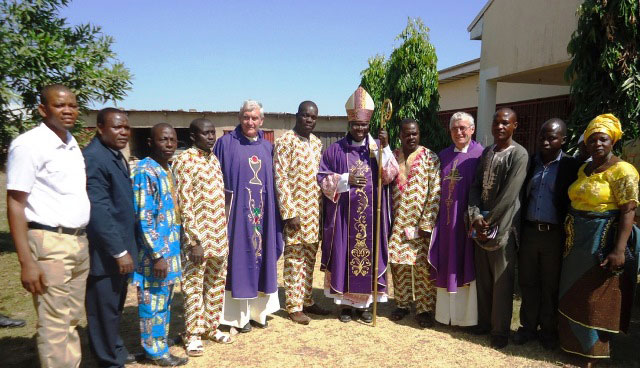 On 6th and 7th December 2014, [Saturday and Sunday], His Grace Archbishop Matthew Man-oso Ndagoso of Kaduna, paid a pastoral visit to St. Simon's parish, Mariban Rido, on the outskirts of Kaduna City.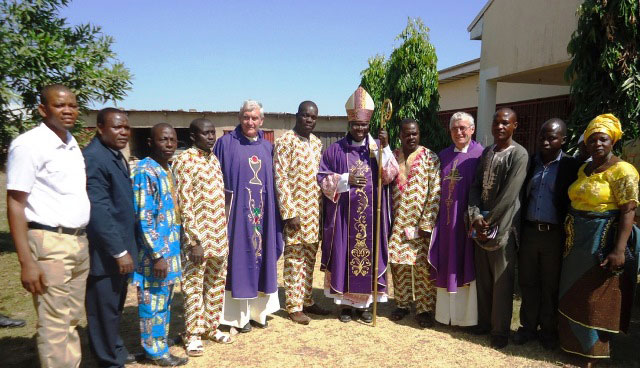 On Saturday morning and afternoon he visited two outstations (St. Mary's and St. Matthias) where he celebrated Mass. He is pictured above with the Parish Pastoral Council and Fr Mark Monaghan [left] and visiting Fr Edmund Hogan [right] who is teaching at the Good Shepherd Major seminary. Fr Hogan helped to provide us with these photos.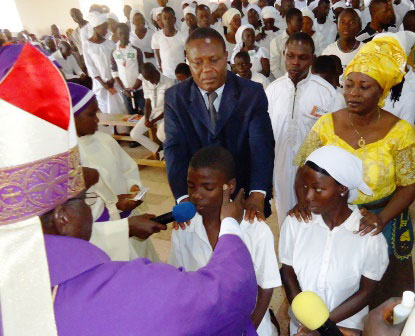 On Sunday morning in the course of a 4-hour Mass he administered the Sacrament of Confirmation to 134 candidates. After Mass he blessed the foundation of a new Church to be built in the Mission Compound, which will cater for the needs of a swiftly expanding parish.
St Simon's is itself a development from St Peter's SMA parish, Sabon-Tasha and both the original parish and now its' St Simon offshoot is the work of Fr Mark Monaghan SMA who has been working in this part of Kaduna for twenty-seven years. Fr Mark is also one of the Vicars General to the Archbishop.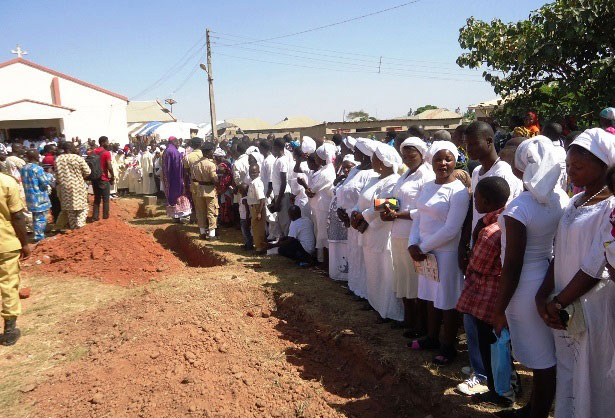 Though St Simon's is already ten years old the time has come for a new church and, dring the pastoral visit, the Archbishop blessed the foundations for the new church.
The Archdiocese of Kaduna traces its origin back to a French SMA priest, Fr Oswald Waller, who was appointed Prefect Apostolic of Eastern Nigeria from 1911 to 1929. His successor as Prefect Apostolic, Fr Francis O'Rourke was later made made PA of a new Prefecture, PA of Northern Nigeria but served for a few months before his translation to the Vicariate of the Bight of Benin, to the south. He was succeeded in Northern Nigeria by Fr William Porter SMA. Such was the growth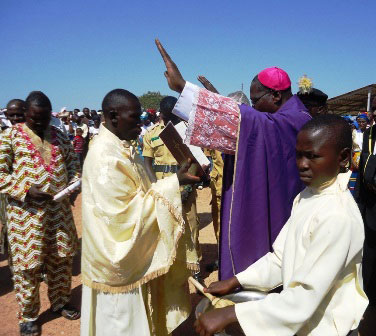 of the church in the area that this Prefecture was again divided, and the then PA took charge of the new PA of Kaduna [1934]. He was succeeded by Fr John McCarthy who was to become the first bishop of Kaduna in 1953 and, later, its first Archbishop in 1959. As Archbishop of Kaduna he attended all four sessions of the Second Vatical Council [11 October 1962 – 8 December 1965].
In 1972, a Nigerian Coadjutor Archbishop, Most Rev Peter Y Jatau, was appointed and he succeeded to the Archbishopric on 10 April 1975. During his 32 years as Archbishop there was massive growth in the church all over Nigeria, and Kaduna was not left out of this.
Archbishop Jatau handed over to the present Archbishop in 2007 when the then Bishop of Maiduguri, Rt Rev Matthew Man-oso Ndagoso, was translated to Kaduna.
Our photo shows the Confirmation candidates during the ceremony, after receiving their candles and the commission to be a light to others.