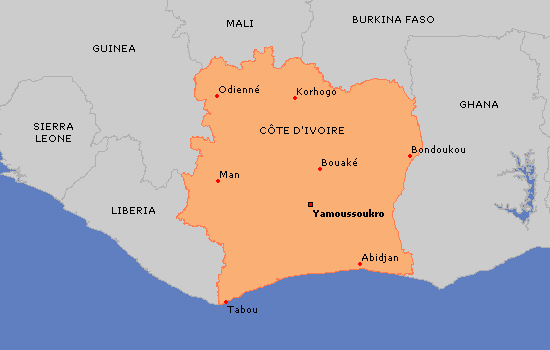 Less than 40 years after the foundation of the SMA by Bishop deBrésillac [1856] his successors established the first mission in the Ivory Coast, at Grand Bassam.
On 8 April this year the people of Ivory Coast celebrated the 120th anniversary of the first SMA missionaries. The Thanksgiving Mass, led by Archbishop Joseph Spiteri [Apostolic Nuncio to the Ivory Coast], was celebrated in Abobo Doumé, on the outskirts of Abidjan, commercial capital of the country. It was also an occasion to celebrate the 10th and 40th Ordination anniversary of SMA Fathers Paulin Kouassi and Gino Sanavio respectively.
Fr Paulin's presence was a wonderful sign of the fruit which came from those early 'foreign' missionaries. Since the 1990's the Society of African Missions has been training and ordaining 'sons of the soil' from Ivory Coast [and many other African countries]. The Society has a seminary in Ebimpé, near Abidjan, where SMA seminarians from all over Africa and beyond, are trained.
At present we have 26 seminarians from the Ivory Coast. There are twenty-nine SMA Ivorien priests and we will ordain two more this summer. Fr Paulin is working in the St Louis parish, Tabou, in the south-west of the country close to the Liberian border.
One SMA priest who has devoted many years of his missionary life to recording the history of the church in Ivory Coast, Fr Pierre Trichet [Jnr], writes about the beginnings of the church:
"The steps for the erection of the Apostolic Prefecture
February 26, 1895: Fr. Planque [SMA co-founder] wrote to the Cardinal Prefect of Propaganda Fide: 'I have the honour to inform your Eminence of the letter from Captain Binger, Governor of the Ivory Coast, asking me to send him missionaries.' " As a consequence of the letter the following events were to lead us to the situation today where the Church in Ivory Coast is itself a missionary-sending church.
"14 April 1895: Father Mathieu Ray, an SMA priest stationed in Lagos, made a stop in Grand Bassam and remained for several days to explore the area.
28 June 1895: Rome erects the Prefecture Apostolic of the Ivory Coast with Father Ray as the Prefect.
28 October 1895: Fathers Bonhomme and Hamard arrive at Bassam.
30 December 1895: Father Bonhomme reaches Memni where he establishes a Catholic mission.
23 January 1896: Father Mathieu Ray, Prefect Apostolic, arrives in Grand Bassam. He writes, 'We are established in Grand Bassam for the last few weeks. The [colonial] administration has tentatively put at our disposal two rooms that serve as our dining room, dormitory and chapel. We are cramped, but happy to have shelter.'"
From Côte d'Ivoire : les premiers pas d'une Église (Tome 1 : 1895-1914)