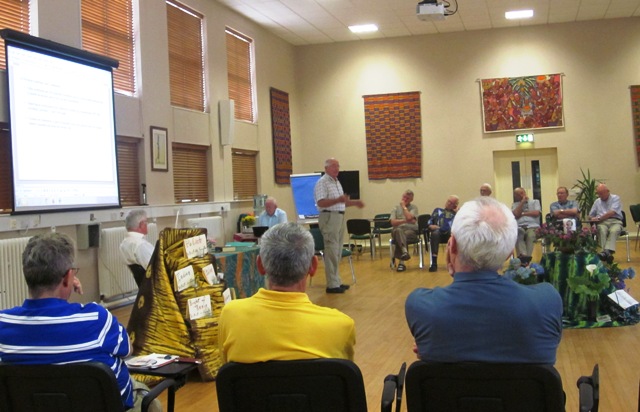 The 3rd week of the XVI Irish Provincial Assembly lasted just one day as the work concluded a couple of days ahead of schedule. It took place in the beautiful surroundings of the Dromantine Retreat & Conference Centre. Here we present some images and Report for the second week and the final day. Our first photo shows our Assembly Facilitator, Mr Gay Redmond, explain how what steps needed to be taken to 'concretize' the Vision and Priorities we had set ourselves, and the wider membership, for the coming years.
Two recurring themes in the Assembly relate to lay involvement with the SMA and the need for greater engagement in Justice issues. Our supporters remain one of our greatest assets. Mrs Dympna Mallon, our Laity Coordinator, linked these two in her presentation to the Assembly on Thursday, 11 July, when speaking about Justice said that it is time for us to "create opportunities for people to engage. Irish people are remarkably charitable to our appeals but the time has come to move from the comfort of charity to the challenge of justice." A personal conversion is required of all concerned about these matters. It is time to move from involvement to engagement (with laity).
Dympna set her sharing in the context of a faith life – people are hungry for a faith experience. Our SMA tradition can feed into a reawakening of people's spirituality and help answer that thirst and assist them to build community.
Mrs Mallon and the SMA Superior General, Fr Fachtna O'Driscoll during a break in proceedings.
Dympna also encouraged us to have a more intense communications strategy in the Province so that all are aware of what is happening in other parts of the Province.
In the Plan agreed for the different parts of the Province (personal, community, leadership) these points were taken account of and hopefully will help create a reinvigorated Province going forward. Part of this will demand our challenging a 'clerical mindset' within ourselves, the Society and the wider church / society. This mindset has led many laity to a sense of apathy about their faith.
On Friday, 12 July, when everyone was enjoying the 'Twelfth celebrations' the delegates were occupied with the serious matter of electing the two SMAs who would join Fr Michael on the Provincial Council. After a period of private and community reflection and prayer the Assembly elected Frs Malachy Flanagan and Maurice Henry. In the follow-up ballot, Fr Malachy was elected as Vice Provincial.
Tom McNamara, John O'Keeffe and Malachy Flanagan pose for the camera!
Having agreed a Vision for the coming years, then elaborated the steps we need to take to realize that Vision it was finally time to concretise all the words and make definite decisions about who would do what and when.
There are three levels to this – at the personal level (what I will do), community level (back in my place of work what will our SMA community do) and at the Provincial administration level (what the Provincial Leader and Council will lead on).
Seamus Nohilly makes a point to the 'Laity Working Group' as Dympna listens intently and Hugh Lagan notes it all.
Guy Redmond explained to all that even at the administration level we too have a part to play. It is not a matter of passing over work to Fr Michael and his Council. Fr Michael stressed this several times during the Assembly. It is a corporate leadership model he intends to follow.
Some time was also spent on updating our Provincial legislation which was necessary because of decisions taken at the General Assembly and as a consequence of some of the decisions taken at this Assembly.
On Monday, 15 July, various technical matters were dealt with – Canonical Vote on the Assembly texts, approval of the Assembly Message, Fr Michael's Closing Address and, to remind us of the context in which all our work was done, the closing Thanksgiving Mass.
As both Fr Michael and Fr Maurice Henry came to the Assembly directly from their missions in Africa they must return there to complete some matters and hand over their responsibilities to others. Fr Maurice must supervise the election of his successor as Regional Superior for Nigeria and Fr Michael must hand over his responsibilities at Tangaza College (where he has lectured for several years in the Mission Department) as well as serving as the Spiritual Director at the SMA House of Studies in Nairobi.
The complete text of the Assembly will be available in due course.