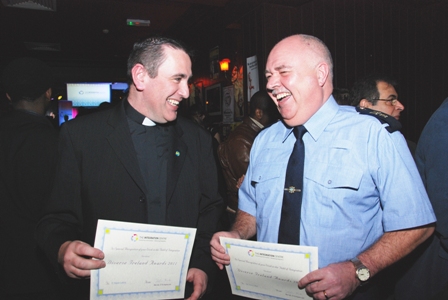 Work for Integration in Cork City recognised.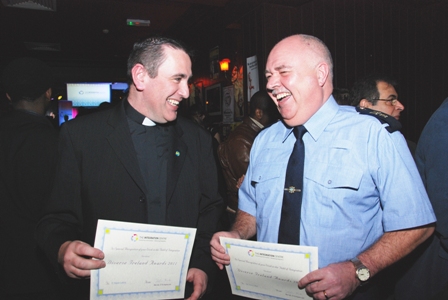 At the Diverse Ireland Award ceremony held in Dublin on the 14th of December, work for integration in Cork City was acknowledged and praised.
This year over 300 organisations and individuals were nominated in the ten categories that awards are made in. In all 83 people were nominated for Individual awards and of the four shortlisted for final selection two came from Cork City. They were Sgt Trevor Laffan who is responsible for Community Policing in Cork City and Fr Angelo Lafferty SMA, Director of Cois Tine. In the end the award was given to Trevor Laffan in recognition of his and the Garda Siochana's efforts to promote integration. Well done to him and to the other members of the Community Garda Team based in Anglesea St. Station, especially, Trish Riordan, Conor O'Mahony and Brendan Mills.
The Diverse Ireland Awards were created by the Dublin based Integration Centre to raise awareness of the positive advancements around immigrant integration in Ireland. Too often immigrant issues take a back seat in policy-making, media-coverage and general day to day life. The awards were established to help people learn more about the important work being done and to honour the efforts of those who are creating stronger, more unified and successful communities. This year the awards were presented by DJ Ray Shah and Miss Ireland, Emma Waldron.
The Integration Centre is a national organisation committed to the integration and inclusion of people from immigrant backgrounds in Ireland. Here in Cork its work is progressed through the efforts of its Regional Officer, Kathy O Conner who works closely with Cois Tine, Nasc and is also very much involved in the on-going development of the Cork City Integration Strategy.
There are many individuals and organisations in Cork City who recognise how important integration, inclusion and respect for diversity are. It is great to see some of them getting recognition. Occasions like the Diverse Ireland Awards are opportunities for highlighting an issue that is important for now and also for the future of Ireland.