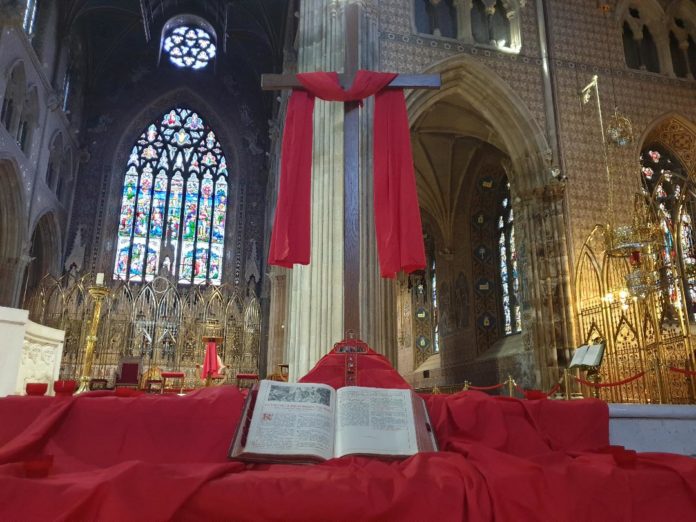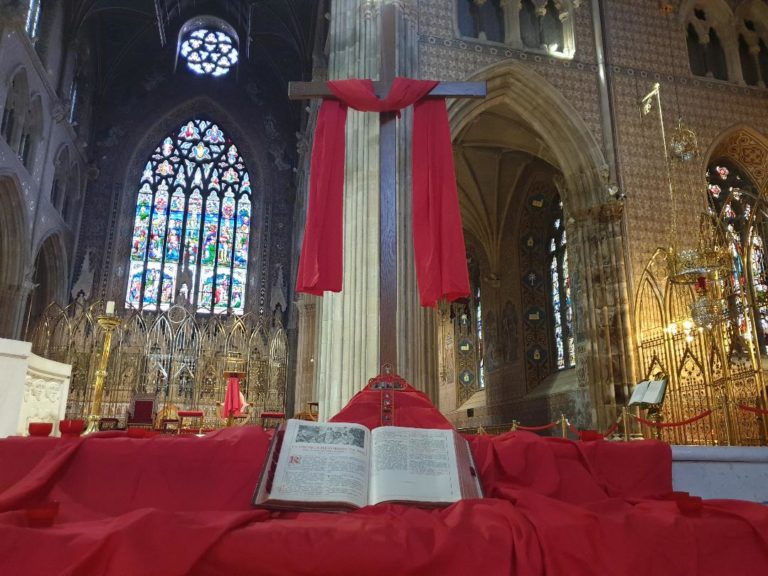 The special 'Week of Witness' allows us to remember
all who have suffered and died for their faith
and who continue to suffer and die today.
Last Wednesday, November 25th, known in faith circles as 'Red Wednesday', marked the beginning of a special 'Week of Witness' when Christians across Ireland were invited to stand in solidarity with persecuted Christians around the world. It is a week when we are asked to remember those who are brutalized or martyred for the Christian witness they offer. Many Church buildings are bathed in a red glow and prayer services are held.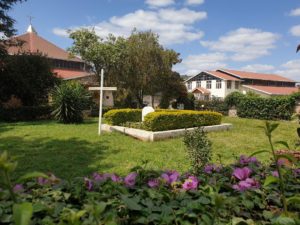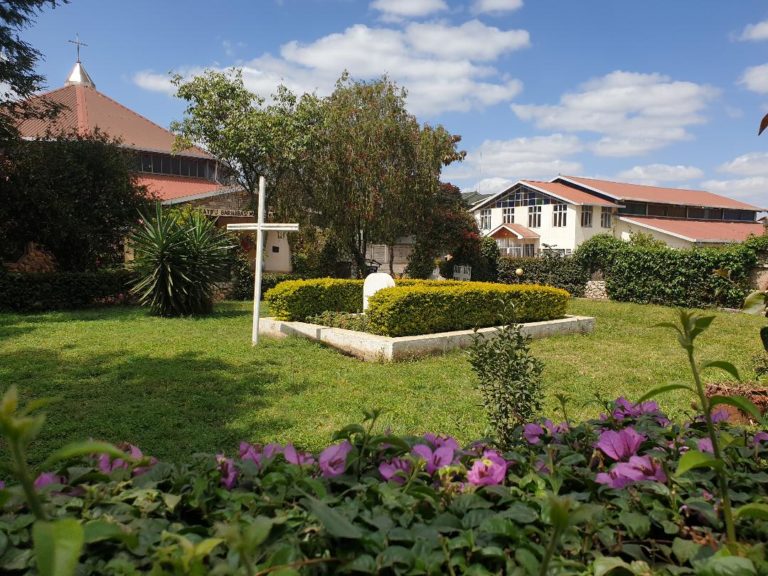 There is a poignancy to this week's prayerful commemorations as it began on the 15th anniversary of the death of Fr. John Hannon SMA, found dead, following a brutal attack in the early hours of November 25, 2004. His murder took place in the grounds of his Matasia parish compound, in the diocese of Ngong, close to Nairobi, Kenya. His body was found close to St. Barnabas Church, which had been opened the year before, built with funds he had raised in Ireland. He was 65 years old.
No one has ever been convicted of his murder and no motive has been established. Suspicions remain that Fr. John was targeted because of his fearless defense of poor people in his parish who were the victims of exploitation.
Speaking at the time of his murder, a confrere stated: "Fr. John Hannon had a passion for truth and for justice. He hated hypocrisy. He never sacrificed principle for popularity. Fr. John was a man of strong views. He was not afraid to express them even at the cost of upsetting the civil and ecclesiastical establishments."
Fr. Hannon, a native of Killula, Newmarket-on-Fergus, Co Clare, was ordained a priest of the Society of African Missions (SMA) in December 1967. He served in the Archdiocese of Lagos, Nigeria from 1968 to 1993. In 1994, following his recovery from a heart attack, he helped establish an SMA pastoral presence in Kenya. His first appointment was to the St Joseph's SMA parish, Jericho, in Nairobi Archdiocese before moving to the diocese of Ngong, to St Monica's parish, Kitengela.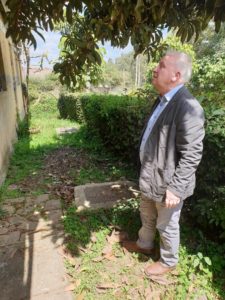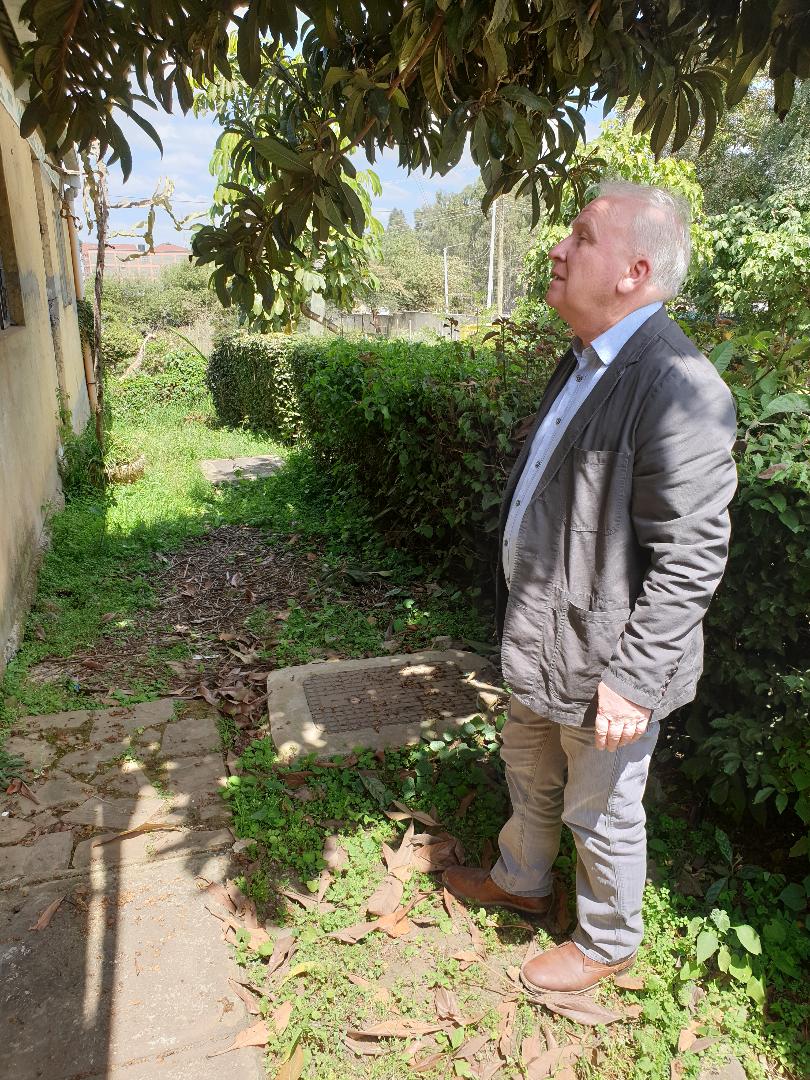 As in Lagos, Fr John set about building much-needed parish infrastructure. Along with a church dedicated to St. Barnabas, he constructed a Parish Hall, among the Maasai people. 
A mark of the love and esteem parishioners had for Fr. Hannon was demonstrated by over 3000 attending his funeral. One of his parishioners named her newborn son, Hannon, in his memory.
Father Hannon's body was laid to rest alongside the church that he built, within sight of the bungalow where he lived, and just 20 meters from where his body was found.

The special 'Week of Witness' is a time too for us to remember Fr. Tommy Hassett, a Dublin born SMA who was ordained on December 10, 1961. Fr. Tommy was killed at a roadblock in Nigeria on 4 February 1972, during the unsettled aftermath of the Nigerian civil war (1967-1970). He was a young man in the prime of his priesthood, just 35 years old. He was returning by night from Obiaruku, with Fr. Harry Jones, where they had gone to order building materials. Fr. Harry gave his SMA confrere the last rites and had the harrowing task of driving him to Ozoro police station and then onto hospital where he was pronounced dead. Fr. Hassett also died a witness to the Gospel and as a loyal disciple of the Prince of Peace.
Let us remember Fr. Hannon and Fr. Hassett and all who have died in the name of Jesus Christ. And let us remember, in a special way, our confrere, Fr. Luigi Maccalli SMA, who was abducted over a year ago from his parish in Mali and whose whereabouts remain unknown. May he and all who suffer for their witness to Christ be strengthened through the grace of the Holy Spirit.