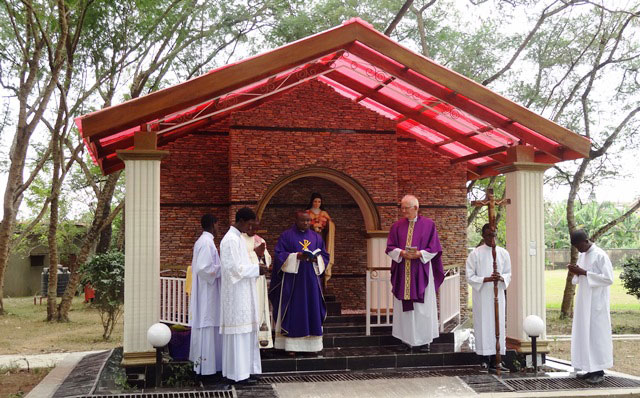 "Mary received her vocation from the lips of an angel. The angel does not enter our rooms visibly but the Lord has a plan for each of us. He calls each of us by name. Our task is to learn how to listen, to perceive his call and to be courageous and faithful in following it" (Pope Benedict XVI)
Accrding to the most recent statistics for the Society of African Missions there are now 280 seminarians at various stages of training for priesthood in the SMA. These young men are studying in Formation Houses on three continents – Africa (10 houses), Europe (1), India (3) and Philippines (1).
Recently, the students at the SMA House of Studies in Ibadan, Nigeria, completed the erection of a Shrine in honour of St Therese, Patroness of the Missions. Some of them are pictured on our Homepage as they enter the community Bus to take them to lectures at the Ss Peter & Paul Major seminary, a short distance from our Formation House.
This Formation House has 45 seminarians, from 9 African countries. Nine of them are Deacons and due to be ordained later this year.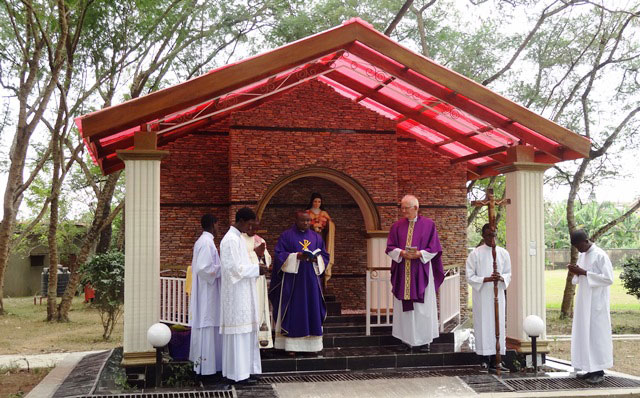 After Mass in the chapel, Fr Edward Muge (on left) and Fr Tim Cullinane blessed the Shrine
There are four SMA priests on the House staff: Edward Muge (Nigeria) is the Superior; Simon Assogba (Bénin Republic – Bursar); Wilfried Kouijzer (Netherlands – Dean of Studies) and Tim Cullinane (Brosna, Co Kerry, Ireland – Spiritual Director).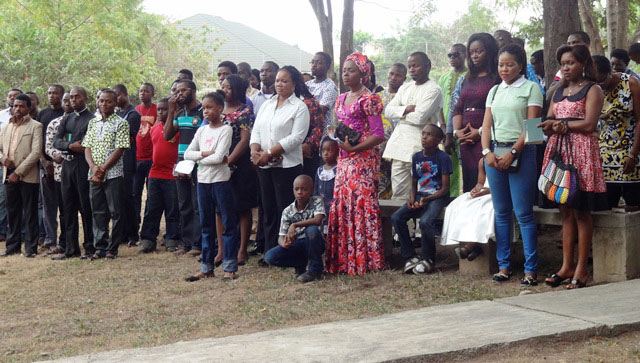 Many local people attended the Mass and Blessing ceremony
The land on which the House is built was acquired by Fr Des Corrigan SMA and he supervised the building of the complex, which now has four students blocks, a staff block, classrooms and Library as well as a magnificent seminary Chapel which is also used for the celebration of Sunday Mass for the public. Our picture below shows Fr Corrigan on a recent visit to the seminary during a trip to Nigeria to celebrate the centenary of the coming of the Catholic Church to Ekitiland. He is pictured with the staff and seminarians at the front entrance of the seminary Chapel.