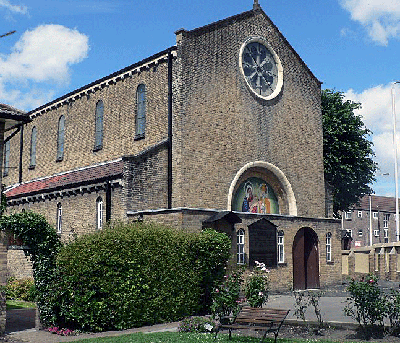 The SMA Irish Province has a number of parishes confided to its care in different parts of the world – from western Australia to London and two in Cork.
One such parish is that of our Our Lady of the Rosary and St Patrick, which is located on Blackhorse Road, in the north east London borough of Walthamstow.
Visit the Parish website
There are two SMA priests in the parish, both coincidentally from Co Tyrone: Fr John Brown from Carrickmore and Kevin Conway from Donemana.
Fr John spent almost 30 years in Nigeria. After serving as the Superior of the Kano 'missio sui iuris' Fr John left Nigeria in 1999. After serving in different roles in Ireland and England he was appointed Parish Priest of Walthamstow in 2007, succeeding the late Fr Donal M O'Connor SMA.
Fr Kevin Conway was ordained in 2011. After ordination he was Curate at St Joseph's SMA Parish, Blackrock Road, Cork before his appointment as Curate in Walthamstow, a parish he had spent time in as a Deacon.
The parish community in Walthamstow is made up of a many ethnic groups and cultures: African, Caribbean, Filippino, Asian, Tamil, Polish, English and Irish. This diversity in cultures ensures that the liturgies are colourful, vibrant and full of song.
In addition to the traditional schedule of Masses, Mass is celebrated each Sunday for the Polish community by a priest from a nearby parish and regular Tamil liturgies are also celebrated. Several groups are involved in providing the music for the liturgies including a number of musicians and a folk group.
A wide range of parish-based activities are ongoing throughout the year such as the provision of shelter for homeless people one night a week from January to March in conjunction with the other Christian churches in the area.
Other activities include the Society of St Vincent de Paul, the Legion of Mary, El Shaddai Charismatic Prayer and Worship group.
Sacramental preparation is an essential element of any parish and Walthamstow has a parish based, lay-led sacramental preparation programme for First Holy Communion candidates. A similar programme prepares Confirmation candidates, led by Fr Kevin (pictured), assisted by a number of lay parishioners. Both sets of candidates regularly participate in Sunday liturgies during the preparation period.
The Parish Pastoral Council meets regularly to assist Fr John and Fr Kevin with the work which is ongoing within the parish.
While part of Brentwood, Diocese, the Parish's association with SMA goes back to its foundation. A French priest – Fr Theophile Bohrer – was the founding Parish Priest. He had been a member of the SMA but, unable to return to Africa due to ill health, he joined the Diocese of Westminster in 1905. From a neighbouring parish he travelled all over the present area caring for the growing Catholic population. Eventually the present parish was created with Fr Bohrer as Parish Priest, serving for 30 years.