Fr Maurice Kelleher SMA preached at the Closing Mass of the 2015 Annual Novena in honour of Our Lady which was celebrated in the Basilica of Our Lady, Queen of Ireland, at Knock. Fr Maurice, who hails from Dunmanway, has had a varied missionary life over the past 50+ years as an SMA: teaching and pastoral work in Ibadan, Nigeria; on the formation team at the SMA House in Maynooth; pastoral ministry in Monrovia, Liberia; Vocations Director in Ireland; Parish Priest of St Joseph's SMA Parish, Wilton; Director of Retreats & Formation in Dromantine, Newry. The following is an edited version of Fr Kelleher's homily:
My late parents, Tim and Rita, loved to visit Knock. Every year they made the long journey by bus from west Cork beginning at 4am and arriving back home at midnight. They came here the same day every year, the fourth Saturday in May. They journeyed with their African Missionary friends. They came principally because Mary, the mother of Jesus, chose this place to visit and no doubt they had a long list of requests for Mary, for her protection and help.
For them Knock was a special place to pray, to confess, to be anointed, to make the Stations of the Cross and how they loved the Eucharistic celebration at the end of the day.
My parents annual visit here was more than a personal journey. It meant solidarity with the Society of African Missions, with the OLA Sisters and with all those people who supported them in the work of Mission.
They believed the missionary cause was worthwhile and deserved recognition and support.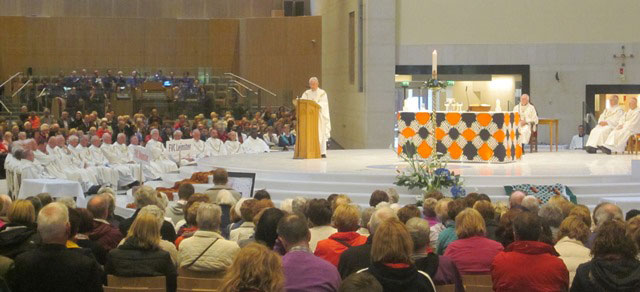 Their annual visit to Knock was for my parents a simple and yet a profound understanding that to be a Christian was to be a missionary in some way. It was a call to think outside the box and a belief that together great things could be achieved. As a young married couple in England they met many Africans which gave them a head start in focussing on the African continent and its needs.
To meet these needs, people play different roles. Some people give to the missions by going while others go to the missions by giving. Like all of you gathered here today, my parents, over many years, gave generously to the missionary cause.
I speak about my parents because they represent people like you gathered here today, people like your parents and grandparents, friends and neighbours who have come here year after year as our Missionary friends. Our annual Knock Pilgrimage has become the focal point of our determination to keep alive the command of the Lord "to proclaim the Good News to all the nations."
As we assemble here today we are remembering that Our Lady visited Knock in August 1879. She was accompanied by her spouse, St. Joseph, and by St. John the special companion of Jesus. Mary's coming here was a missionary visit, a going forth from Heaven to bring Good News to people who were poor, isolated, but deeply religious. The presence of an Altar with a Cross and a Lamb were signs of the Good News that Mary brought – signs of the sacrificial love of her Son which offered hope to a waiting world. From being Queen of Heaven, Mary is now in a special way Queen of Ireland.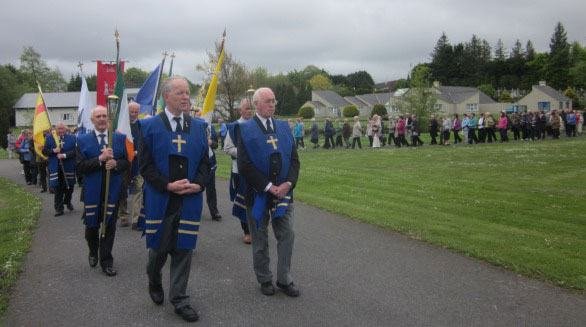 Mary's visit to Knock reminds us of another journey, the story recorded in today's Gospel, her Visitation to her cousin Elizabeth. On this occasion, Mary brought the Good News in person. She carried Jesus in her womb to Elizabeth at a time of her special need. In this visitation story Mary comes as the first missionary, the first messenger of the Gospel, the first human being to bring the Good News of Jesus Christ to another and she does it simply by carrying Christ within her. Mary reminds us that mission begins not in delivering a message in words but in the journey towards another person with Jesus in your heart. Mary's visit was a going forth, a leaving home and remaining as long as she was needed.
Our pilgrims processed through the grounds during the Rosary and Stations of the Cross.
In the presence of Elizabeth, Mary experienced the joy of the missionary, a joy foretold in today's First Reading. "God is in our midst and we have no more evil to fear". It is the experience of a song and dance God who sings and dances for His people.
Mary's missionary role would continue post Resurrection and Ascension. At Pentecost she received a new vocation to help and guide the twelve apostles. She is now called Queen of Apostles and later received the title Mother of the Church – Mother of a Church which is Missionary by its very nature.
One hundred years after Mary's Apparition, in September 1979, Knock had another important visitor. St. John Paul II came to acknowledge his devotion to the Mother of God. He, too, brought the Good News and spoke a Missionary Message. During his visit, he told us "that every generation with its own mentality and characteristics is like a New Continent to be won for Christ". This message is even more relevant today. Every generation must make the message of Christ it's own and pass it on to others. We keep the message alive by giving it away and in that way the Gospel never dies. On a day like today when we, as an extended SMA Family, gather here, we sense that we are a Family with a Mission. That Mission and our part in it continues.
 
Pope Francis has not yet visited Knock but he speaks to us in words of challenge and encouragement. His 2014 Papal letter,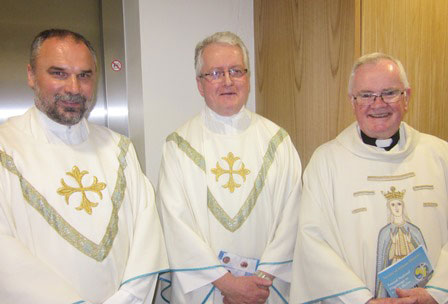 entitled The Joy of the Gospel, highlights in a special way the message that the Church is always a Church called to "go forth". Following Jesus command all of us are called to take part in this New Missionary "going forth". The Pope dreams of a Missionary option, a Missionary impulse growing in the Church, so that everything is channelled for the evangelization of today's world.
Throughout the world, Francis urges, let us be "permanently in a state of Mission".
Our picture shows, from left, Fr Slawomir Kielbasa SMA [from the Polish District-in-formation], Fr Tom McNamara SMA and the Irish Provincial Leader, Fr Michael McCabe SMA.
Today on behalf of the SMA priests and OLA sisters I thank you for joining us here in Knock. A special thank you to all our FVC groups for your continued support and prayers. Our gathering here is our little SMA All-Ireland Day and we are all winners. With people like you on our side the Missionary work will continue and the Gospel will live on. At the Last Supper, Jesus reminded His apostles "without me you can do nothing". Adapting what Jesus said we SMA's can say "without you we can do nothing". You, our missionary friends, "go to the missions by giving". In giving to the missionary cause you become "Fellow Missionaries" and help to bring the Good News, with all it's blessings to people you will never know. And so we encourage you to continue to be our supporters. Our daily prayer for all your intentions is our thank you for all your support.
Finally, quoting the Poet Hopkins let us pray:
"Mother Mary be my atmosphere. Stir in my ears, speak there of God's love. Speak there of patience, penance, prayer".
Our Lady, Queen of Apostles, pray for us.
Our Lady of Knock, pray for us.
Our Lady of the Missions, pray for us.