It will be a great pity if Christians are looking up to President Buhari or his… party… to give us a sense of change. Making the world a better place, a place of peace and justice and right is our mission as Christians! Ours is the mission of being the light of the world.
– Bishop Matthew Hassan KUKAH, Sokoto Diocese, Nigeria
Part 2
On the Relationship of Religion and State
The late Rev. Fr. Richard Neuhaus, an American Presbyterian who converted to Catholicism, published a book called The Naked Public Square. His argument essentially was that those who canvass for the total separation of Church and state, religion and politics, run the risk of leaving the public square naked, bereft of spiritual values. Other scholars like the former White House Nixon aide, Charles Coulson who went to jail after Watergate but is now a religious minister specializing in the prison ministry, and Professor Mary Glendon of Harvard University, among many others further took up the theme. It later became a topic of much debate within Christian public intellectual circles in business and politics in the United States of America.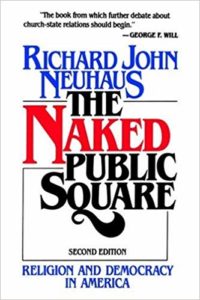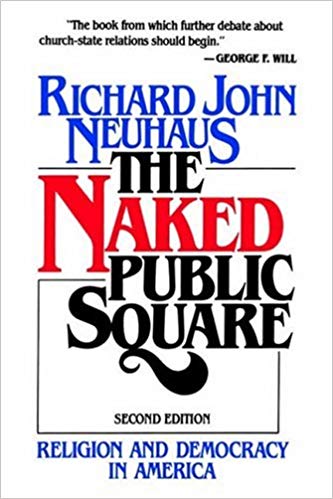 Essentially, the argument of The Naked Public Square can be summed up as follows: How people behave in public life depends on the sources of their morality. Thus, there are as we know, competing moral claims because of the cultural and social diversities of our societies. The challenge is how to ensure that our view of morality becomes the dominant ethos in the larger society. To suggest that religion should be divorced from public life and that secularism is an option is to create the possibility of moral relativity. The argument therefore concludes that Christians have a duty and a responsibility to ensure that the impact of their morality resonates in the larger society.
Therefore, if today we are talking about insecurity, immorality, corruption and so on in Nigeria, it is clear evidence that we as Christians have left our public square bereft and naked of Christian morality and those with a negative morality have dressed up naked space. Again, let us note that among those with the negative morality are many nominal 'Christians'.
It is time for the Catholic Church to wake up from its very serious slumber in matters of its impact in public life. Despite our huge numbers, institutions and expertise, we have not created a niche for ourselves in public life. We are not present in Nigeria's political space as a unit. Catholics are influential in all the Banks and businesses, but we have not found a way of using them well or developing a deep Christian banking ethos. Our schools were taken over and all we have done in the last forty years is throw up our hands and lament. We have men and women in high office across every strata of our society, but we have no impact as a faith community.
Persecution versus Solidarity
I believe that persecution can thrive due to a lack of solidarity among Christians locally and globally. Similarly, where Christians stand together in solidarity, they can achieve much as the body of Christ. This solidarity is being expressed today in Nigeria primarily by external agencies. I have participated in some of these initiatives and I will draw attention to a few that are quite prominent and which we can use to think through strategies and options in our Nigerian context.


There is an organization called Aid to the Church in Need (ACN). Its headquarters are in Konigstein in Germany but it has cells and volunteers across Europe and America, many of  which I myself have visited. Their members go around the world raising funds and calling attention to the persecution that Christians face. ACN is solely dedicated to calling attention to and supporting Christian communities that are suffering persecution around the world. It is doing great work in Nigeria and is well known to many of our bishops. It is perhaps the only organization that is dedicated to directly supporting Catholics who are under threat. On its website it says that: it is an international pastoral aid organization of the Catholic Church, which yearly offers financial support to more than 5,000 projects worldwide.
At their invitation, I have delivered lectures in Germany, England and the United States. Last year alone, I spoke in Manchester, Lancaster, Liverpool and London. The year before, I was in the United States and spoke in Boston, New York and Washington. Their audiences are often varied and the engagements cover lectures, media and other direct Church audiences. Their donors cut across different social classes. They have thousands of volunteers who work for them.
For example, Aid to the Church in Need has helped tremendously in the rebuilding and reconstruction of many churches, parish houses, convents, schools, among others. In Sokoto Diocese for example, they assist us in the training of some of our seminarians, they have built a parish house for one of our new parishes and renovated a few of our churches. With their help, we have completed a new Pastoral Centre in the Malumfashi area of Katsina State which will serve as a retreat Centre as well as a place for Catechesis and the deepening of Catholic doctrine among our people. Without their aid, the story of our Diocese and many of the Dioceses in the northern states would be completely different today, especially places like Maiduguri, Yola and Jalingo Diocese which are in the epicentre of Boko Haram.
Missio and Misereor, other agencies of the German Catholic Bishops' Conference, preceded Aid to the Church In Need and have done tremendous work in literally every Diocese in Nigeria. But I make more reference to Aid to the Church In Need because of their declared commitment to, as they themselves say, those places where the Church Weeps!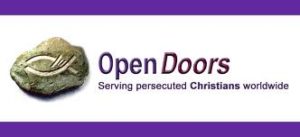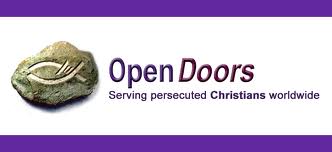 Open Doors International is another international faith organization that is keenly concerned about the persecution of Christians around the world. In their website, they also state that they are; a non-denominational mission supporting persecuted Christians in over 60 countries where they consider Christianity to be socially or legally discouraged or oppressed. They have conducted one of the best and exhaustive researches on the persecution of Christians in northern Nigeria. That report was issued in 2017 and it is available on their website. The report extensively documents the nature and scope of the persecution of Christians in northern Nigeria and provides an analytical basis for understanding persecution, what drives it and why it persists in the northern states of Nigeria.
Without this understanding by people who live outside the region, it will be impossible for us to speak in solidarity about our situation.
The University of Notre Dame has been conducting research on the theme of the persecution of Christians for some years now. In 2013, I had the honour of participating and speaking in a Conference in which they unveiled their findings based on many years of research. In a project called, Under Caesar's Sword, they have partnered with the Kukah Centre to host a round table discussion in Abuja where we sought to address the issues of the resilience of the Christian leaders in the North-East in the wake of Boko Haram.
While there is great solidarity to be found internationally, unfortunately we cannot say that the same is evident here in our own country. For example, has any Church group within the Catholic Church in Nigeria today – Knights, Catholic Women Organisation, Parishes of Dioceses outside the north – taken the trouble to organise an event, say, a dinner, to which they have invited a Bishop, Priest, Sister, or Lay person from those areas affected by persecution today to come and speak to them about the struggle of Christians to survive in the North? I really don't know of any! Instead, we get invitations from Europeans and Americans who are anxious to hear our story and ask how they can help. It must be said that this culture of laxity among Christians, and even within the Catholic community, in Nigeria, is a present and future danger and makes us complicit in our own persecution.
4. Conclusion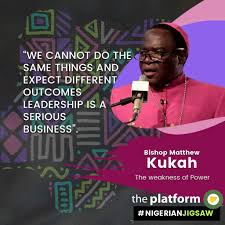 I hope that our reflections here will help us to examine deeper a few options that can enable us leave our comfort zones to show more solidarity. There is an urgent need to create better synergy and networking. We are often working as Dioceses, Sodalities or ethnic groups. For example, why can we not create greater synergy among our Catholic Universities, Polytechnics, Colleges of Education, or Health facilities to give these institutions a strong Catholic character by way of exchange of expertise and sharing of resources and personnel more effectively?
It will be a great pity if Christians are looking up to President Buhari or his political Party, the All Progressive Congress, APC, to give us a sense of change. Making the world a better place, a place of peace and justice and right is our mission as Christians! Ours is the mission of being the light of the world.
Perhaps, our real challenge as Catholics in Nigeria, and indeed worldwide, lies in the fact that we have not taken very seriously the call of Jesus to be the light of the world and salt of the earth (Mt. 5: 13-14). We must re-enkindle a sense of deep passion for the Gospel, a serious commitment to walking in the footsteps of Jesus, loving our neighbor as ourself, using whatever position we hold in society to work for peace and justice and right for all people regardless of tribe or religion. Thus, our faith will offer us the oxygen to embrace persecution, knowing that, it is indeed, the path of Christian discipleship.
There is no doubt that the fire is dying in us. Compare our enthusiasm for the Gospel today with what St. Paul said: Woe to me if I do not preach the Gospel (1Cor. 9: 16). Peter  enjoins us to: Keep our conscience clear, so that those who slander you may be put to shame by your upright, Christian living. Better to suffer for doing good, if it is God's will than for doing wrong (1 Pet. 3: 17). This is what gives us confidence even when we face persecution.
That is why I would like to leave you with the words of St. Ignatius of Antioch who said to the Romans: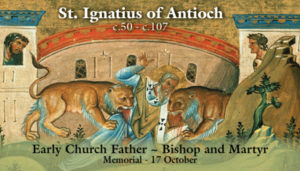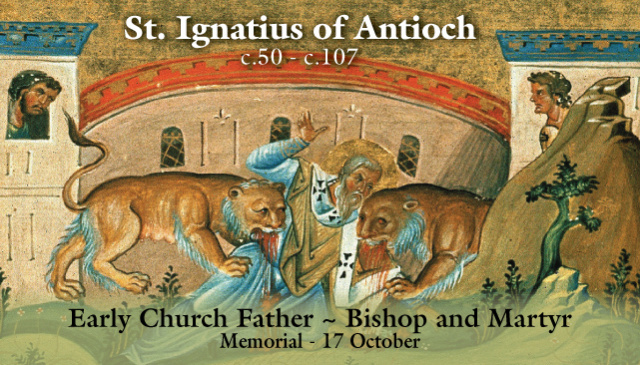 Pray, leave me to be a meal for the beasts, for it is they who can provide my way
to God…incite the creatures to become sepulcher for me, let them not leave the
smallest scrap of my flesh, so that I need not be a burden to anyone after I have
fallen asleep. When there is no trace of my body left for the world to see, then I
shall truly be Jesus's disciple…these chains are a school for me…Fire, cross,
beast fighting, hacking, and quartering, splintering of bone and mangling of limb,
even the pulverizing of my entire body. Let every horrid and diabolical torment
come upon me provided only that I can win my way to Jesus Christ.