In a disturbing report filed from Abuja, Nigeria, IRIN (the former UN Integrated Regional Information Networks) reveals that winning the war against Boko Haram has opened up a new front: the discovery of tens of thousands of children with life-threatening malnutrition.
Médecins Sans Frontières issued a warning to the international community at the end of July 2016 that large numbers of malnourished children are dying in northeastern Nigeria, where tens of thousands of displaced people have sought shelter due to the activities of Boko Haram. Since 2009 over 20,000 people have died in the Jihadist insurgency.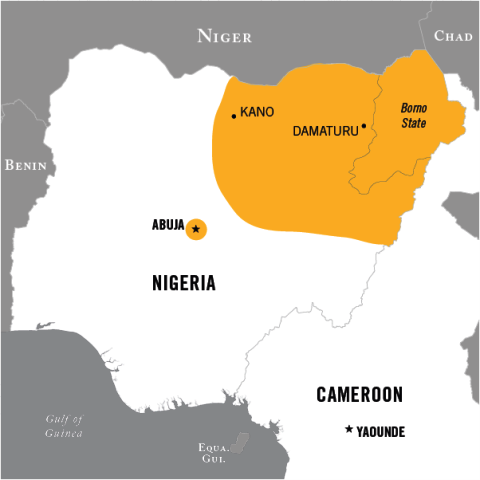 Government successes in the war against the insurgents have made it possible for aid agencies to gain access to areas that were previously beyond the pale. What they have discovered is shocking.
A spokesperson for Action Against Hunger, a French humanitarian agency operating in Nigeria, stated that "about 244,000 children are currently suffering from severe acute malnutrition. UNICEF also supports the claim. The malnourished are particularly susceptible to diarrhoea and malaria which are nine times higher in the region than elsewhere.
The wellbeing of an estimated two million people, still trapped in Boko Haram territories is a concern but it is feared they are suffering a similar fate.
Farming has yet to resume in areas affected by the war, with arable land barren because many breadwinners and farm hands are either missing, disabled or dead from the insurgency.
Despite heavy losses, Boko Haram remains a threat. At the end of July they
ambushed a UN convoy close to Maiduguri the capital of Nigeria's Borno State, prompting a suspension of UN humanitarian missions. UNICEF Nigeria stated that the attack had serious consequences on their work but vowed "to scale up the response to the emerging disaster" and pledged to work at full strength in Maiduguri.
The most serious consequence is with the distribution of food and supplies to the tens of thousands of displaced civilians living outside Maiduguri. In the absence of UN convoys, aid agencies are forced to consider hiring armed escorts but are reluctant due to neutrality concerns.
And apart from Boko Haram, the IRIN report also reveals that corruption is also threatening lives with some food supplies being repackaged by Borno State Emergency Management Agency personnel to be sold elsewhere.
The full report can be accessed here: