We are delighted to present a wonderful video of the 2017 SMA Summer Camp at Dromantine Retreat and Conference Centre. There are breath taking scenes of Dromantine from the air, taken by a drone, brought by one of the youthful participants. They are magnificent. The link to the video is here.
Every year in July and August, Dromantine Retreat and Conference Centre is completely transformed from a place of peaceful reflection and serenity to a hive of activity. The presence of approximately 500 boys and girls during the 5 weeks of camps creates an energy and excitement around Dromantine which is quite unique.
The young people attending the Camps spend 5 days involved in football, running marathons, participating in talent shows, and learning more about Africa, the work of the SMA and their own faith lives. The air is filled with noise and laughter during the Camps which have been running for almost half a century.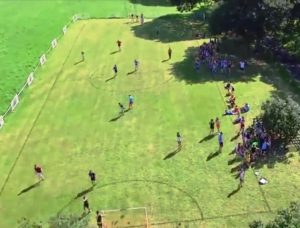 The young people are all divided into teams named after the various countries where the SMA work, and the competition to be the most successful, the noisiest or the most entertaining country encourages the chanting and singing which can be heard from the dining room at lunchtime each day. The anxious faces, which can sometimes be seen on Sunday afternoon as the bags are offloaded and families leave, have been transformed by the end of the week and the atmosphere of celebration in the Chapel at the concluding Mass on Friday afternoon is something which has to be experienced rather than described.
Beginning on Sunday afternoon, each week has a hectic schedule of indoor and outdoor activities including daily themes such as Mission, Vocation and Ecology and Care for Creation, which are reflected in the activities and prayer/reflection/Mass for that day. The programme is organised and delivered by teams of young adults, including the Camps Organising Team, members of Friends of Africa and other young people who have come through Camps themselves.
The Camps, which would not happen without these young people, represent an important element in SMA outreach and an SMA Chaplain provides spiritual support throughout the weeks of Camp. Past Chaplains have included Anthony Kelly SMA, Martin Kavanagh SMA, Oliver Noonan SMA, Kevin Mulhern SMA and Dan McCauley SMA. The latest incumbent is Fergus Tuohy SMA who has just taken up his appointment.
You may view the video by clicking here.