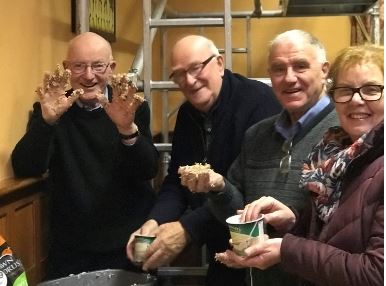 Eco Spirituality Group, Dromantine
The Eco Spirituality Group had their first meeting of 2019 on 22nd January in Dromantine Retreat and Conference Centre. The meeting opened with Group member Margaret O' Hare sharing a moving and truly beautiful reflection 'The Hope of Spring', written by her daughter Ann, reproduced below.
A presentation was then given to the Group by Danielle Begley, Biodiversity Officer for Newry and Mourne Council. Danielle highlighted many aspects of biodiversity and raised awareness of the many and varied plants and species which exist in the Newry and Mourne area, as well as providing practical suggestions about what each of us can do to better protect and promote those plants and species.
In the final part of the meeting, Danielle led the group members in making birdfeeders. Consisting of vegetable lard and birdseed, these will hopefully encourage birds to our gardens and provide the food they need in the colder weather.
The photo above shows group members hard at work! .
"The Hope of Spring"
I am like an acorn, buried deep beneath the ground. Quietly hidden in Mother Earth, my roots begin to form. Roots woven with love, memories and history.
When the winter snows thaw, I rise to greet the spring sunshine and get my first glimpse of God's Creation and bask in the wonder of his work.
The sound of birds greet me in the morning and though I know not what they say, their melody brings joy to my heart.
I watch as spring brings the gentle blooms of snowdrops and daffodils that dance at my feet.
My trunk grows taller, my branches stronger, I welcome others to my home, offering shade from the summer heat.
When I think I am fully grown, Autumn winds come, they carry voices that shake my branches and cause my leaves to fall, like tears to the ground. They leave me bare for the arrival of winter and I know not how I might survive.
Snow falls gently around me and its silence I pray.
Night and day become one and, in the darkness, I continue to pray, for it brings comfort and warmth to my breaking heart.
I mourn the loss of my leaves that lay on the ground, leaves I have loved, cared
And lived for.
I hear the song of the birds quietly in the distance and without realising winter falls into Spring.
Hope is in my heart and in the flashes of new life, bright and green along my branches.
Countless seasons have passed me by now since I was that acorn in the ground. My roots are strong and my bark rough from lessons learned.
I have weathered storms and grown my own acorns and when my heart grows tired and sore, I long for the spring and my new beginning.
By Ann O Hare.