"The nation that destroys its soil
destroys itself." 
– Franklin D. Roosevelt
During a major soil catastrophe in the US President Franklin Roosevelt told state governors, "The nation that destroys its soil destroys itself."
It's a quotation that could have come directly from Laudato Si'.
As SMA missionaries, called to serve Africa and the most abandoned, and as we face the reality of an ever increasing age profile, we are having to reflect on our changing mission. 
Over the past year our Justice, Laity and Communications Department have championed Africa's Great Green Wall, an African initiative that aims to regenerate degraded soil along an 8000 kilometer corridor of trees and vegetation that will cross the Sahel from Senegal to the Republic of Djibouti. This has led some of our confreres to wonder if we have abandoned our primary missionary charism to, instead, grow trees. 
It's a fair question and one that can, perhaps, be best answered by the One we ultimately serve, Jesus Christ, as recalled in the Gospel of Mark 16:15:
"Go out to the whole world; proclaim the Good News TO ALL CREATION."
This quotation is carried at the foot of the statue of St. Thérèse of Lisieux – Patron of the  Missions, on the grounds of Our Lady of Knock Shrine, Ireland. The representation of the gospels are set against the background of a map of Africa and two of her 'shower of roses' have landed on the Sahel region.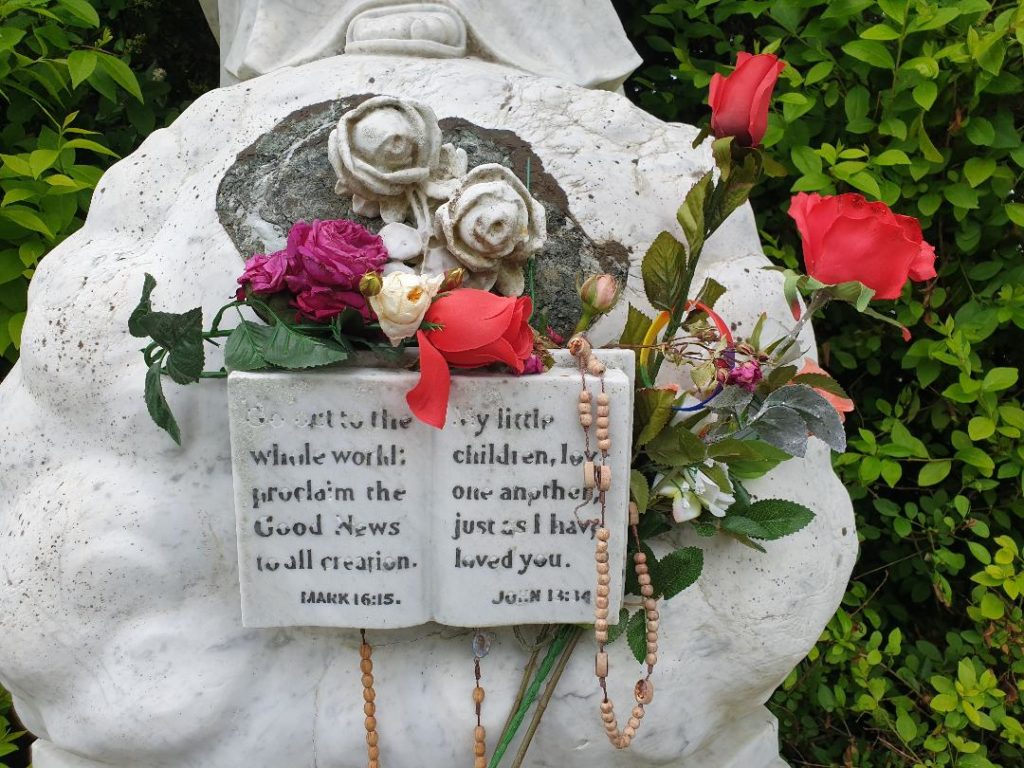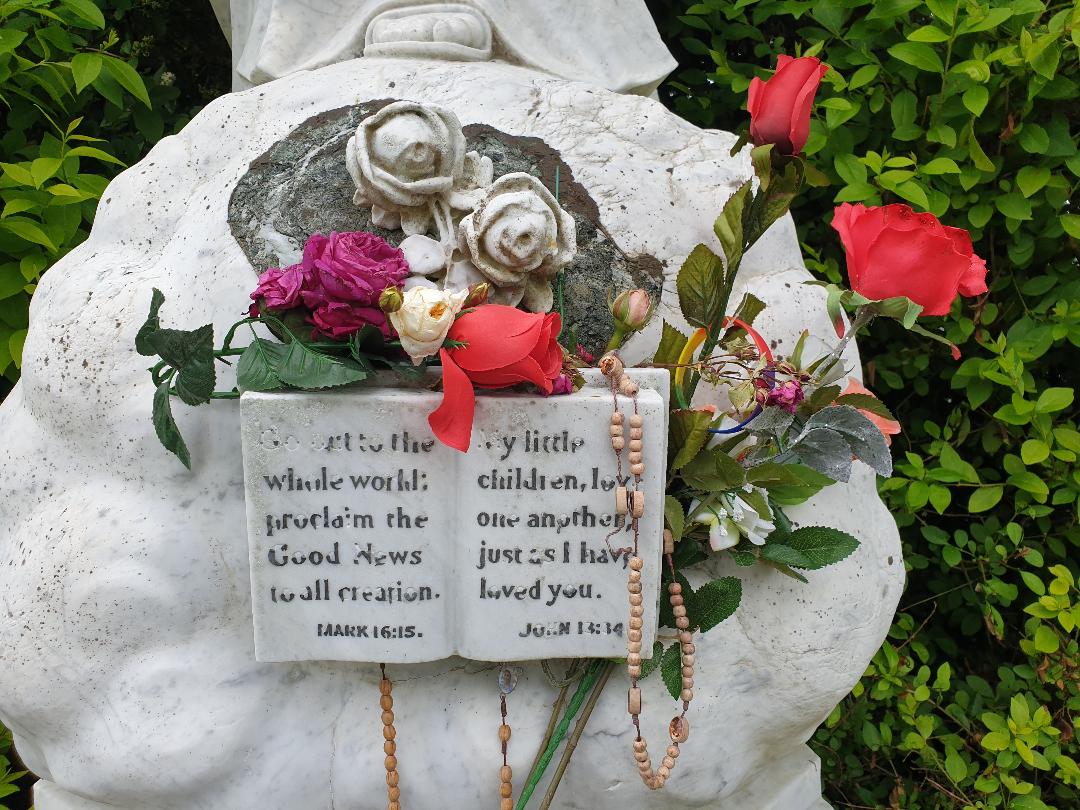 Our mission to Africa and the most abandoned requires that we also preach the Good News to all Creation for if we do not return to a harmonious and sustainable relationship with God's Creation we are, ultimately, destroying ourselves. And, already, as missionaries, we can see how the impact of Climate Breakdown and unsustainable land usage is impacting the most abandoned and most vulnerable in Africa and across the Earth. 
The following reflection and American University Radio broadcast (WAMU 88.5) was recently brought to the attention of the SMA Communications Department and we thought it would be helpful to our membership and supporters as we discern our continued engagement with Africa in the coming years. While focused on the USA, specifically the 'Dust Belt', the issues raised are relevant and applicable to everywhere across the globe were land degradation and its causes are threatening our food security and, ultimately, our very survival as a species.
————————————————————— 
We treat our soil like dirt. By growing food and storing carbon dioxide and water, the loam and peat that coats the earth sustains us all. In return, we till it, treat it with chemicals and generally walk all over it.
Without healthy soil, food becomes less nutritious and crops become harder to grow. If the crops aren't healthy, then the 70 percent of the world's fresh water that's used for agriculture will be wasted.
A 2012 study found that about a third of the planet's topsoil is degraded and that without action, the world will be out of soil suitable for farming within 60 years.
How did it get this way? "Simply put, we take too much from the soil and don't put enough back," University of Sydney professor John Crawford told Time.
You may listen to a fascinating and challenging radio discussion by clicking here. 
Guests on the programme are:
Rattan Lal Distinguished Professor of Soil Science and Director, Carbon Management and Sequestration Center, Ohio State University; President, International Union of Soil Sciences; @lal_rattan
Bianca Moebius-Clune Director, USDA-NRCS Soil Health Division
David Montgomery Professor of geomorphology, University of Washington in Seattle; author of "Growing a Revolution — Bringing Our Soil Back to Life" and "Dirt;" @Dig2Grow
Jimmy Emmons Farmer in Leedey, Oklahoma; @jimmy_emmons