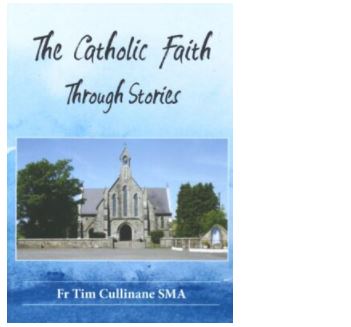 Fr Tim Cullinane's latest book [127 pages] is a delightful collection of stories to illustrate different aspects of the Catholic Faith.
He begins with a quotation from the renowned Indian Jesuit priest, Anthony De Mello: "A lost coin is found by means of a candle; the deepest truth is found by means of a simple story." Tim is certainly correct in his assertion that most of us learnt about our Catholic faith through the Catechism – which touches our head. But if you want your faith to be truly rooted it needs to be in the heart. And stories touch the heart!
Sections such as Meaning of Life,  Who is God for You?, Helping Others, Prayer, the Will of God, The Mass, Self-Esteem – Be Yourself, The Cross in Our Lives, Ageing and Dying … all contain interesting stories and extracts from all corners of the world.
Tim has an interesting story on 'Gossip' [page 108]: When a lady confessed to St Philip Neri that she had a habit of gossiping, the saint – as her penance – told her to take a feather pillow to the top of the church tower, to cut it open and let the wind blow the feathers away. When she returned to the saint, he gave her the second part of the penance: "Go out," he said, "and collect all the feathers that have scattered throughout the town." This was an impossible task for her and St Philip Neri knew it. He gave her this penance to underline the destructive nature of gossip: when we detract from others by what we say, our malicious words are scattered abroad and cannot be gathered back.  They continue to dishonour and divide many days, months, and years after we speak them as they linger in people's minds and pass from one tale-bearer to the next.
As a Kerryman, Fr Tim couldn't but fail to blow 'his own trumpet' so the cover picture is that of the Church of St Moling and St Carthage, Brosna, Co Kerry. But in explaining the origin of the church where he was baptised, he drops in the little nugget of information that it was the late Denis Guiney – who founded the Clery's Department Store in Dublin – who paid for the present Altar rails.
Those interested in getting a copy of The Catholic Faith Through Stories can contact the SMA Office on 021 429 2871 – during Office hours only (9.30am-6pm, Monday to Friday).