On Saturday 27th May 2017, we celebrate the 37th Annual SMA National Pilgrimage to Knock Shrine. It remains one of our most popular and best attended annual events.
It is not often that Knock Shrine and the Knock apparitions are the subject of a major New York Times article. But, on May 12, 2017, a piece by Dan Barry told the story of the youngest of the Knock visionaries, John Curry.
John Curry was five when, on 21 August 1879 he, amongst others, was a witness to the apparition of Our Lady of Knock. He remained resolute throughout his life and never wavered in his faith. To his dying day, in 1943, John Curry testified that he saw the Blessed Virgin Mary, flanked by St. Joseph and St. John the Evangelist, against the gable of Knock Chapel, in his native Co. Mayo.
On 13 May 2017, exactly two-weeks before the SMA pilgrimage, John Curry was reinterred in the cemetery attached to Old St. Patrick's Cathedral in downtown Manhattan. Previous to that he lay in an unmarked grave owned by the Little Sisters of the Poor on Long Island.
During a New York Diocesan pilgrimage to Knock in 2015, headed by Cardinal Dolan, the parish priest of Knock, Fr. Richard Gibbons, informed His Eminence of John Curry's unmarked fate. Cardinal Dolan returned to New York determined to ensure that John Curry's unique place in the history of the Irish Church would be honoured through a second burial in the grounds of Old St. Patrick's.
A link to the New York Times article is below. Dan Barry's article is insightful and informative. The only misgiving is the unsubstantiated statement that 'the local Catholic pastor sided against tenant farmers in their disputes with landlords'.
On what basis is this assertion made?
There is another link to New York from the very same year of the Knock Apparition and which throws a whole different light on local clergy who were actively supporting the plight of farmers. In 1879 Michael Davitt founded the Irish National Land League and amongst his local leaders were Catholic clergymen.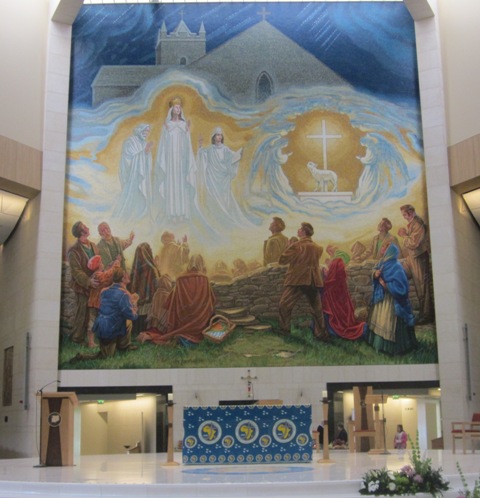 One of those was Fr. John O'Malley, Parish Priest of the Neale, a small village about 15 miles from Knock. He was engaged in a bitter dispute with the agent of the all-powerful absentee Landlord, Lord Erne, whose rack-renting was crippling Irish families forced to pay what was a foreign tax, simply to exist on the ancient land of their birth.
Fr. O'Malley was spearheading an extraordinary standoff between the agent and local community, including tenant farmers who, with exemplary discipline, had withdrawn their labour and services from the agent. After several months, and despite a major British Army garrison in nearby Ballinrobe, the tenants and community were holding firm and the non-violent protest was capturing the imagination of the nation and the press.
A New York Herald Tribune journalist, John Redpath, who was reporting on the Land League, travelled to Mayo to investigate what was happening. Fr. O'Malley invited him to dinner, over which they discussed the roots of the dispute and how and why the entire community were determinedly united to force a reduction in rents.
Redpath was fascinated and racked his mind for a suitable word to describe what was happening. 'Social-excommunication' and 'Social-ostracism' seemed too cumbersome. Then, with enthusiasm and insight, Fr. O'Malley banged the dinner table and exclaimed, "BOYCOTT! Why can't we call it a BOYCOTT?" Lord Erne's agent was Captain Boycott.
The word 'Boycott', coined by the Roman Catholic parish priest of the Neale, just 15-miles from a Co. Mayo village still aglow with stories of the 'strange occurrence', a year earlier, was first reported in the New York Herald Tribune. It has since entered the lexicon of almost every language on earth.
Yes, some clergy, in recent decades are responsible for acts we are thoroughly ashamed of. But that is not the whole story. A majority have done enormous good and stood by their people in good times as well as bad, and still do so.
The New York Times article may be accessed by clicking here.
For more information about Fr O'Malley and the Boycott incident, click here.