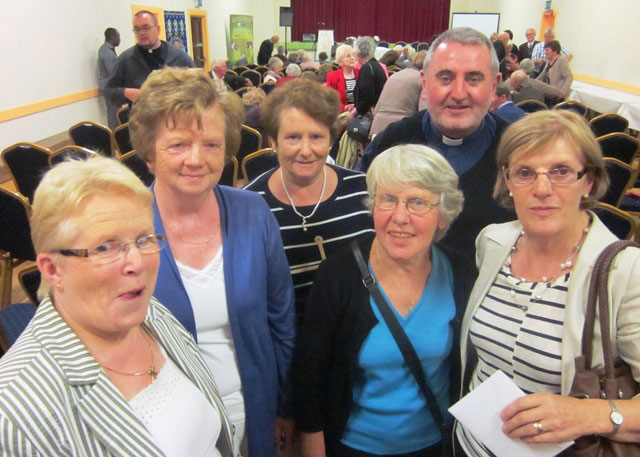 The months of August and September are particularly busy months for the SMA Family Vocations Crusade [FVC] Directors as they arrange Thanksgiving Masses all over the country for the FVC Sponsors who have come to the end of their 8-Year Sponsorship period.
To represent the Ordination Class of a particular year we invite an SMA priest from either Africa, India or the Philippines to come to Ireland to lead these celebrations and to express Thanks on behalf of the new priests. Thank God, 2013 saw the Society blessed with 25 new priests – 1 of them from Poland and the others from different parts of Africa. Since 1991, we have ordained more than 250 priests from 11 African countries as well as India, Philippines and Poland.
This year Fr Dominic Anthuvan, an Indian SMA, came to participate in the celebrations. Ordained in 2009 he was appointed to Kontagora Vicariate in Nigeria where he is serving alongside other Indian as well as African and Irish SMAs. Read an account of his life here.
He had already celebrated Masses in Roscommon, Clare and Galway before heading for Munster. Over five days he visited SMA groups in Mullinahone, Co Tipperary as well as Castletownbere, Ballinascarthy, Mallow and, on the eve of the Hurling All-Ireland, the 'real capital', Cork City. At this stage he has already prayed with more than 1,000 Sponsors in the above-named centres. He will now travel to visit Sponsors in the Ulster, Leinster and Dublin areas.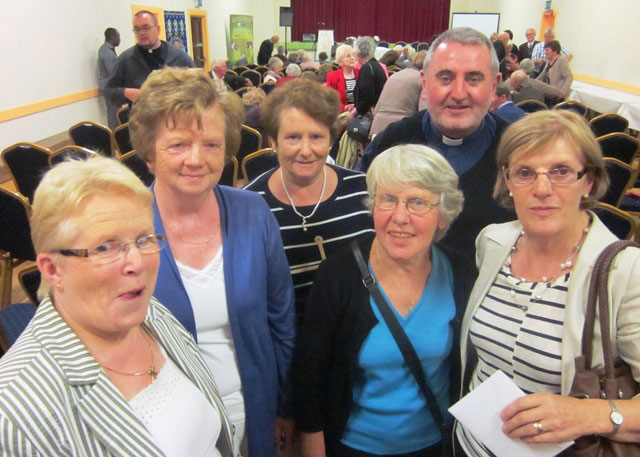 The Community Hall in Ballinascarthy was packed to capacity with SMA Sponsors whose eight-year Sponsorship term has come to an end. During the Mass Fr Dominic (ordained in 2009) shared with our Sponsors some news of his own missionary life in Kontagora Vicariate (Nigeria) and expressed thanks to our Sponsors on behalf of all our missionaries and particularly the 25 new priests ordained this year.
The FVC Director in Munster, Fr Fergus Tuohy, is pictured above with some of the SMA Sponsors who came to Ballinascarthy. In the background in Fr Kevin Conway SMA, ordained in 2011.
Through prayer and financial support our Sponsors, since the foundation of FVC in 1969, have been responsible for the Ordinations of more than 400 priests. An amazing achievement despite the difficult economic circumstances people have and are enduring.
On right is John Ryan (brother of Fr Denis Ryan SMA, on mission in Ghana for 35 years) with Carmel Kingston, Kathleen and Catherine Collins.
Following the Mass there was a 15 minute DVD on the work of some SMA and OLA missionaries, not only from Ireland but from the new units of the Society. It helped give our Sponsors an insight into the varied life of a missionary
celebrating the sacraments, particularly the Mass, in remote parts of their parishes, some more than 100 kms from the Parish (Mission) House;
training Catechists and Sunday Service Leaders;
providing clean drinking water through Well-digging projects;
working for Conflict Resolution and Reconciliation among warring tribes;
founding and staffing Primary Health Care centres;
running Adult Literacy programmes in order to help women and men read and write and so come to know their rights etc in areas where they are treated unjustly…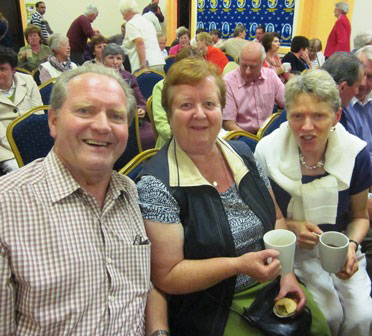 During the traditional 'cuppa' after each Mass the SMA priests who had travelled to the different venues had the opportunity to spend time with the very people who have been supporting them for countless years. And as Fr Dominic said during his sermon, some of them have been supporting us longer than we have been priests! They have helped us to be what we are: missionaries in and for Africa.
Jim and Ann Mollaghan and Kathleen Crowley also attended the Mass at Ballinascarthy.
Saturday, 7 September, was the final Mass for Fr Dominic in Munster. He, along with Fr Fergus and several other SMA priests, headed for the SMA Wilton Community Centre where more than 100 Sponsors gathered for Mass at 6.30pm. Concelebrating with Fr Dominic were Fr Michael McCabe, the recently-elected Irish Provincial Leader, Fr John O'Keeffe who is the Leader of the SMA Wilton community and Fr Fergus Tuohy. Bishop Patrick J Harrington, emeritus Bishop of Lodwar diocese (Kenya) as well as Fr Con Murphy also attended. Along with Fr McCabe they had spent many years on mission in Kenya.
Some of the congregation at the Wilton Mass
During his homily Fr Dominic explained that Kontagora Vicariate is nearly twice the size of Munster. His parish – Shafaci – has 128 outstations, many of which get Mass only once a year. For the rest of the year Sunday Services of the Word are led by a Catechist or Service Leader. They are very fortunate in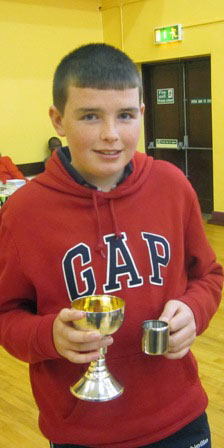 Shafaci that Fr Dominic has an Assistant priest, Fr Valan SMA, also from India.
Tony Fitzpatrick, Nora Minihane, Carmel O'Brien, Erika O'Leary, Amy Kelleher and Kathleen O'Shea led the Prayers of the Faithful.
In his remarks at the end of Mass, Fr McCabe thanked our supporters for their loyalty down the years and as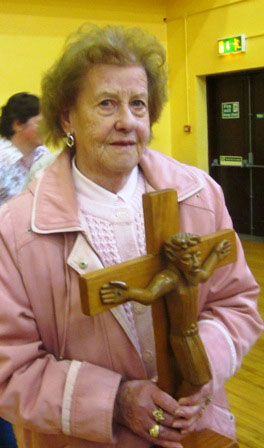 ked them to continue it as we still need missionaries. Echoing back to the homily of Fr Dominic, he reminded us of the words of Blessed John Paul II who said on one occasion that the 'era of mission is only in its infancy'. There is still so much to be done. We were blessed with 25 new SMA priests this year. There is plenty of work for them and, as ever, there are more requests for priests than we can meet in any one year.
Different symbols were brought to the Altar at the Offertory of the Mass: Amy Kelleher brought a Bible, symbolising the Word of God that missionaries must preach; an African Gown was carried by Joan Walsh, symbolising the fact that we must present the Good News in 'an African way', using the local traditions and cultures where possible; Cecilia Gurly (left) carried a Crucifix, carved in the Yoruba-style of western Nigeria; Each day in Blackrock Road Mass is offered for all our supporters and benefactors – Con O'Leary carried a Missionary Association Certificate to remind us of this important part of our SMA tradition. Finally, Mark Kelleher (above) brought the Bread and Wine to be offered at the Mass to the Altar.
At the end of the Mass Fr Fergus repeated his thanks to all for attending and made an appeal to all our Sponsors to restart their Sponsorship. Even though some are ageing the work of the missionaries is still an unfinished business and without the loyal help of our supporters the Good News will not be preached to all God's people. He finished by thanking all those who helped in any way in organizing the celebration and looked forward to seeing many of our Sponsors in the coming weeks as he visits them in their homes around the county.
Further photos of the Ballinascarthy celebration – click here. For more Wilton photos click here.