We sometimes forget that Jesus was Jewish – not Christian. In the same way, we often forget that St Patrick was a Roman-Briton, not Irish. Indeed, it can be argued, he was Britain's greatest gift to Ireland long before its colonisation. A rediscovery of Patrick, by both the Irish and British, might help to underpin our promising, though fraught, Peace Process, especially at a time when Brexit has thrown a loud spanner in the works.
Patrick's love of Ireland and the Irish is all the more amazing when we consider his first introduction was as a slave boy. In adolescence he was plucked from a privileged position by marauding Irish bandits. His father, Calpornius, was a collector of imperial Roman taxes and a member of the local ruling council. The location of their Roman settlement is not definitively known, but some scholars believe it was close to the mouth of the river Severn, Wales.
After his escape from his Irish slave master and return home, Patrick travelled to Gaul in France to commence his studies for the priesthood. We do not have definitive dates for his birth and death. We have approximate dates for his return to Ireland as a missionary, c. 461, and his death c. 493.
St Patrick authored two documents: His 'Confession' and 'Letter to the Soldiers of Coroticus'. Both contain autobiographical details and they reveal a man of extraordinary biblical faith, prayer, courage, determination and loyalty, especially to his Irish converts.
While relatively short documents, the 'Confession' and 'Letter' reveal a very human man who struggled with self-doubt, loneliness, ridicule and abuse. He suffered the betrayal of a lifelong friend and the resulting humiliation of a public investigation. He experienced homesickness for both his family in Britain and his religious brothers in Gaul. Through it all, one sees his growing love of the Irish, founded on his love of Christ. This, indeed, culminates in his fearless defence of, and identification with, the Irish in his condemnation of the brutal racism of Coroticus and his men. He writes: 'They think it a matter of contempt that we are Irish.'
Tradition says he is buried at Downpatrick, Co Down, Ireland, alongside St Brigid and Ireland's first indigenous missionary, St Colmcille.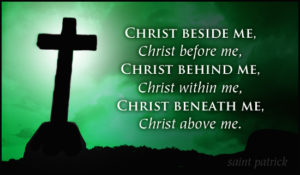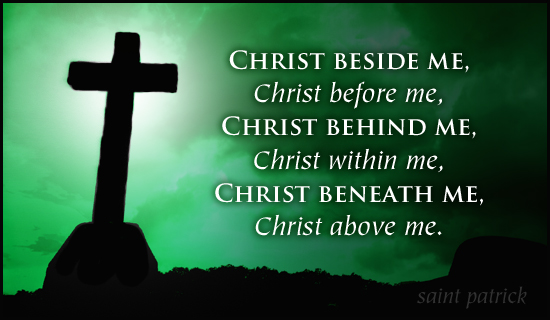 Below are words from the beginning of St. Patrick's Confession. They are his creed and reveal his deep faith, drawn from the endless well of God's love revealed in the Father, Son and Holy Spirit. While there is no mention of shamrocks, tradition says that Patrick used it to teach the doctrine of the Trinity. Patrick's faith in the Holy Trinity was the powerhouse that drove him to risk his life for the Irish who, in the 5th century, were considered to live at 'the very ends of the earth':
WE BELIEVE in Him
And we look for his coming soon
As judge of the living and of the dead,
Who will treat every person according to their deeds.
God has poured out the Holy Spirit on us in abundance.
He has poured on us the gift and guarantee of eternal life…
and makes those who believe and obey Sons of God
and joint heirs with Christ.
We acknowledge and adore Him as one God
in the Trinity of the holy name.