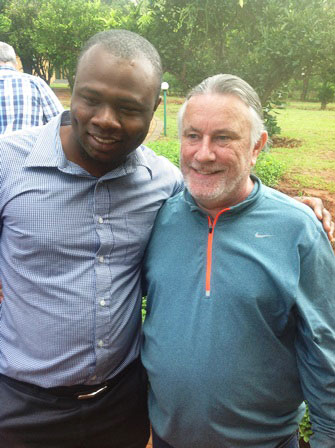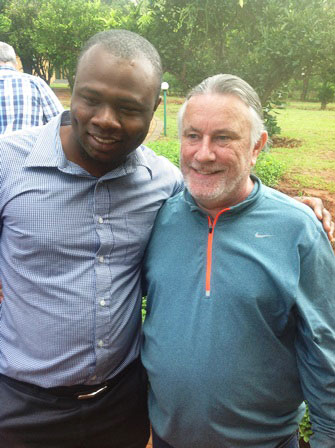 Priests from the Society of African Missions first went to South Africa in 1873. It was to prove an eventful period and after nine years we handed over our missions to the Spiritan Congregation. Read History of the SMA in South Africa here. The Society returned in 1984. Since then our team has developed and today as well as Irish SMA priests there are Nigerian, Togolese and SMA's.
Fr Ken Cooney (from Cork City) has been working in South Africa since after his ordination in 1988. He is pictured with Fr Justin Inandjo.

The SMA Regional Assembly took place at the SMA House in Buffleslfontein from Monday, 17 – 20 March 2014. The Assembly started on a very happy note on the feast day of Saint Patrick, the patron saint of Ireland. The mass was presided over by the Irish Provincial Leader Fr Michael McCabe. During the Mass the Regional Superior, Fr Pius Afiabor (from Nigeria), welcomed all present and officially opened the Assembly.
Fr McCabe attended the Assembly as an observer. Fathers Noel Gillespie and Joseph Ogungbe acted as secretaries for the two small groups.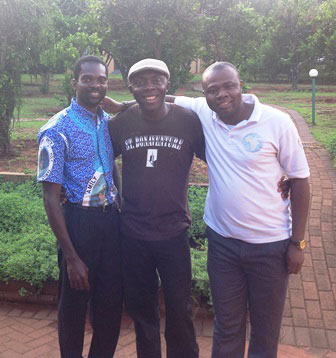 The three-member Regional Council are Frs Pius Afiabor, Vincent Brennan and Justin Inandjo. They lead the 16-member SMA team in the three dioceses where we work. Ten of them are from Ireland, four from Nigeria and two from Togo.
Ten are in parish work, one is teaching in a Catholic High School for girls, in either Rustenburg diocese, Pretoria or Johannesburg Archdioceses.
Fr Hugh Lagan teaches in the Major seminary in Pretoria as well as working with the Ongoing Formation Committee of the Bishops' Conference. He recently conducted some workshops with Fr Stephen Rossetti to address some clerical issues. Report here.