Red Wednesday is an annual day to draw attention to the plight of those who are persecuted and oppressed for their religious beliefs. Cathedrals, churches and public buildings around the world will light up in red to show solidarity with our brothers and sisters in Christ. Red Wednesday is an initiative of Aid to the Church in Need (ACN), a Catholic charity dedicated to the support of suffering and persecuted Christians.
The SMA Parish Church, Wilton, Cork is, today, Wednesday 27th November, participating in highlighting the cause of Red Wednesday. And in Armagh Cathedral, Archbishop Eamon Martin will lead a "Liturgy of Witness". Details below. 
Red Wednesday is the time for people of all faiths, and no faith, to come together in solidarity for Christians and others who are oppressed, forced from their homes, rejected from education and jobs and very often killed just because of their religion.
As a parish we will support the day by public adoration in our church from 10.30 to 2pm.
On our notice board in the church are lists of countries in need of our support and prayers.
These include Nigeria, India, Philippines, Syria, Sri Lanka and sadly so many more throughout the world.
On that day we ask people coming to church to wear some item of red clothing as a token of support of Red Wednesday.
Anyone wishing to join in prayer with us on that day can do so by accessing our web site – www.smawilton.ie and then click on LIVE.
Archbishop Eamon Martin to lead a
'Liturgy of Witness'
for
Red Wednesday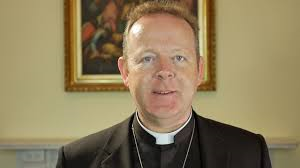 Archbishop Eamon Martin will lead a 'Liturgy of Witness' tomorrow, Red Wednesday, in Saint Patrick's Cathedral, Armagh, as part of a special 'Week of Witness'. The 'Week of Witness' is an invitation to Christians across the island of Ireland to stand in solidarity with, and bear witness to, the heroic example of our persecuted brothers and sisters in faith across the world. During the celebration, two young people will speak with Archbishop Eamon on how they witness faith in their every day lives.
Archbishop Eamon said, "Many churches and public buildings in Ireland and Britain are being lit up in red this week, and people are encouraged to wear a red item of clothing to help shine a light on the reality of Christian persecution across the world, and to highlight the injustices perpetrated against other minority and faith groups. I thank God for the freedom of worship and religion that we enjoy on this island, a freedom that we did not always enjoy and which is denied so many people in our world today. I recognise that to be like Christ in an increasingly secularised world means being different, counter-cultural, and not easily swayed by the prevailing attitudes and opinions around us.
"On this #RedWednesday I invite you to pray for the gift of courage, the grace of witness and loyalty to Christ for Christians all over the world and especially for those who continue to be challenged, attacked, displaced or even murdered for what they believe in."
Tonight, on the eve of the Red Wednesday Vigil, a special lecture will be given by Jean Harrington in The Magnet Pastoral Centre, Dundalk at 7.30pm on 'Martyrdom in the 21st century'. Jean is the author of Murder in the Missions – a true story which was published earlier this year and focuses on the story of two Columban Missionaries in the Philippines, Father Des Hartford and Father Rufus Halley.
After the 'Liturgy of Witness' on Red Wednesday, Archbishop Eamon will launch a new book in The Synod Hall of the Cathedral titled Not might nor fear – Prayers and Reflections on the new Statue of St Oliver Plunkett edited by Canon Benedict Fee.
On Thursday Archbishop Eamon will celebrate 10am Mass in Saint Patrick's Cathedral and during the Mass, special prayers will be offered for all who give witness to their faith in the world today. After Mass, the Archbishop will join with all the young people who are to be confirmed in the Cathedral Parish this year, in leading a 'Walk of Witness' within the Cathedral. As part of the walk, prayers will be offered that all of us may respond to the call to be more faithful in giving witness to the faith in our homes and in our communities.