"We saw what is possible for a Christian community to be in a small corner of the church today."
– Fr. Michael O'Leary, Parish Priest, SMA Wilton Parish, Cork
Editor's Note: The SMA parish at Wilton, Cork, hosted its first Family Fun Day on the 9th September 2018 in the SMA grounds at Wilton. Fr Michael O'Leary, P.P., here offers a heartfelt thank you to everyone involved in making the day a wonderful success. It was a day during which our children were introduced to how the core of Christianity teaches us to celebrate the richness of God's diversity expressed in our common humanity.
————————————————————————————-
Our Family Fun Day was an opportunity and an invitation extended to all people of the area to identify with the day as a way of marking the end of the Year of the Family. It was an attempt to express the deeper meaning of Family by a Christian community. We wish to express our thanks to all who have responded positively to our invitation.
We thank the many commercial institutions in the area who honoured the occasion by making donations of money or kind which helped defray the expenses of the day.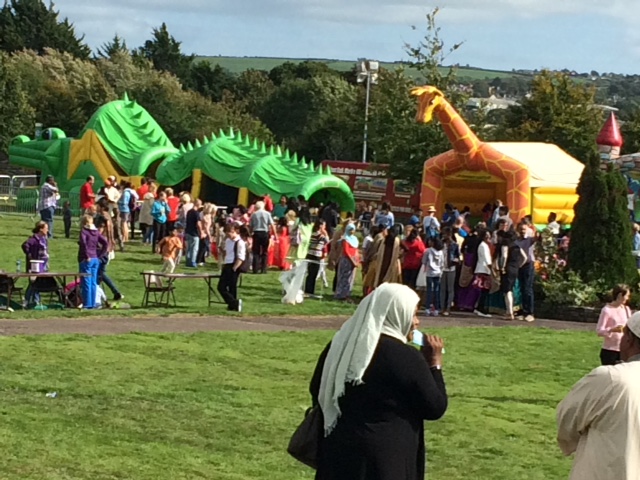 We thank the various cultural groups who enabled us to recognise and appreciate the cultural diversity of our parish. We had displays by the Indian, Pilipino, Lithuanian, Sudanese, Nigerian and Irish communities who are part of our family in Wilton.
We thank the various groups who avail of the Parish Centre who displayed their work on the day. We also thank those groups who use the Centre and who offered volunteers to assist on the day.
We thank all those people who provided cakes and prizes to allow us to assist the work of one of our missionary priests, Fr. John Kilcoyne, through a raffle.
We thank those who attended and were part of the day.
Finally, we thank the group of people who came together to enable the day to happen.
Days like this don't just happen. To the organising committee –a special "thank you"!
We saw what is possible for a Christian community to be in a small corner of the church today.
Michael O'Leary SMA