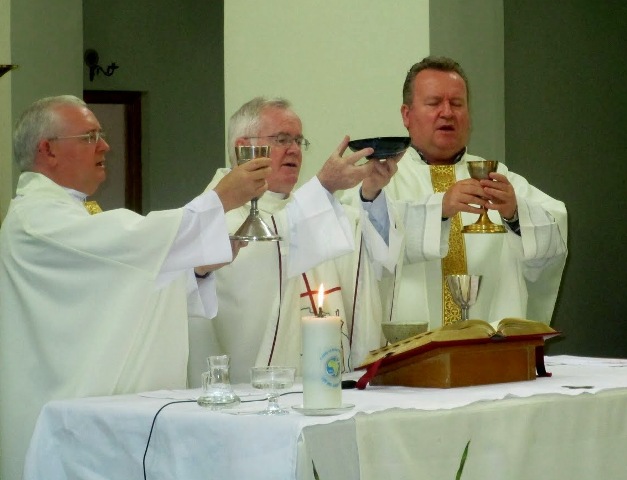 The Irish Province celebrates the Silver Jubilee of two priests in 2014 – Fathers Malachy Flanagan (from Co Louth, on left of picture) and Paddy O'Rourke (Co Cavan, on right).
The Thanksgiving Mass was celebrated by the Provincial Leader, fellow Cavan man, Fr Michael McCabe. More than 25 other priests concelebrated with the Jubilarians and a well-appreciated homily was preached by one of our Golden Jubilarians, Fr Tim Cullinane. Fr Tim is still waxing eloquent as can be seen from his homily and returns to his work as Spiritual Director for the SMA Formation House in Ibadan, Nigeria after his own Golden Jubilee celebrations conclude. The victory of his beloved Kerry over Cork in the Munster Football Final will no doubt add to the joys of 50 years of faithful commitment as an SMA missionary. The text of Fr Tim's homily follows:
"This is the day which the Lord has made, let us be glad and rejoice in it"
This is a very happy occasion as we gather as an SMA family with our jubilarians, Father Malachy Flanagan and Father Paddy O'Rourke to celebrate the Silver Jubilee of their ordinations. I am especially happy to be here as I was there twenty five years ago at Tullyallen and Laragh at their ordinations as SMA missionary priests. Of course I would be even happier if was down where you are, rather than up here.
There are many ways of approaching missionary priesthood. What I am going to say this morning arise from a story that Paddy told me a number of years ago.
There is a book called "Christianity Rediscovered", written in 1978 by Fr Vincent Donovan CSSp, who worked as a missionary among the Masai in Tanzania. In the book he describes how he decided to break away from the traditional method of doing mission – setting up structures, establishing parishes, building churches, starting clinics and schools and digging wells. He felt that through this method people were getting buildings and projects but very little real religion. So he decided in the spirit of St Paul to go straight to the people and talk to them directly about Jesus Christ and his message and then move on. He divided the area he was working in into sections and his plan was to go to each section once a week over a twelve month period to talk to them directly about Jesus and his message. When the twelve months came to an end he told them that he had finished imparting to them Christ's message as best he could and said to them "I will not come back again to teach anyone else here. Now it is up to you to accept or reject the message I have preached. If you accept it I invite you to be baptized and then elect your own leaders and let the church grow in its own way from there."
Since he worked in Tanzania I remember asking Paddy on one occasion , "Did this method work?" and he told me that he did not really know as he worked in a different part of Tanzania but that on one occasion how he met a Maryknoll priest in Nairobi who was intrigued by the question "Did this method work?" and decided to investigate. One day he met a pilot of a "Flying Doctor" plane who flew frequently to that part of Tanzania to bring people to hospital and had made many trips to the villages that we are talking about. The priest told the pilot about Fr Donovan and what he had done and asked him from his experience of going to the villages "Did the method he used work?" The pilot said, "I do not really know as I never stayed in the villages but only flew in to collect patient and out again but I will tell you a story. "A few years ago I got a call from one of the villages you are talking about. One day the women going to the market came across a man lying beside the road, wounded and soaked in blood after being gored by a lion. When they got to the village they told the elders of the village who called some young men and went off with them with a makeshift stretcher made of sheepskin and bamboo poles to where the wounded man was. They treated him as best they could and brought him to the village and contacted the "Flying Doctor." I was on duty that day, the pilot said, and I came and took the man to a hospital where he got proper treatment and made a complete recovery. I was so touched by the concern of the villagers for the injured man who was not from their tribe that on a subsequent visit I asked the elders of the village, "Why they had done what they did?" One of them answered with another story. A number of years ago a white man came to our village and told us a story about a man who was going along a road, was beaten by robbers who stole what he had and left him for dead, much like the man gored by the lion… but the story did not end there.
In these seven words "But the story did not end there" is a simple but powerful way of describing what mission is all about. As missionaries people come to us every day with unfinished stories, stories of woundedness of different kinds: poverty, sickness and no money to buy medicine or go to hospital, loss of meaning of life, alienation, being imprisoned by evil spirits and addictions of various kinds. To be a missionary is to play one's part in making sure that their stories do not end there. Unfortunately in Africa today I notice a growing tendency to put up walls and locked gates by which we easily isolate ourselves from people and their stories, especially if they are poor. This is not what God does. The psalmist says, "The Lord hears the cry of the poor" or to put it in a different way, "The Lord hears the story of the poor." Looking at the Gospel this is what Jesus did. Much of the Gospels are made up of stories of Jesus dealing with individual people he met:
Nicodemus came by night with his own story, the story of a man looking for a deeper meaning in life but when he met Jesus his story did not end there and Jesus opened up a new world for him.
His meeting with the Samaritan Woman… it is the story of a woman looking for real love in spite of having six husbands. Only when she met Jesus did she find real love and a new story.
The man at the Pool of Bethsaida is the story of a man crippled for 38 years and had lost all hope of being cured but when he met Jesus his story did not end there
These people and many others in the gospels all had their own stories but as a result of their meeting with Jesus, their stories did not end there.
As SMAs we have our own story of a Melchior de Marion Brésillac who had a dream of bringing the good news of Jesus Christ to the most abandoned people of Africa which seemed to end in tragedy at Freetown after only six weeks. But the story did not end there and is carried on by people like today's Jubilarians, Malachy and Paddy.
Malachy began his missionary career in an area of primary evangelization among a people with a story of abandonment by government lacking education, medical care and imprisoned by false beliefs but through his efforts and the efforts of other who worked with him their story did not end there. In recent years he has found his real charism in administration where we come with our own stories, usually with a financial dimension, and find him welcoming, approachable, obliging, caring but with the ability to ask penetrating questions but always doing it in a nice way. As a member of the Provincial Council he has a special role to play to ensure that the story of the Irish Province does not end anytime soon.
Mother Theresa of Calcutta said on one occasion that she saw herself as a pencil in the hand of God but pencils write differently according to the colour of the led in the pencil. Each of today's jubilarians has his own unique personality through which God writes:
Paddy writes his story with a different coloured pencil to Malachy's. He has spent most of his missionary life in Tanzania. As Regional Superior he had a most diverse group of SMAs. I lost count of the number when I reached 13: Irish, Indians, Filipinos, Nigerians, Beninois, Zambian, Tanzanian not forgetting lay associates. To keep the all working together and singing from the same hymn sheet was no small challenge and Paddy did it very well.
On a different note, I believe that students are very good assessors of SMA priests and if that is true Paddy scores very highly. Students who are now priests speak very highly of Paddy of his gift of hospitality, how well he treated them when they came for a year's pastoral experience or during the Christmas break. As one of them put it to me, "he was a joy to be with and when I was with him for one Christmas we really celebrated Christmas as it should be celebrated."
At the beginning of his Apostolic Letter, The Joy of the Gospel, Pope Francis says "The joy of the gospel fills the hearts and lives of all who encounter Jesus. With Christ, joy is constantly born anew I wish to encourage the faithful to embark upon a new chapter of evangelization marked by joy".
[After the Mass there was a celebratory lunch. Our picture shows Fr John Kilcoyne (bottom left, home on leave from Tanzania), Fr Michael Brady, Fr Mark Monaghan (on leave from Kaduna Archdiocese, Nigeria), Fr Tom Treacy (on leave from Kano diocese, Nigeria) and Fr Andy O'Sullivan.]
In his 25 years as a missionary, first in Liberia and then in Tanzania Paddy certainly did this, writing his own chapter of evangelization marked by joy. Bob Hales used to say that for the Yoruba "Work was an interlude between celebrations." He was talking about the Yoruba not about Paddy O'Rourke!
However I must say that Paddy's gift for joy and celebration got me into trouble on one occasion. We were at a meeting of Regionals in Cotonou. Paddy and two other Irish Regionals who will remain nameless decided to have pre-meeting aperitif, while the rest of us went off to bed. At 4am I was awakened by the loud talking and I thought I could hear Paddy's voice in the middle of it but put it out of my mind as I knew that he was in bed for hours. However the story did not end there. Next morning when I appeared for breakfast, I was met by a table of Frenchmen, led by a fellow with a long beard called George Klein, and what they did not say about myself and the my country was not worth saying.
But to get back to the story of today, Mission happens when God's story, the greatest story ever told to use the title of one Fulton Oursler's books, meets the human story .
Today we congratulate Malachy and Paddy who in their own unique way have made sure over the past 25 years that God's story did not end in a book or a building but really touched the lives and stories of the many people they met and ministered to. Of course their story does not end here. Each of them with the help of God has many more chapters of their story to write in the years ahead.
This is a special day for them and with them we join with them in their own Magnificat as they thank God for the many things God has done for them and through them.
"My soul now glorifies the Lord who is my saviour
Rejoice for who am I that God has shown me favour
The world shall call me blessed and ponder on my story
In me is manifest
God's greatness and His glory."