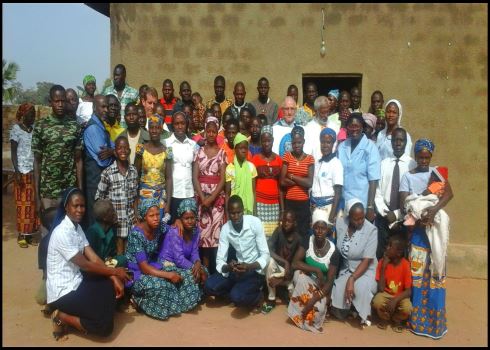 Memorial Mass for the late Sr. Roisin Cox happened in Papiri yesterday morning, on the 20th of January. Those present were seven OLA Sisters who make up the OLA Community in Papiri. Those included; Srs. Vivien Dore, Juliet Aruya, Charity Ifere, Alice Chifong, Elizabeth Alabi, Clarisse and Juvenal.
Among those concelebrating the Mass were SMA Frs. Dan McCauley (Vicar General), Donall O'Cathain (Parish Priest, Pissa) and William Joseph (Parish Priest, Guffanti).
A congregation representing the laity from the various communities of Guffanti parish participated in the Mass to pay their respects to the memory of Sr. Roisin.
She served as Matron of Papiri Catholic Clinic from its foundation in 1977 until her transfer in 1987 and again from 1998 until she retired to Ireland in 2005. She is fondly remembered for her loving care for her patients and her high level of dedication to her nursing duties
Sr. Roisin rest in peace!