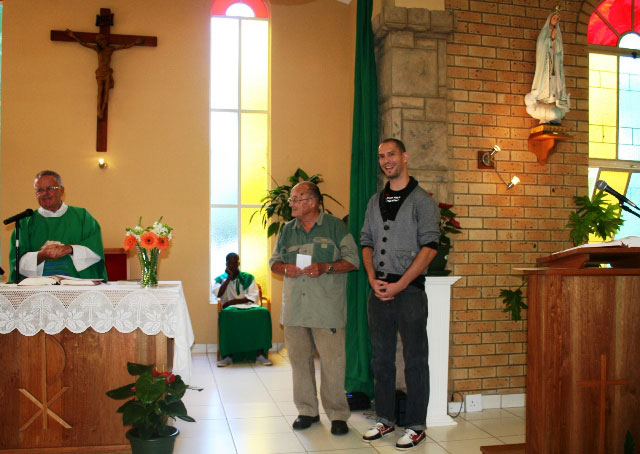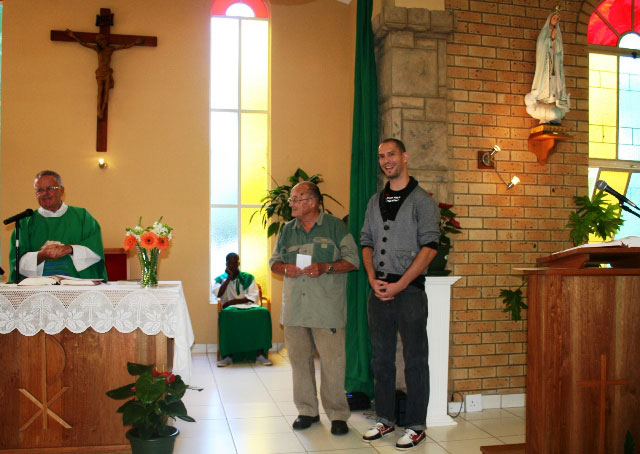 The Presentation Parish in Montana, Pretoria is under the pastoral care of the Society of African Missions (SMA) since its establishment in the 1990's. The first SMA missionaries landed in South Africa nearly 150 years ago. Read more about this and the birth of Montana parish here.
A growing multicultural parish it has a very active Varing Committee who invite the parishioners to reach beyond the parish limits to address the needs of others. Our picture shows Mr Donald Goodwin, Chairperson of the Caring Committee, handing over a cheque for Rand11,000 (just under €1,000) raised by the parish to Mr Brett Sandler, representing Medecins Sans Frontieres (MSF) / Doctors without Borders on Sunday 27 January 2013. The Parish Priest, Fr Michael O'Leary SMA, is on the left.
The MSF project was initiated by the parish Caring Committee who saw that MSF needed help to ensure the continuity of their mission.
Every year the MSF provides emergency medical care to millions of people caught in crises in more than 60 countries. On any given day more than 22,000 doctors, nurses, logisticians, water and sanitation experts, administrators, and other qualified professions work with MSF in providing medical care around the world.
Parish members, parents and children dug deep to help those in need during the Christmas / New Year season and it is hoped that the contribution handed over to Brett Sandler will help in providing that medical care and those in need.