Mrs Dympna Mallon, a native of Antrim town and now living in Dungannon, Co Tyrone, was recently appointed as the Laity Coordinator for the Society of African Missions.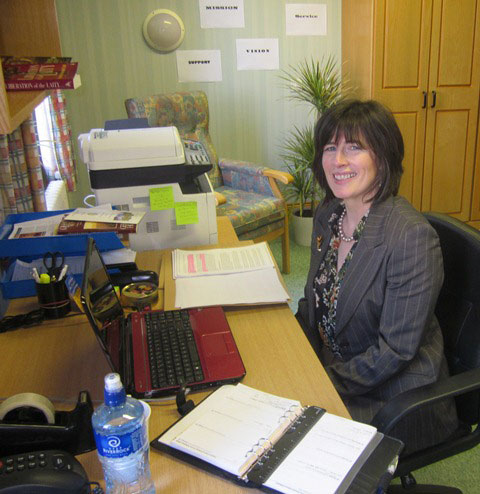 Our photo shows Mrs Mallon at her desk in Dromantine where her office is located.
The role of Laity Coordinator is a new position in the Society, requested by the 2007 Provincial Assembly. This role will focus on the coordination of all SMA Mission Support Groups and activities in Ireland and the management of relationships between these groups and with the SMA.
As a missionary Society we are committed to a vision of mission where all the baptised faithful are called, as the People of God, to live out their mission and promote the Reign of God.
Many lay people, individuals and groups, are involved with the mission of SMA in various ways. Examples of this include the Family Vocations Crusade (FVC), Mission Box holders & collectors, the SMA Lay Association, the Friends of Africa, Promoters of our Missionary Association Cards (MAC), Magazine / Calendar, Friends of Africa to name a few. The Laity Coordinator will seek to enhance collaboration among these groups and bring to life the SMA vision of a more collaborative and corporate approach to mission.
Mrs Mallon, who is married with five children and one grandchild, will be based in Dromantine, though her work will take her to all parts of Ireland as she meets and familiarises herself with the many facets of lay involvement in the SMA.
After completing her schooling at St Louis Grammar School, Ballymena, Dympna went to Queens University in Belfast to study Law. After qualifying with a LLB she worked for some years with a range of voluntary sector groups. For the last 12 years her work, as a Complementary Therapist, saw her specialising with children and adults with physical and learning disabilities.
Since 2008 Dympna has also been studying Theology through the Diocese of Armagh. She is a member of the Justice, Peace and Development Commission in the Archdiocese of Armagh, a member of the Diocesan panel of Safeguarding Information Facilitators and is the Adult Faith Coordinator for the Dungannon pastoral area.
Dympna is very welcome into the SMA family and we wish her every joy and blessing in her new task.
Contact details:
Laity Coordinator
Society of African Missions, Dromantine, Newry, Co. Down, BT34 1RH
laity @ sma.ie 028 – 3082 1024