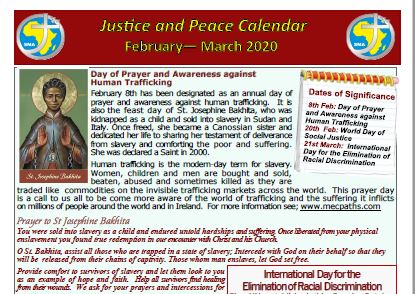 Dear SMA Member/Associate/Colleagues
Attached you will find the Justice Calendar for February/March which highlights World Day for Social Justice as well as raising awareness of Human Trafficking and the Elimination of Racial Discrimination.
We would encourage you to share the calendar by email to anyone to whom it may be of interest and you may also wish to print it and display it in your home, community, church or place of work.
To access the calendar please click here.
Best wishes
Dympna Mallon
Laity Coordinator
Society of African Missions
Dromantine
Newry
Co Down BT34 1RH
Tel: +44 28 3082 1024
Web: www.sma.ie