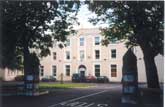 SMA House, Blackrock Road, Cork
is the Headquarters of the Irish Province. There is a second residence and parish in Wilton, Cork.
The various buildings of the Blackrock Road property are
Feltrim – the residence and offices of the Provincial Leader and his Council. Fr Michael McCabe is assisted by Frs Malachy Flanagan and Maurice Henry. Their mandate expires in July 2019.
SMA House – the principal SMA residence in Ireland has three wings:
St Joseph's (built in 1880) and St Patrick's (1930) have 48 bedrooms, Oratory, Library, Offices, Dining and sitting rooms. St Patrick's also houses the Provincial Archives.

St Theresa's Nursing Unit (1997) is the third wing of the house. Nursing and Care personnel look after those in need of fulltime medical care as well as those home from Africa in need of nursing care following surgery etc.
Promotion building:
The Main Office is responsible for Mission Association cards, the different Novenas of Prayer (in honour of Our Lady (May) and St Therese (September-October) and Mission Boxes. Fr Gerard Murray is Main Office Manager;
Communications Department is responsible for the SMA website – www.sma.ie
Development – processes applications for grants for mission projects – church building, well-digging, literacy, health, etc.. Mr Gerard Forde is the Mission Development Officer.
Family Vocations Crusade (FVC) – looks after the funding of our seminarians throughout the world. Fr Fergus Tuohy is the FVC Director;
and Publications – publishes the African Missionary Newsletter (twice a year) and the very popular SMA Calendar.
St Joseph's SMA Parish, Blackrock Road – built in 1881 as the community chapel. Following a request from the Bishop of Cork & Ross the Society accepted pastoral responsibility for the local area, with the church to serve as the parish church. The parish was erected on 6th September 1988, with Fr Owen McKenna SMA as the first Parish Priest. Fr James O'Kane SMA succeeded him in 2001. Fr Tommy Wade SMA served from 2005 – 2014.
The present Parish Priest is Fr Noel O'Leary with Fr John Horgan as Assistant Priest.
The SMA Leadership team in Blackrock Road is led by Fr Eddie O'Connor who is also House Bursar. The other staff members are Fr John Denvir [Assistant Leader] and Fr Chris Brennan. They can be contacted at +353 21 4292871 or sma.blackrock@sma.ie