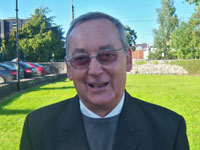 SMA Superior & Vicar Generals visit Dromantine
The Society of African Missions is made up of different units – Provinces, Districts and Districts-in-formation – who send their members as missionaries to Africa and other parts of the world in the service of African peoples. While each unit has its own leadership to guide it, there is also an overall coordinating leadership body – the SMA General Council, led by Fr Jean-Marie Guilaume (pictured) – based at the SMA Generalate in Rome. Their role of this four man Council is to 'provide dynamic animation for the Society, giving inspiration to its members and to its missionary life and work.'
Having already visited the SMA Houses in Blackrock Road, Cork and Ranelagh, Dublin they are now in Dromantine, Newry. They will then move on to the SMA House in Claregalway.
They are also charged with the responsibility of visiting each Province and District during their six-year term of office. In pursuance of this responsibility, the Superior and Vicar Generals have arrived in Ireland to begin their 4 week visit of every house – Blackrock Road, Wilton, Dublin, Dromantine and Claregalway – in the Irish Province. This visit will also afford Fr Jean-Marie Guillaume and Fr Paul Saa-Dade Ennin the opportunity to meet many of our SMA supporters who are involved in our missionary work in different ways: FVC members, Friends of Africa, users of our Missionary Association Cards etc as well as the band of lay staff working with us in our houses.
Both Fr Guillaume (pictured left) and Fr Ennin are very familiar with the members of the Irish Province. Fr Guillaume taught at Ss Peter & Paul Major seminary, Ibadan (Nigeria) where he worked alongside several Irish SMA's. He also served as Vicar General (1983-1989) to Fr Patrick J Harrington. He has visited Ireland several times for different international meetings. Fluent in English he will have no problem conversing with the many people who will give him, and Fr Ennin, a Céad Míle Fáilte to the largest unit in the Society (203 members out of a total of 901, according to the 2011 SMA statistics).
Fr Ennin (pictured below), from Ghana, was ordained in 1998 and after some years in pastoral ministry in Africa he was called to Rome to study Canon Law. After getting his STL he joined the teaching staff at Ss Peter & Paul Major seminary, Ibadan, before his election to the SMA General Council in 2007. As well as his own Twi language and English, Fr Paul is fluent in French and Italian.
One of his responsibilities has been to oversee the rapid development of the Society in Africa. Since the establishment of the African Foundation in the 1980's, the Society has ordained more than 150 priests from across the African continent. We have 10 Formation centres in 9 countries, with just under 300 students preparing to dedicate their lives as African missionaries. The Irish Province played a significant role in the early years of this development through supplying priests for the staff of different houses. From the beginning the financial support of the Irish people – our SMA sponsors and benefactors – has been essential. Despite the challenges and difficulties of the present economic situation in Ireland, the SMA still rely on our supporters to continue to do their part in the missionary work of the Church.
At the end of their visit they will meet with the Irish Leadership team – Fathers Fachtna O'Driscoll, John Dunne and Damian Bresnahan – to share with them on what they have observed and heard during their visit.
We welcome both Fr Jean-Marie and Fr Paul and wish them safe travelling around Ireland over the coming weeks. Hopefully, the weather will be kind to them so that they can get out and about and enjoy the autumnal colours which are beginning to dot our landscape.
Bienvenue! Akwaaba!! Céad Míle Fáilte!!!