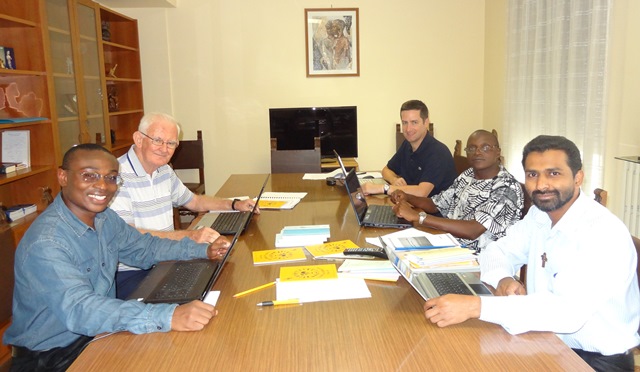 The SMA Formation Commission are meeting at the SMA Generalate in Rome. Under the leadership of SMA General Councillor, Fr Francis Rozario, they are examining all aspects of SMA initial, further and ongoing formation in light of the decisions taken at the 2013 SMA General Assembly. With more than 250 seminarians, formation is always an ever-present issue in the minds of the SMA Leadership teams, particularly in the Districts-in-formation (DF).
from left: Frs. Herve Abou, Tim Cullinane, Hugh Lagan, James Shimbala and Francis Rozario (General Councillor)
Among the issues on the Agenda: staffing needs for formation houses, training of formators, living in a simple way close to the people, balance of academic formation with all other formation activities… all of this to ensure that SMA priests have a wholistic initial formation experience and are well-formed so that they will serve God's people as members of the Society.
With Fr Rozario (from India, based in Rome), the Commission balances age, experience and internationality: Herve Abou (Ivory Coast & Benin) Tim Cullinane (Ireland & Nigeria), Hugh Lagan (Ireland & South Africa) and James Shimbala (Kenya & Tanzania). Fr Bupe Chembo (Zambia, completing a Doctorate in Rome) is the Commission Secretary.
The Commission will meet with the SMA General Council to discuss their findings before returning to their places of work. The General Council will then take the fruits of the meeting and see what decisions flow from their encounter.