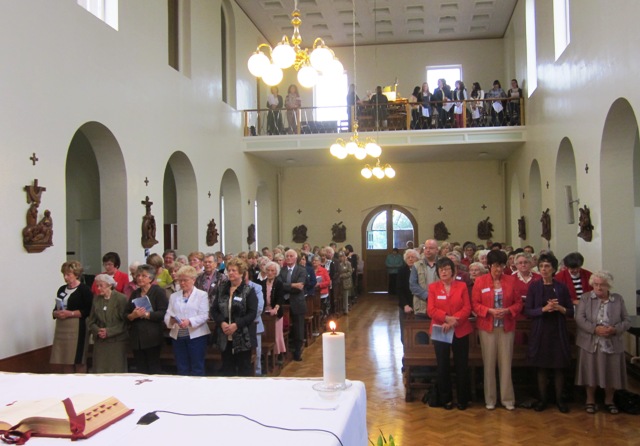 Nearly two hundred members of the Apostolic Work Society gathered at the African Missions, Dromantine to celebrate and give thanks for 90 years of missionary work, in collaboration with the different missionary societies and orders based in Ireland and beyond.
The congregation at the Thanksgiving Mass in Dromantine
OLA Sisters also attended, representing the many Congregations of Sisters who have also had inestimable support from Apostolic groups throughout the length and breadth of Ireland. Those who gathered in Dromantine came from Apostolic branches in four dioceses: Armagh, Down & Connor, Dromore and Kilmore.
Fr Paddy O'Rourke, SMA Co-Leader of the Dromantine community, was the Principal celebrant and preached. He was assisted by Fr Terence McGuckin CP (from the Passionist community at Ardoyne), Eddie Deeney SMA, Eamonn Finnegan and Martin Kavanagh.
Fr Eamonn Finnegan proclaimed the Gospel. Also in the picture are Frs Eddie Deeney (left) and Fr Paddy O'Rourke.
The National President of Apostolic, Mrs Anne Donaghy, as well as the four diocesan Presidents participated in the Mass. Mrs Margaret Buckle (Down & Connor President) and Sr Eithne Synott OLA read from the Prophet Jeremiah and the Letter to the Romans respectively. Other Aposotlic members led the Prayers of the Faithful and, during the Offertory Procession, four candles were brought to the Altar to remind us of the deceased Apostolic members and honorary members who were now resting in the Light of God's glory.
Our picture shows Mrs Donaghy, Fr O'Rourke and Mrs Buckle.
In his remarks at the end of the Mass Fr Kavanagh quoted an Indian SMA priests who in describing SMA missionaries and those who support them as follows:
Some give, by going; others go, by giving.
From the earliest days in 1923 when Agnes McAuley gathered a group of young women around her to help Irish missionaries, there has been no doubt that Apostolic members are among those 'others who go, by giving'.
Despite that his native Dublin were playing in the All-Ireland Football Final, Fr Kavanagh felt the words of Jesus – no man has greater love than to lay down his life for his friends – echo in him in that he could show no greater love to Apostolic than to be with them in Dromantine when Dublin were playing in Croke Park! Thankfully his prayers were heard and Dublin narrowly defeated Mayo!
There was time after Mass and our meal to watch some of the All-Ireland
The National President, Mrs Anne Donaghy, and the Dromore President, Mr Cyril King, spoke briefly at the end of Mass to express their thanks to the SMA for organising this event and welcoming all their fellow Apostolic members to the celebration.
Apostolic members from different parts of Down & Connor, particularly parishes in Co Antrim.
After Mass there was a meal for everyone and, for those football fans, a chance to watch the second half of the All Ireland final, even if most wanted to see a Mayo victory. From its earliest days there has been a very close connection between Apostolic and Dromantine. It was fitting that the SMA Fathers should show, in a small way, their appreciation for that support which continues to this day and will, please God, continue into the future.
Mr Cyril Kong, Dromore diocese, presented a Mass box during the Mass which Fr Kavanagh said would be sent out to Bossangoa diocese in the Central African Republic where SMA Bishop Nestor Nongo-Aziagbia is trying to rebuild the diocese in the midst of a civil war. Just this week his Cathedral had been attacked by rebels and some unexploded grenades were left there. The Irish Province of the SMA has been heavily involved in helping to fund some of the work in Bossangoa due to the generosity of our supporters.
Our picture shows Cyril and Fr Kavanagh with the Massbox at the Statue of St Therese of the Child Jesus, Patroness of the Missions.
From 23 September to 1 October the SMA are having their National Novena in honour of the Little Flower, with Masses each day in Dromantine and Blackrock Road, Cork.
Fr O'Rourke invited Apostolic members to come to participate, either in the privacy of their own homes or come to Dromantine each day for Mass at 10am or 7.30pm each day.
The Choir from a neighbouring parish, Ballyargan, led the singing and it was wonderful to see such a large group of young people coming to help enrich the Mass with their beautiful voices. Fr Paddy expressed his thanks to them for giving up their Sunday afternoon to be with us.
For more photos click here….