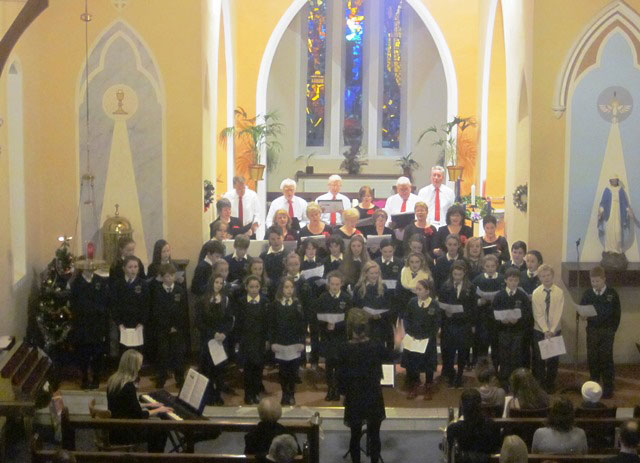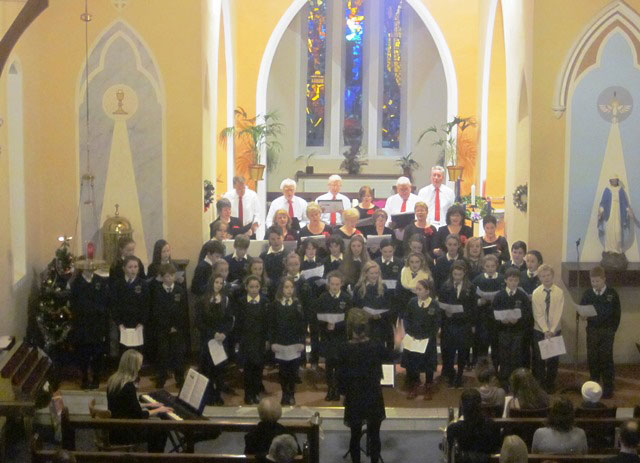 The children of the Crab Lane National School and the St Joseph's SMA Parish [Blackrock Road] Choir joined forces to celebrate Chrsitmas with a Carol Service on 17 December 2014. The funds raised at the Service came to €1,212-38 and were given to SIMON CORK to help with their work in the city and county.
Well-known and greatly loved Cork singer, Seán O'Sé, was MC for the event which drew family, friends and parishioners to the Church at 8pm for 90 minutes of Carols, old and new. And a few other songs too, as Gaeilge!
Local children and violinists Rachel and David Conroy and Hannah Tuohy joined with Sean Tuohy [Cello] to play Silent Night, O Come all ye faithful as well as Frosty the Snowman and Jingle Bells. Ronan McAulifffe [violin] played the First Noel and Away in the Manger.
Two new compositions – Wood on the hearth [by Johnny McCarthy] and Hurry Santa [by David Davenport and Elaine Schram] were also sung by the school choir under Conductors Aoife McCarthy and Aonghus McCarthy respectively.
Former Parish Pastoral Council Chair, Ms Juli Rea, read a Reflection and a member of the SIMON Board of Directors, Ms Ann Fitzgerald, gave a brief presentation on their work and how the situation for the homeless has deteriorated in Cork over the last 12 months.
Some facts about SIMON:
The CORK SIMON Outreach team recorded that 273 fellow citizens slept rough in the city for at least one night during the first 11 months of the year, which is 62% up on 2013.
The Soup Run caters for an average of 35 people nightly.
In addition some 67 people are living in squats around the city and a further 142 are staying with friends, effectively sleeping on a floor or a settee in someone's house – all but homeless.
87 cents of every €1 is spent on the different services CORK SIMON provides to our fellow citizens. The balance is spent on fundraising costs and good governance.
At the end of the Service, the Parish Pastoral Council chairperson, Bernice Campbell, presented our Adult Choir Director, Elaine Kenny, with a Bouquet of Flowers to mark her winning the Conductor of the Year award.
The evening finished with Parish Priest, Fr Noel O'Leary SMA, thanking all who participated in the Service, those who prepared the Church, all who came along and particularly the children of Crab Lane, with their Principal and teachers as well as our Adult Choir. Click on SIMON to donate further.